Las Vegas man's pain helps him gain win in Tylenol contest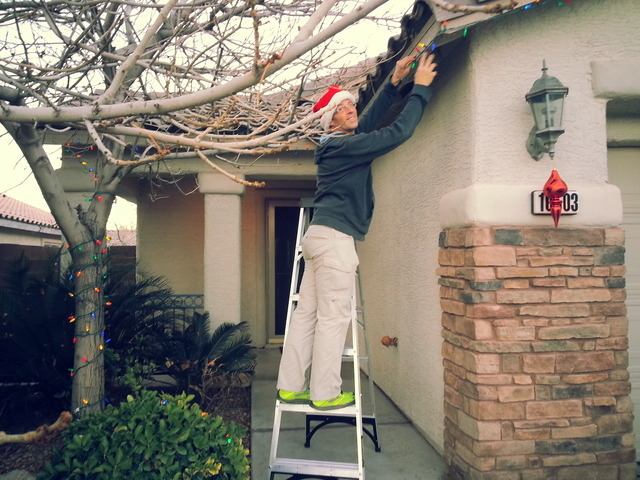 What a great guy — Keith Johnson hung his family's Christmas tree lights while he had five broken ribs.
His wife, Sharon, was so moved that she entered him in the Tylenol Holiday Heroes Facebook contest. Keith was named one of 20 nationwide winners.
"Tylenol recognizes that there are many unsung heroes who overcome aches and pains to do so much more for others, and we wanted to find a way to celebrate these everyday heroes," said Jennifer Callaghan, senior brand manager for Tylenol. "We established criteria for selecting our Holiday Hero finalists, asking entries effectively capture the theme of a hero going beyond the aches and pains to do so much more for others. Keith's story went far and above meeting this criteria. From (our) perspective, we were honored to receive such a worthy entry and be able to recognize a true Holiday Hero."
The Johnsons live in south Summerlin with their two daughters, Regan, 8, and Zoey, 5. The couple, married for 13 years, came to Las Vegas in 2000 from Washington state. Keith is an X-ray technologist and works two jobs. At home, he's handy around the house.
In his free time, Sharon said, he's fun-loving, adventurous and likes the outdoors. Add a four-wheeler to the mix, and things get ramped up a notch.
"He was trying to spin some doughnuts when the wheel … caught in a rut," Sharon said.
The four-wheeler flipped and rolled on top of him.
Short of a body cast, broken ribs aren't normally treated like a broken arm or leg. Keith had to tough it out, staying upright to sleep, at least initially.
"The pain was pretty bad," Keith said. "I'm pretty tough. I don't really feel pain very much … generally, I tough it out and just take Tylenol. This time, they had me take, I think it was Percocet, and that made me vomit, which didn't feel good with broken ribs. They'd also prescribed Valium to relax the muscles. That put me to sleep for a few hours. Three nights, I did that. Then, after three nights, I opted out (and just took Tylenol)."
Keith said he avoids taking pain medication if he can because he has to "treat all the druggies in the ER."
But Christmas was coming and his daughters were looking forward to the house being decorated. Their neighbor had lost her husband a few years ago, and she and her 10-year-old son deserved lights for Christmas, too, he said.
"… About a week and a half after his accident was about the time we typically hung up ours and our neighbor's outdoor lights," Sharon said. "Nothing elaborate but just enough to add cheer to our neighborhood and show that we're not holiday Grinches. When I saw that Keith could still barely lift his arms, I sadly mentioned to our daughters and our neighbor's son that we probably would have to skip that tradition this year. They were definitely disappointed."
Keith got out the ladder, albeit gingerly. It took longer than previous years, but he got it done.
Keith has broken his ribs four other times. One time, he snowboarded into a tree. Another time, he took a spill while mountain biking. Then he was hit by a car as he was cycling to work. And he broke ribs while elk hunting in Utah.
"It was the very first morning, and I was still in 'city mode,' " he said. "I had these huge, clomping boots on, and I got up to a stream, and I tried to tiptoe through it, and I slipped and fell."
This time was the most severe, he said.
For the Facebook contest, Keith and Sharon won a prize. Sharon chose a $600 spa package, and Keith chose a $900 limousine ride and shopping trip.
"What actually happened is, they sent us a $1,500 American Express card," Keith said. "So, I imagine we can do what we want with it."
He ordered a limousine to take the family to Calico Basin for a picnic. On the way home, they stopped for dessert and then had a "dance" at home.
"We have two little girls. We do a Princess ball with them on Valentine's Day every year," Keith said.
What did he think when they won?
"I was impressed," he said. "I guess my wife is a good writer. It wasn't that great a story, really. All I did was hang lights."
Contact Summerlin/Summerlin South View reporter Jan Hogan at jhogan@viewnews.com or 702-387-2949.