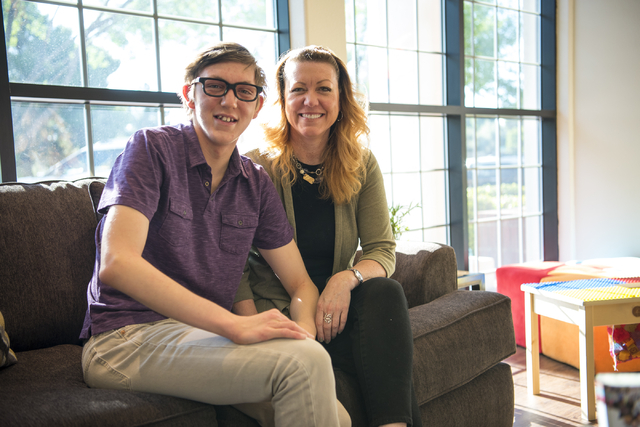 Ask any mother what they really want this Mother's Day, and they'll likely tell you it's something money can't buy: quality time with their kids.
To Summerlin-area mom, son is a gift
Summerlin-area resident Lynda Tache came to Las Vegas in 1993 and worked her way through UNLV as a cocktail waitress at major Strip properties, ultimately becoming a beverage manager at one of them. She switched to financial services so she was not always on call and could devote more time to her son, Grant.
Grant was not a typical child.
"It's been a journey. When he was 7 months old, I began seeing (troubling behavior)," she said. "He would have behaviors, like throwing tantrums, and when I talked to him, he really wouldn't look at me. At first, I thought it was his hearing. Then, he'd do things, like line his toys up and then (mess them up) and play with them in a weird, funny way."
Doctor after doctor told her it was a stage, that Grant was just developing at his own pace — nothing to cause concern. But Tache knew deep inside that something wasn't right. Finally, when Grant was 6, she got a definitive answer: He had autism.
"I was happy to finally have a diagnosis, but then it was, like, 'Now what? Where do I go from here to get him the services he needs?' " Tache said.
She began investigating how to help him and discovered hers was an uncharted road. Information came in bits and pieces from different sources, nearly all of which she had to hunt down on her own. She was determined to make things easier for other parents of autistic children.
"Once I began getting answers, I felt like I had to have a way to help others facing autism," Tache said.
She testified before the state Legislature to ensure more funding for programs and set up the Grant a Gift Autism Foundation, a nonprofit devoted to helping families. It came on board in 2009, and a year later, it began referring families to programming.
In March, the nonprofit moved from Henderson, where it had been in a 2,500-square-foot space, to 630 S. Rancho Drive, Suite A, where it has a 7,700-square-foot space. The larger location is in keeping with its vision to expand its offerings to on-site services.
On April 30, the nonprofit held its seventh annual 5K Race for Hope and Fun Walk at Town Square Las Vegas. The event saw roughly 2,000 participants. Its latest achievement is partnering with UNLV to bring medical students to work with children at its Rancho Drive office.
"This whole collaboration, it'll be the largest center in Nevada for comprehensive care for autism," Tache said. "We'll become a model for other universities to have this total wrap around (of services). A lot of universities have research and education but not the treatment. So, the new medical students will all rotate through here, so when they start practicing, if a family has concerns, they'll be able to say, 'Go here; go there.' "
Grant a Gift was named for Tache's son, who is now 14, "because he is a gift," she said. "He's taught me so much, to not take things for granted, to see the human side of people and accept them for who they are."
For more on the Grant a Gift Autism Foundation, visit grantagiftfoundation.org or call 702-564-2453.
Motherhood didn't come easily
Brenda Rands of Summerlin was too busy building a career to think about children when she was younger. Then the realization set in that time was ticking by.
"All of a sudden, 10 years had passed," she said. "Our careers had kicked off; we had great lives. We had all these opportunities. We looked at each other, and said, 'What are we doing this for?' "
She was 38, and it was time to start a family, she and her husband, Jeff, decided. They tried but didn't become pregnant. She got checked out by a doctor and learned in 2011 that she couldn't have a child naturally.
The couple investigated in vitro fertilization treatments. That took another year but didn't work.
"It's hard to find out that you're not all of the woman you thought you were," Rands said. "It's hard on you personally and financially. It's just rough all over."
So, in 2013, they looked into adoption. The agency had them fill out form after form. There were background checks, financial reports and police background checks.
"You show them your entire life," she said. "It was worse than an FBI background check."
The hardest part was seeing women everywhere with toddlers or babies, she said.
"I'd be in a grocery store and hear the woman behind me with two or three kids say to her friend, "Yeah, I'm pregnant again.' But for so many people, it doesn't work that way," she said.
Luckily, the adoption agency, Adoption Choices of Nevada, 222 S. Rainbow Blvd., Suite 115 , had good news. A single woman, 23, was pregnant and — not having her boyfriend's support — had agreed to put her baby up for adoption. Brenda and her husband connected with her and went to her doctor visits with her, eager for the day she'd give birth to what they learned would be a boy.
The mother gave birth. The boyfriend stepped up to the plate, apologized and agreed to be a responsible father.
The Rands were left to deal with the heartache. But they rallied a couple of months later and were matched with another woman who was going to have a girl. This birth mother was in her mid-30s, had one child living with her and already had adopted two other children. But when the baby girl was born, the doctor told the mother it would be the last child she could ever have. She decided to keep the newborn.
The Rands were disappointed again.
Then, a month later, Jeff's brother sent an email. A woman had just given birth to a boy but was not satisfied with the couples who had approached her about adopting him.
The Rands checked with their adoption agency about the newborn's availability, got the green light and things went into motion quickly. The agency presented their profile to the mother on a Saturday, and they met with the mother on Sunday.
They brought home the child, now named Jackson, that Monday, Oct. 27, 2014.
Brenda joined the MOMS Club of Las Vegas, Summerlin Central chapter, and takes Jackson with her to their meetings. She and Jeff share pictures and milestones with the birth mother through a website set up for that purpose.
"Being a mother is rewarding but so much harder than I anticipated," Brenda said. "I just love to hug him and kiss him and hear him laugh. … He's such a joy to be around."
The couple had an update just before this story went to press: Jackson's biological mother had given birth to another baby and asked them to adopt him. So, Jackson's brother, Dexter, joined the family just in time for Mother's Day.
Daughter taught mom about unconditional love
Summerlin resident Carolyn Wheeler came to Las Vegas 20 years ago and has been a single mother since her daughter, Lindsay, now 12, was 8.
As a mother, Wheeler got involved with Family to Family Connection, a program that serves families with children from birth to age 5, where she learned to make baby food and exposed her child to playtime lessons that furthered brain development.
"I learned a lot at Family to Family, and I think that really helped me become really connected, to be an engaged parent with her," Wheeler said.
Another way of engaging was becoming a Girl Scout leader, where she arranged for the troop to work at the Ronald McDonald House and cook a meal for North Las Vegas firefighters. Wheeler used her marketing background to help get events such as Family to Family Connection's Touch-A-Truck off the ground .
Wheeler also helped the Junior League of Las Vegas before she became a mother. Now, she's involved with the National Charity League, something she and Lindsay do together.
She said volunteer work is important to her because it reflects the community your child will inherit.
"… You want to make it a better place, so your children don't have to pick up the pieces," she said. "I've taken Lindsay to the Las Vegas Rescue Mission to serve meals. She got salt and pepper duty. When we were leaving, she saw a family on the street, and said, 'Mom, we just served them dinner. What are they doing out here?', and I said, 'They're looking for a place to sleep tonight.' That really had an impact on her."
Another impact was bringing a foreign exchange student to live with them for a year when Lindsay was in fourth grade. Wheeler's mother, also a single mom, had hosted an exchange student from Japan, so the concept was already familiar. Lindsay got an older sister, so to speak, when Pernille, of Denmark, came to Las Vegas.
"I told Lindsay, 'This is your opportunity to learn about a new culture, new language, new foods,' " Wheeler said.
Besides all that Las Vegas has to offer, the Wheelers took Pernille on trips to San Francisco and Hawaii. The three of became so close, mother and daughter flew to Denmark to visit Pernille and have hosted her and a friend for a month since that initial visit.
Wheeler said motherhood has taught her a lot of lessons.
"I never knew what unconditional love was until I had Lindsay," she said. "You come to realize that you are building the future generation. Everything you do and say is being absorbed. … As a parent, you can't just talk the talk. You've got to walk the walk."
To reach Summerlin Area View reporter Jan Hogan, email jhogan@viewnews.com or call 702-387-2949.