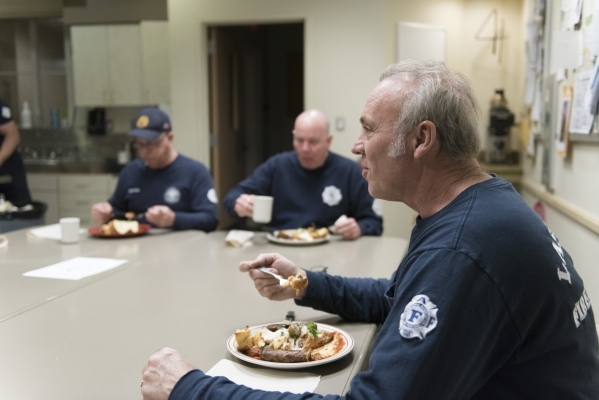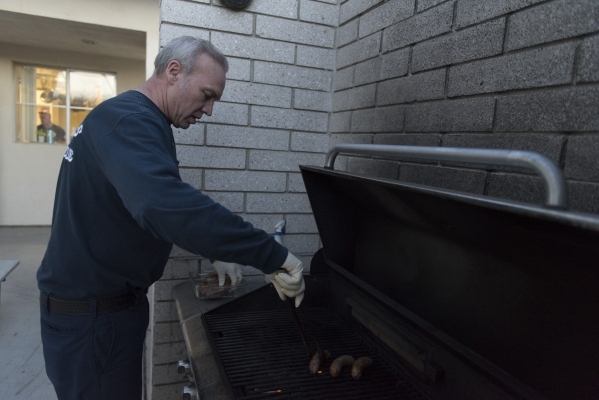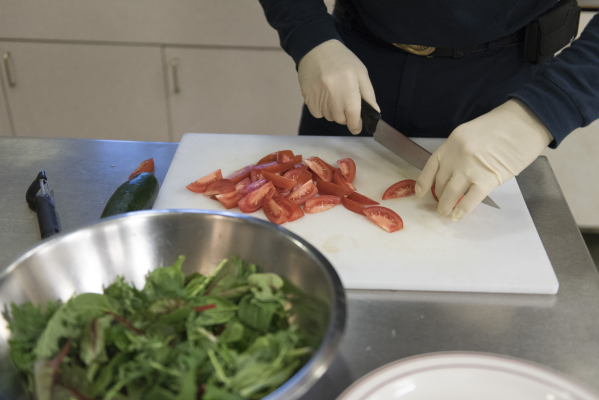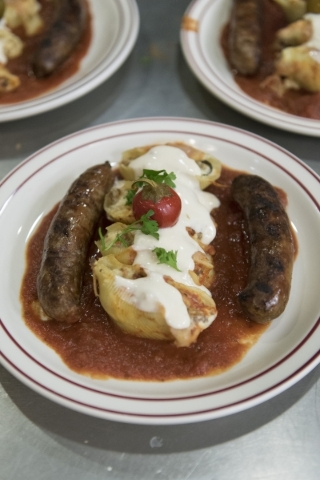 If firefighter paramedic Bryan Alexis is in the kitchen, crew members at Las Vegas Fire & Rescue Station 41 know it's going to be a good day.
Alexis has been cooking for the last 28 years and has perfected the art of a home-cooked meal.
"I don't care what people say about my cooking. When I cook, I do it because it's what's best for them," Alexis said. "It's important for me to have my guys stay healthy and fit because that's the way I live. Home-cooked meals don't just provide comfort; they also help with performance."
Each morning, Alexis collects $15 from each of the six crew members, which he uses to create two meals a day: On weekdays, it's lunch and dinner, and on weekends, it's breakfast and dinner.
He usually shops at Smith's or WinCo for the supplies and uses any extra money for snacks and utensils.
It becomes apparent that he doesn't just wear the chef's hat; Alexis has become somewhat of a papa bear.
"I usually don't get many complaints," Alexis said. "My guys are pretty spoiled. The only complaint I get is why don't I make more. I believe in portion control because it helps guys keep the weight off. I try to have a starch, fat, protein and carbohydrates. It's important to have that balance."
Because Alexis is a seasonal cook, winter meals consist of comfort foods, such as homemade soups, hot sandwiches and stews, while summer meals feature more fruits and seafood.
Although he particularly enjoys cooking Italian and Mexican food, he is not shy to admit that his forte includes "pretty much everything."
Alexis typically gets most of his recipes from the Internet, magazines and Pinterest, the popular mobile application that creates a visual bookmarking platform.
He began cooking when he was 8 at his great-grandmother's house, who, at the time, owned a restaurant in Santa Maria, Calif. He said he started by making finger foods, such as homemade french fries, and worked his way up.
Now he's one of three guys who control the kitchen — not that anyone minds.
"Everything that he makes is borderline gourmet stuff," said Ted Ramey, a firefighter at Station 41. "He makes everything from scratch — soups, sauces, everything. He's the type of guy that goes the extra mile."
Ramey, who is also a cook, said that some firehouse crews have to settle with meals as bland as grilled chicken and Tater Tots, but not Station 41.
"He always goes the extra mile, which is surprising considering he works on the rescue unit, which is always busy," Ramey said.
Since they always have to be ready to go out on a call, Alexis will either put someone else in charge of cooking and give him or her a quick set of instructions, or he will turn everything off.
"Sometimes it seems that as soon as I start cooking, we get a call," Alexis said.
Rees Williams, a firefighter at North Las Vegas Station 52, said that the cooking duty there is something that is typically handed to the new guy.
"Guys should know how to make about three to four staple meals, and as more people come on board, they move up the ladder until they tend to stop cooking," Williams said. "Unless they like it, that is."
Because Alexis loves cooking, he tends to concentrate heavily on his meals, so nothing irritates him more than trying to cook while someone is talking.
"You wouldn't talk to Picasso while he's painting, would you?," he asked somewhat jokingly.
Of course, the value of a home-cooked meal is really priceless, according to Ramey.
"It really makes our day. You have to remember that we see a lot of terrible stuff in our line of work. We see deaths almost every other shift," Ramey said. "Firefighters are like family. Being able to sit down to a good meal, while winding down and venting out, really makes a difference."
— To reach North View reporter Sandy Lopez, email slopez@viewnews.com or call 702-383-4686. Find her on Twitter: @JournalismSandy
Spicy Thai Chicken Soup by Bryan Alexis
1½ pound chicken breast thinly sliced
2 bell peppers (one yellow and one red, diced about ¼ inches
2 serrano peppers sliced thin
1 1/2 cup shredded carrot
1 1/2 cup sliced snap peas, 1/4 inches
1 large onion halved and thinly sliced
2 tablespoons grated fresh ginger
4 garlic cloves minced
2 tablespoons vegetable oil
3 teaspoons sesame oil
1 14-ounce can of unsweetened coconut milk
9 cups really good chicken broth
1/3 cup really good fish sauce
1/3 cup chopped cilantro
4 bundles of udon noodles broken in half
First, saute onions and serrano peppers in oil slowly for 10 minutes until soft and onions are translucent. Then season lightly with salt and pepper. Add garlic and ginger and saute for two more minutes. Add liquids and bring to boil. Reduce heat to simmer for 10 minutes. Add vegetables and cook for seven minutes. Return to a boil and add chicken, cilantro and noodles. Cook until noodles are tender and chicken is cooked through, about six to seven minutes. Garnish with fresh lime juice (this is very important) and sliced green onions. Enjoy.