Las Vegas Philharmonic season to feature theme-based concerts
September 17, 2014 - 3:00 am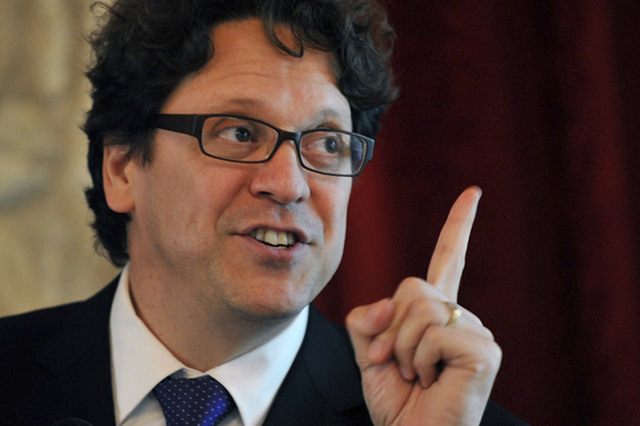 With a new musical director and a new lineup of masterworks and pops concerts, the Las Vegas Philharmonic is gearing up for one of its most exiting seasons to date, said Philharmonic president and chief executive officer Jeri Crawford.
"We have many exciting things coming up for this season," she said. "We are really looking forward to it, especially because we have a new musical director, and we are sure he will do a fantastic job, fit into the community quite well and bring a new dimension to the orchestra."
Donato Cabrera, who started as the group's musical director July 1, said that although the concert series was planned in a short amount of time, he is looking forward to the season, especially because he is a native Nevadan who grew up in Las Vegas in the early years of his childhood.
"I am really excited and intrigued by the idea that I am coming back to Las Vegas and Nevada after all these years," he said. "Even while going around the world conducting, it was never in my consciousness that there might be a possibility of me ever coming back to Vegas, so when the opportunity presented itself, it was like a circle of life, like a homecoming."
The selection process took a long time because the Las Vegas Philharmonic was looking for someone who could build up the symphony and make it the best possible. So when Cabrera was hired, he had two to three weeks to put the upcoming season together.
"I was sort of under the gun to create a season in a short amount of time," he said. "But we did a wonderful job at finding guest soloists and conductors that have not performed in Las Vegas or with the Las Vegas Philharmonic before. There will be a lot of variety."
Cabrera said each of the concerts for the season will have a new musical piece that has not been performed in Las Vegas before. Every concert will also have at least one well-known musical piece that people are likely to be familiar with.
"I think that because the Las Vegas Philharmonic is really the only professional organization or orchestra that is presenting Western classical music and is the primary source for classical music in the city, it is imperative that Las Vegas has access to some of the greatest music that has ever been written," he said. "That's why I am so excited about what's coming up this season. We will do fantastically and give Las Vegas what it yearns for."
Cabrera said he is looking forward to the first masterworks series concert on Sept. 27, set to feature soprano Deborah Voigt.
"She is one of the great American opera stars," he said. "I have worked with her a couple of times in the past. It's a real honor for me to bring her to Las Vegas."
Crawford also is looking forward to the first pops concert, set for Nov. 15, which will celebrate Hawaiian heritage and culture in Las Vegas. "Aloha from Las Vegas" is scheduled to feature Grammy-nominated vocalist Amy Hanaiali'i.
"There are 250,000 Hawaiian people that call Las Vegas their home," Crawford said. "That night will be a true Hawaiian experience for everybody."
For the first season, Cabrera will conduct all the masterworks series performances while other conductors will lead the pops concerts.
"There is a theme for each program based on music around that theme," Crawford said. "Donato prepared some great concerts. He has mixed up the styles of music to keep it interesting."
Cabrera said he felt honored to have been chosen for the job because there were many strong candidates but that he is confident with the bond he and the orchestra have built already.
"I think that while it was obvious that the relationship was a good one between the orchestra and myself and the community, my goal is to continue to deepen the relationship and explore so they understand my personality in the way I like to interpret music."
Additionally, Cabrera said he hopes to establish a deeper relationship and partnership with the Clark County School District to expand educational programs.
"The Las Vegas Philharmonic has to be a good resource of music for all kids," he said. "We have to continue to expand the Philharmonic's educational programs, not just for children but also adults. That way it can grow in relevance and importance."
Cabrera and Crawford said the upcoming series will bring a variety of music and styles to the city.
"Here in Las Vegas, there is a sense of new horizons, so it is exciting to be part of an orchestra that is growing," Cabrera said. "That's not necessarily the case in other communities, so it is exciting not just looking forward to the upcoming season but the upcoming five seasons."
Contact reporter Maria Agreda at magreda@reviewjournal.com or on Twitter at @mjfagre.