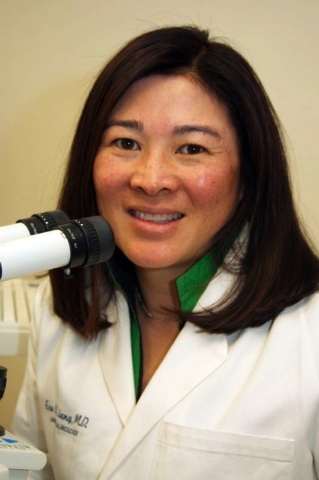 When Dr. Eva Liang first moved to Las Vegas, she was 10. She grew up here, and now she has moved back again.
Liang, who is certified by the American Board of Ophthalmology, has opened Center For Sight at 5871 W. Craig Road. Its focus is the treatment of ocular diseases. Eyelid surgery and LASIK refractive surgery are also offered.
"I've always been interested in eyes," she said.
Liang went to Bishop Gorman High School. As a teen, she said she was sure she wanted to be in the medical profession and wanted to learn Latin, as many medical terms are based on it. Bishop Gorman didn't offer Latin, so a teacher was arranged to do one-on-one instruction.
"It was condensed because it was just me," Liang said. "I did Latin I and Latin II in my junior year. Then in my senior year, I did Latin III and Latin IV. They just created this course, just for me. … Bishop Gorman, back then, was one of the more academically inclined high schools."
She earned her undergraduate degree at Loyola Marymount University in Los Angeles and then attended the University of Nevada School of Medicine, graduating in 1995.
"In medical school, your first two years are basic sciences, your second two years are clinical sciences, your third year, you spend doing mostly the basics like medicine, surgery, OB, pedes (pediatrics)," Liang said. "Your fourth year, you do your rotations in specialties you may be interested in. So, I did ophthalmology early because I knew I was sort of interested in it, and that sort of cemented it."
She joined Dr. Tyree Carr's ophthalmology practice. It took calls from seven area hospitals. After two years with Carr, she also worked with Southwest Medical Associates.
"While I was on call, I would see all these people and, say somebody had a retinal detachment, and they had no insurance," she said. "They had really no options. UMC, the only one who, at the time, really took these noninsured patients, they were not equipped to do retina. So, I would refer it to my retina colleagues … and I'd have to beg them to take on the case. Then they would have to beg their anesthesiologist and beg the hospital facilities to take on these cases. And these were not infrequent" occurrences.
In 2001, Liang founded the Sight For Life Foundation in Las Vegas, setting up letters of agreements with hospitals, surgery centers and doctors to treat people at a reduced fee, which Sight For Life pays.
The impetus for forming the foundation was a man who came to University Medical Center with a nail in his eye. He had been using a nail gun on furniture when the accident occurred.
"I took out the nail and fixed the globe," Liang said. "When there's a break in the wall (of the eye), there can be things that go on in the eye that you can't fix at the primary surgery. He needed to have his lens removed … I had to beg the anesthesiologist to take him on for a reduced fee."
The date for follow-up surgery arrived. Preparations were going as planned until the patient arrived.
"Oftentimes, you (the patient) have to bring X amount of dollars to the surgery center on the day of surgery or else they can't do it," Liang said. "So, this guy shows up, and he's got all kinds of random change, small bills. You could tell he sort of raked his sofa or his car to do whatever he could to get his eye done."
Liang said she didn't recall the amount he was able to come up with but that everyone decided to move ahead with the surgery so his eye could be saved.
Once Sight For Life was set up, she organized annual fundraisers, doing that for the next 10 years. The most she raised in one year was about $100,000.
"That went toward helping quite a few people, 50 to 60 people who could have a procedure," Liang said. "Some people, their procedure may only be $800 to $1,000. Some people may need $2,000 to $4,000."
Surgery for a detached retina can cost as much as $20,000, Liang said.
The foundation and Liang were recognized in September 2009 by former President George H.W. Bush's Hands-On Points of Light Foundation.
Liang has worked exclusively in Phoenix for the past eight years. Running a practice and starting a family left little time for fundraising for the Las Vegas-based foundation. Efforts were suspended totally for the last two years.
"It's our plan to revive the foundation," said Anthony Ausband, CEO of the practice. "When you live in the community that you're serving, it's easier to get people on board with what you're doing. In Arizona, it wasn't that easy to call up a doc (in Las Vegas) and say, 'Hey, let's go have lunch. There's something I need to run past you.' "
Liang started an independent physician association, Quality Care PIA, in 2011. It began operations in 2012. It has a contact with UnitedHealthcare to provide services for Medicare Complete, a Medicare Advantage plan.
She said the need for free or low-cost surgery is fairly significant.
"Cataract surgery is one of the surgeries we do most of," Liang said. "It's the leading cause of blindness in the world. It's one of those diseases that is easily treatable. You take out the cataract, you put in a new lens, they see. It's a small effort for us but (yields) a big potential result."
For more information about Center For Sight, call 888-992-2303.
Contact Summerlin/Summerlin South View reporter Jan Hogan at jhogan@viewnews.com or 702-387-2949.