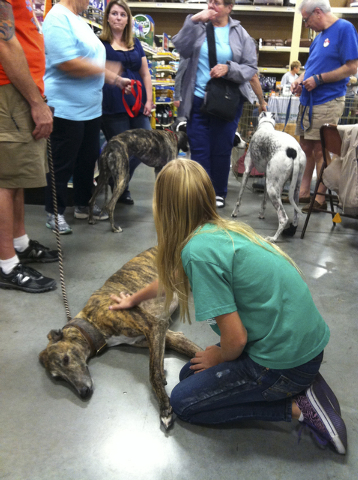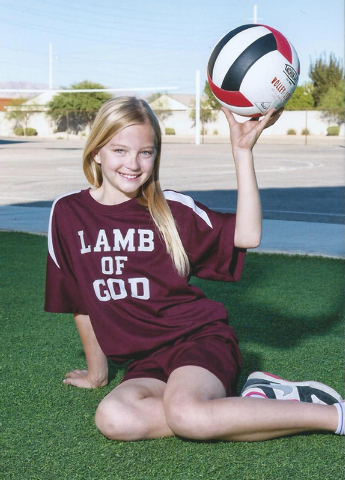 A Las Vegas resident was honored with a $1,000 scholarship by the Kohl's Cares Scholarship Program out of more than 37,000 nominees nationwide for her philanthropy efforts to promote the adoption of racing greyhounds.
Hailey Haas, 10, volunteers at Greyhound Pet Adoption Las Vegas, where she informs people about greyhounds at meet-and-greets and volunteers time to walk and feed the dogs.
"She has been such a big help to our organization," said Judy Currier, president of the nonprofit. "I nominated her because she is dependable and a very dedicated young woman."
Her passion for the breed developed after hearing stories about her parents' former greyhound that was also rescued from a racing track.
"We don't want the owners to push the dogs too hard," Hailey said. "They're normally fine, but some racing dogs get pushed too hard, and their skin can get worn down from being in cages."
Currier said volunteers will travel across the nation to pick up retired racing dogs or dogs that never made the grade. Greyhounds will get spayed or neutered and placed in a foster home until they find a stable household.
The organization currently has eight dogs available for adoption.
Hailey said that seeing a dog get adopted into a new family is her favorite part as a volunteer. She has donated approximately 96 hours of her time to the organization.
"I just want to take care of animals and make sure they're OK," she said. "Greyhounds are different from other dogs. They can be either really energetic or really lazy, but they're fun to work with because they're so friendly."
As an aspiring veterinarian, Hailey said the scholarship would help her reach her dreams.
Winners were chosen based on initiative, leadership, generosity and project benefits and outcome.
The program honored roughly 200 volunteers with $1,000 scholarships toward higher educations.
Since the program began in 2001, Kohl's has recognized more than 22,000 kids, including the 2014 winners, with more than $4.3 million in scholarships and prizes, according to kohls.com.
"She's a very caring little girl," said Fred Haas, her father. "She always goes out of her way to help people and animals who don't have a voice."
For more information or for a complete list of Kohl's Cares Scholarship Program national, regional and local winners, visit kohlskids.com.
Contact North View reporter Sandy Lopez at slopez@viewnews.com or 702-383-4686. Find her on Twitter: @JournalismSandy.