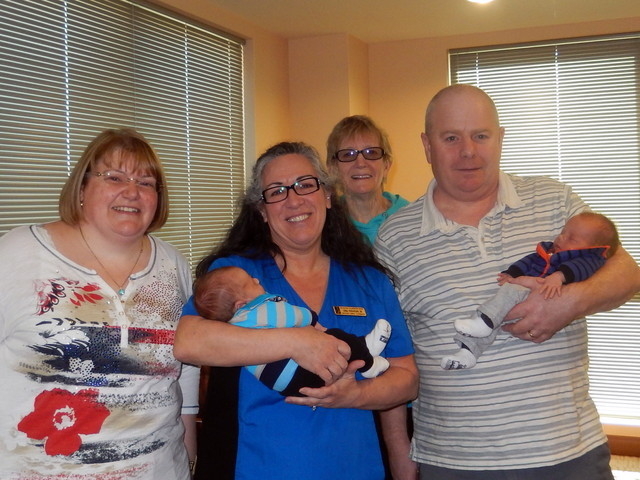 Thelma French knows the joys of having children. With the intention to help couples in need, the mother of five decided to become a surrogate.
In her journey, she crossed paths with Sonia and Will Fargher, who were from a different continent and of different races.
The Farghers fell in love in 1996 and married less than a year later. Their one goal in life was to become parents, yet for the couple, it was harder than they ever imagined.
"We both knew we wanted children, so we started trying straight away, and that's where our fairy tale ends," Sonia said.
After a year of trying to conceive, the couple were eventually referred to St. James Hospital in Leeds, England, for tests and in vitro fertilization, the process of fertilizing an egg by sperm outside of the body.
Determined to start a family, the Farghers, who live on the Isle of Man between Ireland and the United Kingdom, took a one-hour flight to the nearest in vitro fertilization center to receive treatment.
Sonia became pregnant in 1998, and since then, she has endured dozens of failed treatments and multiple miscarriages.
"It was a very emotional journey," Sonia said. "After the first miscarriage, my husband and I didn't speak to each other for quite some time."
Despite years of challenges, the couple would not give up. They were eventually referred to Dr. Geoffrey Sher at the Sher Fertility Institute in Las Vegas.
After performing genetic embryo testing, Sher found that Sonia had an immune problem in her uterus that caused the rejection of embryos.
"We have lost in the region of about 30 embryos," Sonia said. "We grieve the loss of each one and needed time to heal following each disappointment and despair."
Sher suggested that their safest option would be to find a surrogate.
The Farghers were concerned because in the U.K., surrogacy is not legally recognized. The couple would not be able to enter into a legally binding contract and would have to adopt their own children if they were to find a surrogate in the U.K., Sonia said.
Instead, the couple contacted the Silver Linings Agency and were eventually matched with the former Sunrise resident Thelma French, who bonded with Sonia over having the same birthday.
"I went into this knowing these babies were never mine," French said. "My job was to carry them, feed them and to make sure they had a nice, good home."
French said she enjoys being pregnant. She worked previously with fertility clinics and recalled seeing women devastated because they could not have children of their own.
"This was just something that I've always wanted to do," French said. "I enjoy being pregnant and feeling the baby move inside of me. It was a way to give back."
Since French is black, the Farghers were initially concerned whether being a different race would create any complexities for their baby.
"Although there are fewer African Americans that come forward to do this, there shouldn't be a concern," Sher said. "The babies carry all of the genetic tendencies of the parents."
After receiving two blastocyst embryos in April, French found out she was pregnant a month later. On May 22, French called the Farghers via Skype during her first ultrasound.
"We sat mesmerized by what we saw," Sonia said. "Two black dots on a screen, with Dr. Sher telling us they were our babies. We never quite believed that we would have twins."
Pregnant with the couple's twins, French made it a priority to Skype with the Farghers every time she had a doctor's appointment so they could experience the journey with her.
In the process, French gained approximately 50 to 60 pounds, underwent a surgical procedure called cervical cerclage, in which the cervix is sewn closed during pregnancy, and developed mild preeclampsia and high blood pressure.
On Dec. 18, French gave birth to Tyler Morgan Fargher and Logan Jenson Fargher through a Cesarean section. The Farghers were finally parents 16 years after they started trying.
"She is the best person in the world for us," Will said. "She promised us a baby, and she delivered. It's worth every penny to have (babies) in your arms and be able to look into their faces. It's better than anything I've ever imagined."
Regardless of the minor discomfort, French continued on and enjoyed every moment of the pregnancy. She mentioned that she wants to become a surrogate a few more times while her body is still capable.
" Sixteen years is a long time to wait to have a baby," French said. "I'm not a hero, I'm just someone who was helping. That's how I view myself."
Contact Sunrise/Whitney View reporter Sandy Lopez at slopez@viewnews.com or 702-383-4686.