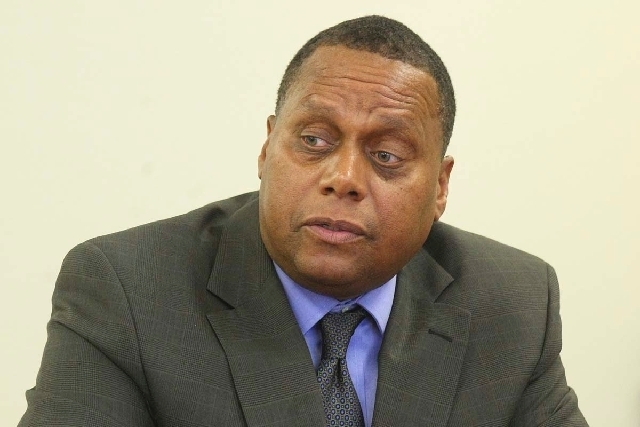 Its history might be controversial, but the Southern Nevada Regional Housing Authority is succeeding in its mission, Executive Director John Hill says.
Although Hill admits the housing authority is being scrutinized by the Office of the Inspector General, he describes the process in routine terms and downplays any controversy it has sparked among longtime critics. He said the OIG review is also not unique to the local office, whose mission is to help provide affordable housing for those who qualify.
In early September, the Department of Housing and Urban Development notified the housing authority that the OIG was reviewing its "public housing asset management fees and central office cost centers." The objective, Hill says, is to gather information from a sample of authorities.
NAC AFTERMATH: Although controversial boxing judge C.J. Ross decided to step aside following her work during the Sept. 14 Mayweather-Alvarez fight at the MGM Grand Garden arena, I still wonder whether there will be any fallout over Nevada Athletic Commission Executive Director Keith Kizer's comment before the bout in which he downplayed the controversy associated with her selection and said the flames of the issue were being fanned in the press out of deference to promoter Bob Arum.
When the comment surfaced in the Los Angeles Times, I hear Arum was livid.
Have they all decided to go to neutral corners?
POLITICAL UNITY: It was an ideal time for a big showing of political unity.
While I saw longtime Nevada Assemblyman and neighborhood resident Harvey Munford at the recent ceremonial tearing down of the F Street barrier, other political players were absent. Missing the ceremony was Rep. Steven Horsford, the congressman who as state senate majority leader helped Munford push through enabling legislation in Carson City. Horsford was busy in Washington, DC.
Mayor Carolyn Goodman was on hand, but neighbors who attended wondered aloud what had kept City Councilman Ricki Barlow and County Commissioner Lawrence Weekly from attending.
CRIMINAL ENIGMA: Robert Marshall, a longtime local criminal who the FBI believed had inside information that could help solve the decades-old bombing murder of former Las Vegas federal agent William Coulthard, died in prison recently after a lengthy illness. I hear he exercised his right to remain silent to the very end.
Are a few longtime Las Vegans breathing a little easier?
REBEL RED-FACED: Nothing says insensitive in 2013 quite like flying the living image of the American slave era, the "stars and bars" of the Confederacy, during parking lot tailgating before a UNLV football game outside the Sam Boyd Silver Bowl. Readers report multiple sightings of the Confederate flag.
GAMING GUY: Ray Koon, a truly affable fellow who has chronicled the ebb and flow of gaming regulation in Nevada for decades, is ceasing publication of his Gaming/Gram a newsletter after 28 years and 336 monthly editions. "We never missed a month!" Koon says in his retirement announcement.
Regulars at Gaming Control Board meetings will surely miss Koon's presence.
ON THE BOULEVARD: There's still time to buy tickets to Saturday evening's Candlelighters Garden of Hope dinner at Mundo restaurant downtown at the World Market Center. Profits benefit the childhood cancer charity. Information: candlelightersnv.org, or 737-1919.
BOULEVARD II: Longtime local radio talker and former cocktail waitress Heidi Harris knocked 'em dead at the recent gathering of FIORE at the Italian-American Club. She told jokes and sang, too. … Remember Howie Gold, the organist at Cashman Field during the years the Las Vegas 51s were known as the Stars? The veteran keyboard man is still gigging, mostly at Ichabod's Lounge. If you ask nicely, he'll probably even play "Take Me Out to the Ballgame."
Have an item for the Bard of the Boulevard? Email comments and contributions to Smith@reviewjournal.com or call 702-383-0295. Follow him on Twitter @jlnevadasmith.