Left of Center gallery exhibit to honor northeast Las Vegas, including re-creation of artist's 90's-era bedroom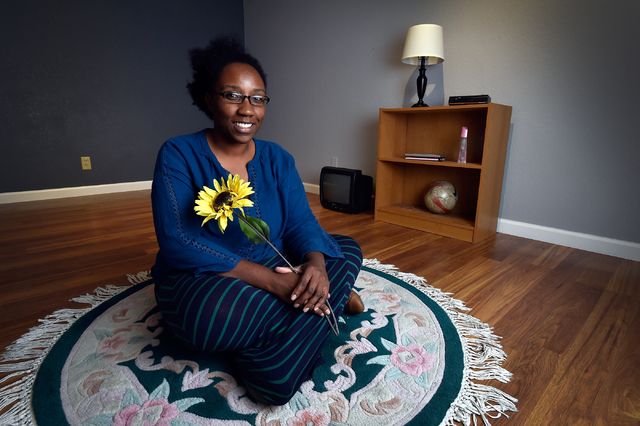 When one thinks of art, the downtown Las Vegas scene is usually the first place that comes to mind, followed by galleries onthe Strip. Yet, there's another area that is often overlooked that has birthed a plethora of local artists: northeast Las Vegas.
Unbeknownst to many, artists in the northeast valley have been using their creativity to spark conversations and add visual appeal. To showcase their work, the "North East" exhibit is planned through July 2 at the Left of Center Art Gallery, 2207 W. Gowan Road.
The gallery is set to feature a group of artists working with different mediums, who have either lived, worked or have a current connection to northeast Las Vegas.
"I realized that there are a lot of artists that grew up in North Las Vegas and east Las Vegas, but there really hasn't been a discussion of artists coming from these particular areas," said Ashanti McGee, coordinator and curator of the show. "In a way, growing up here was like a rite of passage because there was a lot of gang activity and things of that nature, but we also had a lot of memorable experiences to hold on to. That's what we're hoping to show."
Along with McGee, the show is set to feature artwork by Fawn Douglas, Justin Favela, Anthony Johnson, Jerry Misko, Ras One, Krystal Ramirez, Checko Salgado, Lance Smith, David Veliz and Mikayla Whitmore. Their pieces are meant to show what living in northeast Las Vegas was like and how it impacted their views.
"There's a big Latino and African-American cross-cultural community here that we all shared," McGee said. "A lot of us were part of blue-collar families, and we grew up with having casinos in our backyard. Some of us were raised going to church, and some of us had children, while others were laid to rest here. It's a multigenerational community."
For example, father and son Sergio and Checko Salgado plan to show photos of the 1970's-era Strip. Others are set to pay homage to the local street vendors of their neighborhood — including "the candy lady," who sold candy to local children, and "the corn man" (also known as the elote man), who sold corn on the cob.
"A lot of families that grew up here did a lot of walking because there were no grocery stores within the vicinity," McGee said. "We had alternative ways of commerce."
Veliz, 25, said he grew up as a skateboarder and dabbled in graffiti.
"I got caught three times and went to jail," Veliz said. "One thing that really stuck to me was when the judge got tired of seeing me, he said that if I really loved art, then I needed to stop painting on the walls and start painting on a canvas. I've been doing that ever since."
He said growing up in North Las Vegas influenced his work in specific ways.
"I was fed by the casinos," Veliz said. "My dad has been a cook for almost 30 years in casinos. What influenced me a lot as a kid was walking down the Strip and seeing the cards of call girls or escort girls on the streets. It must've imprinted my brain because I drew a lot of girls growing up. It wasn't anything suggestive — it was all in good taste."
Veliz is set to honor his favorite burger joint growing up — Hamburger Hut, a place where locals hung out and where he took his dates.
"To an extent, it's a bit of a celebration of that area," he added.
McGee plans to have an art installation at the exhibit — a re-creation of her teenage room in the 1990s.
"I always remember being in my room and listening to music or talking about pop stars with my friends," McGee said. "It was very important to me growing up as a teen in North Las Vegas."
Gallery owner Vicki Richardson said she looks forward to featuring the work of strong local artists and learning more about their experiences.
"Their culture is reflected in their artwork, and some of the artwork has an emotional quality to it," Richardson said. "You get the feeling that they love the area and just want to speak to it. Visitors will find an array of artwork — everything from installation projects to sculptures, paintings and some drawings."
A reception is planned from noon to 3 p.m. May 7 at the gallery. Artists are set to share anecdotes about the area and their work.
Admission to the reception and gallery is free.
"More than anything, I want this to be an opportunity for people to see art about the community that a lot of us grew up in," McGee said. "We want to bring light to this culture. A lot of people drive through the northeast area, but they don't really hang out there. To us, it's home, and it's something that should be celebrated."
Visit tinyurl.com/gpvsttv or call 702-647-7378.
To reach North View reporter Sandy Lopez, email slopez@viewnews.com or call 702-383-4686. Find her on Twitter: @JournalismSandy.
'North East'
The exhibit, featuring work paying homage to the northeast Las Vegas Valley by local artists, is set to be up through July 2 at the Left of Center Art Gallery, 2207 W. Gowan Road, in North Las Vegas. An artists reception is planned from noon to 3 p.m. May 7.
Gallery hours are from noon to 5 p.m. Tuesdays through Fridays and 10 a.m. to 3 p.m. Saturdays.
Admission is free. Visit tinyurl.com/gpvsttv or call 702-647-7378.