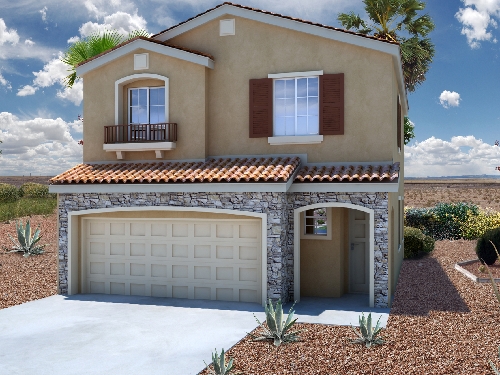 Buying a new home just got a little easier, thanks to Lennar's inventory sale taking place right now through May 20. The promotional event will be held in the homebuilder's 15 communities across the valley.
"With this incredible inventory sale, buying a new Lennar home can now be a reality for many homebuyers," said Ashley Max, marketing coordinator for Lennar Las Vegas.
During the sale, Lennar is presenting buyers with a selection of homes offering a wide range of prices and sizes available, including single-story home floor plans.
The Portici plan at Mandolin in Mountain's Edge is one of the sales event's featured homes. This is the largest plan in the community at 1,657 square feet. It houses four bedrooms, 2½ baths and a two-car garage. This home includes gourmet kitchen appliances, window coverings, front-load washer and dryer and ceiling fans. Visit the community at 7492 Perla Del Mar Ave., or stop by Lennar's booth at the Country in the Park event at Mountain's Edge today from 2-7 p.m.
For buyers looking for a large floor plan, the Turtle Bay plan at White Horse South measures 4,933 square feet with five bedrooms, 3½ baths and a three-car garage and includes upgraded tile and carpet. Located at 7215 Galloping Scout Court, this home sits on a pool-sized lot with room for RV parking.
Lennar is also featuring the San Carlos plan at Lexington — a three-bedroom home with 1,531 square feet. Visit the Lexington Welcome Home Center at 4517 Imperial Orchard. Located in the northwest, the Kingsbury plan at Hampton Glen in the Providence master-planned community features four bedrooms in 2,161 square feet and offers tile flooring and backyard landscaping. Hampton Glen is located at 10514 Hartford Hills Ave.
"For a homebuyer who has been sitting on the fence trying to stage the right time to buy, these offers and home choices should provide the incentive they need," Max said.
During the inventory sale, he said, buyers can receive financing with payments as low as $807.64 for the first year through Universal American Mortgage Co. Rates begin at 2.5 percent for the first year, 3.5 percent for the second year and 4.5 percent (5.42 percent APR) for the balance of the term.
At all of these communities, Lennar will also offer its all-new home automation system and a gift card for a smartphone on homes that close escrow by the end of May. There is no additional cost for this system.
The home automation system allows homeowners the ability to control features in their homes remotely via the Internet, on a computer or with a smartphone.
"Imagine unlocking the door for your neighbor, kids or a contractor while you are at work. Or, receive a notification directly to your smartphone when your child arrives safely home from school," Max said.
Lennar homes range from about 1,200 to 5,000 square feet, offer as many as six bedrooms and are priced from the $100,000s to the $400,000s.
For more information on this inventory sale or a complete list of communities, call 877-204-4411 or visit Lennar.com/LasVegas.