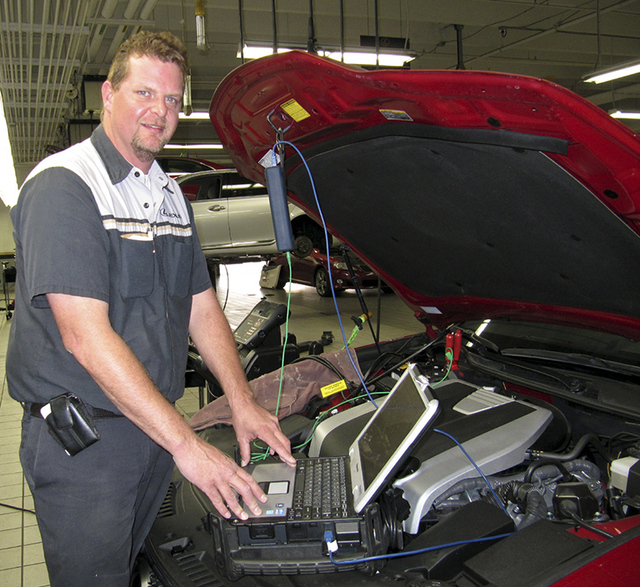 Vince Latronica always knew he had a gift for fixing things. He first started tinkering around repairing bicycles as a boy, eventually landing a job when he was 12 sweeping floors and tuning up cars for the owner of a small garage on Nellis Boulevard.
"I changed spark plugs and changed oil, anything that the owner wanted me to do," Latronica says. From there he moved to a larger shop in downtown Las Vegas where he became ASE master certified as an automotive technician.
Then 10 years ago Latronica came to Lexus of Las Vegas as a technician, eventually becoming a diagnostic specialist and shop foreman.
"Lexus is the best product out there," says Latronica, a Lexus master technician. "I would say what sets Lexus apart is the way they treat their customers. The product speaks for itself. No other luxury cars hold up to a Lexus."
Latronica was impressed with the management style at Lexus of Las Vegas. Any training he needs is provided on a routine basis.
"The management here and the owners give you the tools to succeed," Latronica says, adding that a field technical specialist comes to Las Vegas once a month to assist technicians with any vehicle repair problems they can't solve on their own.
The best advice Latronica says he would give Lexus customers is to try to be clear about their vehicles' problems before coming in to meet with a service manager. Also, he says, customers can always ask to meet with a technician while meeting with the service manager.
"This streamlines problem solving," Latronica says. "Anytime you can streamline progress saves time and provides better customer service."
The Lexus of Las Vegas dealership is at 6600 W. Sahara Ave. For information, call 702-942-6600 or visit www.lexusoflasvegas.com