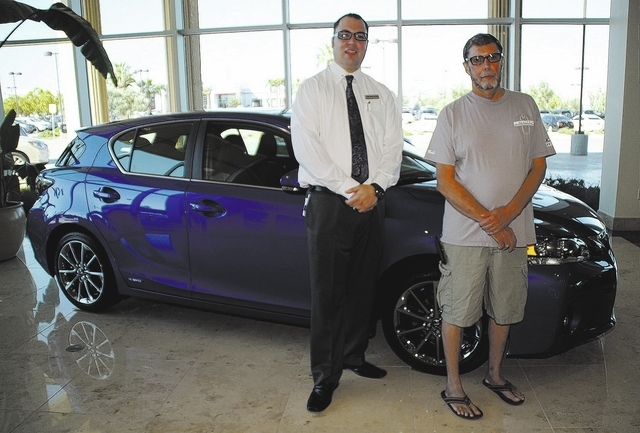 Ron Widman bought a SC400 Lexus in 1995 and for 18 years the only major repair he had to do was replace the struts. He's been sold on Lexus automobiles ever since.
In March, Widman traded in his car for a 2013 CT 200h (hybrid). He was so pleased with the service he received at Lexus of Henderson that he went back to the dealership a few months later and traded in his heavy-duty Ford truck for a 2010 Nissan Titan.
"Everyone at Lexus was so extremely nice the minute I walked through the door," Widman said. "Everybody greets you here (at Lexus of Henderson). I went to the Cadillac dealership and because of the way I was dressed, they wouldn't give me the time of day."
Widman said his wife will be shoppingfor a new car soon. When she decides to trade in her Cadillac, she will be looking for a Lexus, Widman said.
"The cars are fun to drive and the quality is excellent," he said. "I'm especially impressed with my car's paint. You really get your money's worth with a Lexus."
Widman bought both vehicles from sales and leasing consultant Donald Chapman. Chapman's family has been associated with Lexus vehicles for many years. His mother, Elaine, now works in customer service at Longo Lexus in El Monte, Calif. His father, Mark, was in sales before he died in November.
"I go the extra mile with my customers," Chapman said. "I give longer test rides, and I try to find the exact car that fits my customers' needs. I strive for a higher level of trust with all my customers."
For Widman, Chapman went out of his way to find the color he liked and customized it with a set of chrome wheels.
The dealership is at the Valley Automall, 7736 Eastgate Road, Henderson. For more information, call 702-228-7736 or visit www.lexusofhenderson.com.