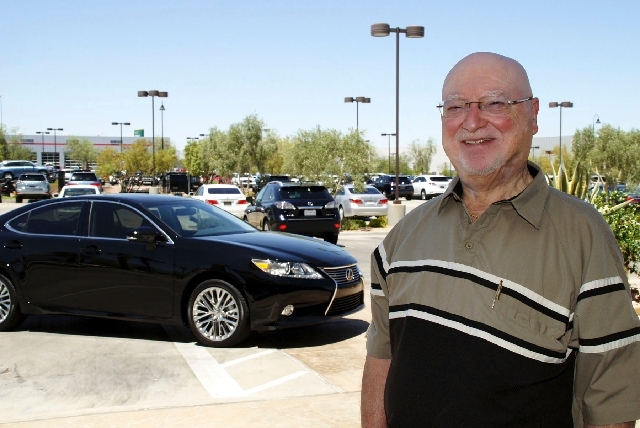 Bernie Recenello had just finished lunch with some friends back in 2010 when curiosity caught his attention and he decided to drop by the newly opened Lexus of Henderson dealership . Balloons didn't suddenly drop from the ceiling when he walked into the showroom, nor did bells and whistles trumpet his arrival. But, unbeknownst to him, Recenello had just earned the distinction of being the dealership's first customer.
Every company executive on property that day came out to shake his hand and take pictures with him. To this day, Recenello remains a loyal fan and outspoken advocate of Lexus automobiles.
"I used to own Cadillacs before but they were in the shop more than in my garage," Recenello said. "After 50,000 miles everything was going bad. My Lexus is trouble-free."
Recenello is on his fifth Lexus, a black 2013 ES-350. Previously, he had owned 2005, 2007, 2009 and 2010 Lexus vehicles. His said his preference is black-on-black sedans with chrome wheels and a spoiler.
"When I go on the freeway, I can get up to (speed) quickly," Recenello said. "When the road is smooth, I feel like I'm gliding. At least once a week I get compliments on my car."
Recenello said he especially likes the feeling of security knowing that his ES-350 requires little service. He brings it in for an oil change every 10,000 miles and that's it. And when he does come in for service, or a car wash, he likes it that everyone from the valets to the service writers are knowledgeable about everything with his car.
"The service writers don't seem money-hungry. People in service at other dealerships are always friendly, too, but they don't know everything like here. At Lexus, you always have people who know about the workings of the car," he said.
Recenello feels that the Lexus ES-350 is the ultimate luxury car for the price because it includes a lot of high-end electronic features such as a stereo system, advanced GPS navigation and the capability to use compatible smartphone in-vehicle access to mobile applications.
"My grandkids like the center (toggle) control movement. I let them play with it. If it breaks, I don't care. I know Lexus can fix it."
The dealership is at Valley Automall, 7736 Eastgate Road, Henderson. For more information, call 702-228-7736 or visit www.lexusofhenderson.com.