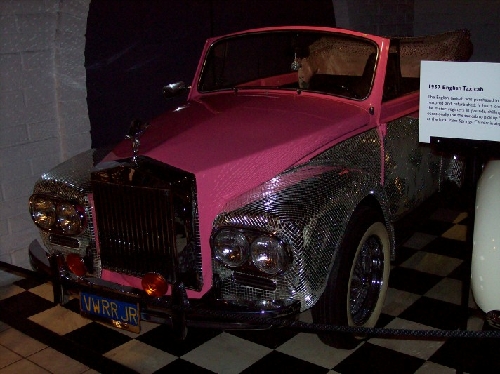 Speaking from personal experience, I can attest to the spectacle that was a live Liberace concert. It was the mid-1970s when I was a 12-year-old piano student and my mother took me and my younger brother to the New York State Fair to see Liberace perform. I remember reluctantly arriving early for the first-come, first-served seats (benches, actually) and sitting for what seemed like hours under newspaper while it drizzled (typical New York summer evening), waiting for the show to begin. And, to this day, the one thing I'll never forget is Liberace's entrance on stage dressed in a rhinestone-detailed, red, white and blue jumpsuit perched in the back seat of a similarly attired convertible Rolls-Royce. He nearly bounced out of the car over to his matching grand piano and then proceeded to mesmerize the rain-soaked audience for hours. It was magical and extravagant all at the same time. Afterward, (for some reason I don't remember this part of the story) my mother said Liberace came down from the stage to engage the audience and stopped to talk to me and my brother.
Before the elaborate costumes of Cher and the over-the-top stage antics of KISS, there was Liberace.
Entertainment industry experts contend Walter Valentino Liberace invented showmanship, not only with his last-name-only moniker, but with his flamboyant piano concerts and signature stage and television props that included everything from rhinestone-covered grand pianos, costumes and cars as well as the ubiquitous candelabra.
For more than 30 years, Liberace's legend has lived on at the Liberace Museum on East Tropicana Avenue where the pianist's collections of rare and antique pianos, classic cars, famous sequined andbejeweled costume wardrobe, glittering stage jewelry, rare antiques and private papers and memorabilia have been housed for Las Vegans and visitors to enjoy.
Unfortunately, the Liberace Foundation, which oversees the collection as well as musical scholarship and educational endeavors, announced last month the museum will close Oct. 17. Instead, according to Tanya Combs, museum director, a portion of the collection will go on "tour," traveling the country.
"Liberace was a fun person and we have had fun every day," she said.
Part of that fun was Liberace's penchant for cars. "He loved cars," Combs said. "And, when he had the means, he purchased what he liked." The cars currently featured in the museum were primarily "stage" cars, according to Combs, but there are some he drove regularly as well.
"I'm not sure he had a favorite, but he liked to drive different cars," said Jerry Goldberg, the museum's marketing and archives director. "He loved, for instance, picking up friends in the 1957 English taxicab and turning on the meter, which registered the fare in pounds, shillings and pence."
Born in West Allis, Wis., in 1919, Liberace's career started when he was about 20, but it was more than 10 years later when he was financially able to buy his first car. It was a red (one of Liberace's favorite colors) 1950 Oldsmobile 88 convertible get it? Olds 88, a piano's keyboard has 88 keys.
"Over the years, he owned about 30 cars. He loved to fix them up or have one built to his specifications," Goldberg said.
Of the 30, the museum currently houses seven vehicles: A rhinestone-adorned Duesenberg Roadster that matched a Liberace costume and piano last used in the finale of Liberace's 1986 performance at Radio City Music Hall; a gold-flecked, customized 1972 Bradley GT that Liberace drove at his Palm Springs, Calif., home; the above-mentioned English taxicab; the 1954 Bicentennial Rolls-Royce, which required special permission from the British coachworks company to paint the car in the stars and stripes motif; a pink, customized Volkwagen/Rolls-Royce that started as a white 1971 VW Bug Liberace commissioned during the gas crisis of the 1970s; a 1962 Phantom V Landau mirrored Rolls-Royce, believed to be one of seven models made with a retractable top; and a replica of a 1931 Model A Ford that Liberace used on stage at the Las Vegas Hilton in the '70s.
Noteworthy in the car collection, according to Goldberg, is the 1962 Rolls-Royce Phantom. The left-hand drive limousine was Liberace's personal vehicle and is covered with etched mirror tiles, hand- and mesh-applied by Liberace's long-time friend and Las Vegas artisan John Hancock. It has a full bar and one of the earliest mobile phones, Goldberg said. It was used on stage at the Las Vegas Hilton and Radio City Music Hall.
"Liberace liked antiques, painting, dogs, Christmas, cooking and his cars," Goldberg said. One vehicle still in the collection, a black with red trim 1901 Oldsmobile Surrey, is currently in storage.
If he had to name a Liberace favorite, Goldberg thought it would be the 1954 Cadillac Eldorado with personalized upholstery that was given to him by Citizens National Bank, the first sponsor of his 1950s television series.
"This is just a taste of the cars he owned and used in his performances," said Jack Rappaport, Liberace Foundation president. "Who else would match costumes, cars and pianos?"
Over the course of his 46-year career, Liberace was named Instrumentalist of the Year, Best Dressed Entertainer and Entertainer of the Year. He also earned two Emmy Awards, six gold albums and two stars on the Hollywood Walk of Fame. He is listed in the Guinness Book of World Records as the world's highest paid musician and pianist.
Liberace's final performances were at Radio City Music in 1986. After his Radio City engagement, he went on a four-city tour to promote his fourth book, "The Wonderful Private World of Liberace." He then returned to his Palm Springs home where he died Feb. 4, 1987, just over three months shy of his 68th birthday.
Until Oct. 17, the Liberace Museum (1775 E. Tropicana Ave. at Spencer Street) is open Monday through Saturday 10 a.m. to 5 p.m. and Sunday from noon to 4 p.m., although hours may be extended until the closing. Admission is $15 for adults and $10 for seniors 65 and older, as well as students with a valid school ID.
For more information, call 798-5595 or go to www.liberace.org.