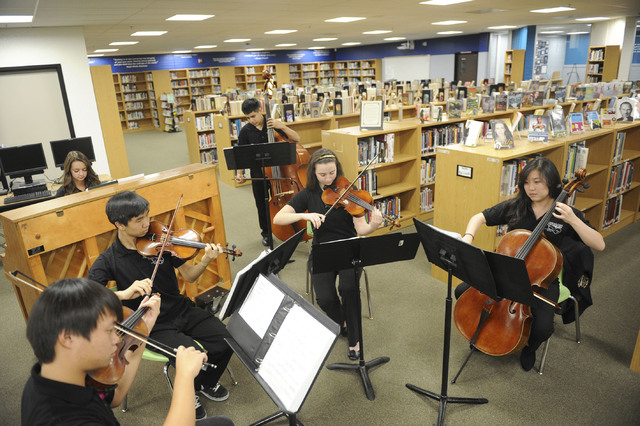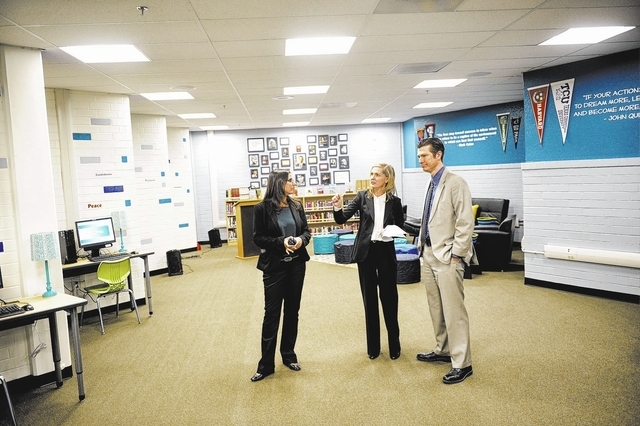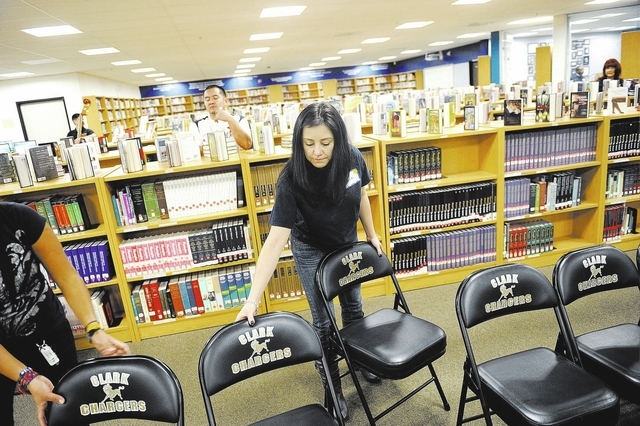 Thirty minutes before the grand reopening, volunteers from Capital One and the Heart of America Foundation rush about the library of Clark High School.
They hang signs, vacuum the carpet and assemble tables and chairs while listening to Duran Duran's "Hungry Like the Wolf" to keep the positive vibes flowing.
Students from the school's Academy of Finance enter in business attire, smiling and pointing as they see the renovated library for the first time.
"It's a much more welcoming atmosphere," said student Scarlett Lueck, 17. "It doesn't feel like office cubicles when you walk in anymore."
Clark High School, 4291 Pennwood Ave., celebrated its revamped library with a ribbon-cutting ceremony on Nov. 12.
The renovation was done using a $65,000 grant from the Heart of America Foundation's READesign program and Capital One.
"The physical resource value is $65,000," said principal Jill Pendleton, "but to add all the volunteer hours, it's difficult to articulate in terms of dollars how much that would be."
According to the vice president of READesign, John Flynn, the high school's original library was dull and boring.
"To call it 'blah' was an understatement," Flynn said. "It was clean and orderly, but it lacked inspiration and color."
The grant provided the library with new furniture, shelving, books and a college and career center. The walls were painted and decorated with inspirational quotes and photos.
"The library is receiving more than 350 books to help research careers, colleges, entrance exams and college and financial applications," said Paul Keagle, Capital One's vice president of operations. "It will better prepare Clark High School students."
The Heart of America Foundation and Capital One worked with students to get input on what they wanted and needed in the library.
Capital One also partnered with Academy of Finance students to create the financial planning and budgeting portion of the project.
"It's really been a student-driven initiative," Pendleton said. "The students have really enjoyed it."
In January, Clark High School completed a $33 million renovation that replaced the heating and air-conditioning systems, carpet, lockers and more.
"During the big renovation, the library received new ceiling tiles, eco-friendly lighting and a new projector system," Pendleton said. "This renovation was a really great opportunity to take it one step further."
The READesign program aims to bring resources to students in low socioeconomic schools. Clark High School has about 3,100 students, with 70 percent of them qualifying for free or reduced lunch, according to Pendleton.
"We realize there is a great need in those students' lives," Flynn said, "and we're hoping to level the playing field for students who don't have access to resources by providing them."
The Heart of America Foundation has renovated about 230 school libraries through the READesign program, including Whitney and Herron elementary schools and Smith Middle School.
Capital One has been a partner with Clark High School since 1993 and the Academy of Finance since 1997.
"We're trying to increase the graduation rate, get kids to read and raise test scores. But we can't do it alone," said Mike Barton, chief student achievement officer for the Clark County School District. "This is just a perfect picture of when community and partners come together."
Contact Southwest/Spring Valley View reporter Caitlyn Belcher at cbelcher@viewnews.com or 702-383-0403.