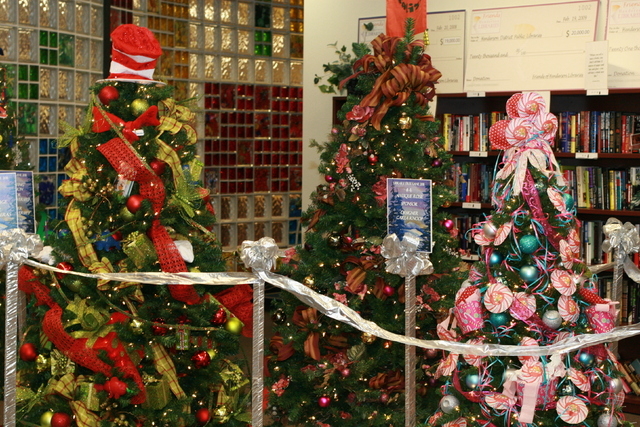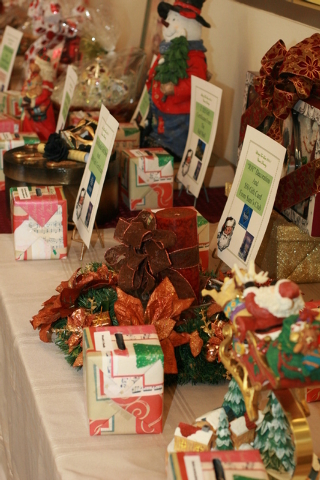 Friends of Henderson Libraries are set to continue their literary support this holiday season.
The 11th annual Library Tree Lane fundraiser is planned through Dec. 5 at the Paseo Verde Library, 280 S. Green Valley Parkway.
The nonprofit is scheduled to sell gift baskets, table-top trees, festive wreaths and raffle tickets in a boutique store during library hours, according to the organization's president, Marian Brown.
"There will also be decorated trees on display that were purchased by different individuals and corporations," Brown said. "Those trees will then be donated to a charity of their choice."
A gala and reception are also planned to offer auctions, raffles, food and more from 7 to 10 p.m. Dec. 5 at the library, according to vice president Julie Buckley.
"We will have about 250 themed baskets that will be auctioned off throughout the night in eight different stations," Buckley said. "The values of these baskets range from $25 to $1,000 and include books and items of value, such as a train set, a stay at (The Cosmopolitan of Las Vegas) and golf clubs."
The event is also set to feature guest author Deborah Coonts, a writer with local ties and known for her "Lucky in Vegas" mystery series.
"We will also be honoring Robyn and Jim Carr," Buckley said. "Robyn is a No. 1 New York Times bestselling author and a local artist. She and Jim are wonderful and have always supported the library."
About 550 people attended the gala last year and raised around $37,000 to support library programs. This year's event is set to benefit youth services from "tots to teens," according to Buckley.
"It's really a wonderful event that the community looks forward to each year," Buckley said. "Everything we sell or auction off is donated. Everything in the baskets are donations collected from businesses or filler items donated by patrons. It's really a community effort."
Friends of Henderson Libraries was founded in 2000 to provide materials to the libraries with the support of about 200 volunteers, who are in charge of running book sales, cataloging books, screening movies and DVDs and more.
Last fiscal year, the nonprofit donated more than $135,000 to the library district.
"It's important to support the library," Buckley said. "We've always tried to gear our efforts toward children. It's about keeping them in the libraries and keeping them happy."
Gala tickets are $35 and can be purchased at the Paseo Verde Library. For more information, visit hdplfriends.org or call 702-492-6592.
Contact Henderson View reporter Caitlyn Belcher at cbelcher@viewnews.com or 702-383-0403.