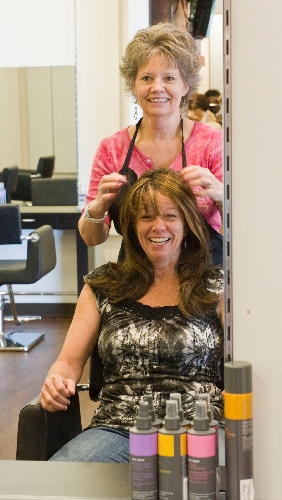 Reese Zaherali knows what it feels like to wig out over your hair.
He's been struggling for years with Alopecia, a condition that causes hair loss in men and women. It was this medical condition that led the licensed cosmetologist to wear wigs — and moreover, to begin working at local wig stores.
"I saw the things that, in my opinion, shouldn't be done and realized I could do it better," he said. "So I decided to try."
Zaherali opened Reese's Wigs & More, 4620 W. Sahara Ave., almost a year ago. The facility is a full-service wig salon featuring more than 500 wigs and hairpieces, private fitting rooms and a professional staff with more than 25 combined years of wig fitting and styling experience.
"I just imagined what I wanted as a customer and try to provide that," he said.
Zaherali said he has a variety of customers who frequent the shop, with an average of 100 customers per week. Everyone from chemotherapy patients to exotic dancers stop by to try on various wig styles, colors and designs. The boutique carries styles from designers such as Raquel Welch, Henry Margu, Tony of Beverly, Jessica Simpson, Ken Paves, Rene of Paris, Envy Wigs, Revlon and Noriko.
The store also features hair accessories such as hats and headbands.
Las Vegas resident Jody Church said she comes into the store when she gets the itch to cut her long hair or dye it some drastic color.
"I've damaged my hair in the past, and this has become a suitable alternative for me," she said. "Why mess with my own hair when I can come here and get a beautiful wig that will give the same effect?"
Zaherali said many tourists discover his shop and buy wigs to add to the mystique of the entire Las Vegas experience.
"I think it's that whole 'What happens in Vegas, s tays in Vegas,' thing," he said.
Zaherali said business was slow in the beginning, but as word of mouth spreads about the store, he is seeing an uptick in patronage.
"Even with the economy not being the best that it has been, I'm happy to say that we are surviving and doing just fine," he said. "That's quite an accomplishment for a new business in today's world."
A year from now, Zaherali said he hopes Reese's will have become one of the best -known wig salons in the valley and that he will be contemplating expansion.
"I don't want to get too ahead of myself, but I have big dreams for this place," he said. "Our first priority will always be our customers. If that means opening another shop for the purpose of convenience and everything aligns correctly, I think I might consider it. I think the future is bright."
For more information, visit reesewigs.com or call 489-9447.
Contact Southwest and Spring Valley View reporter Amanda Donnelly at adonnelly@viewnews.com or 380-4535.