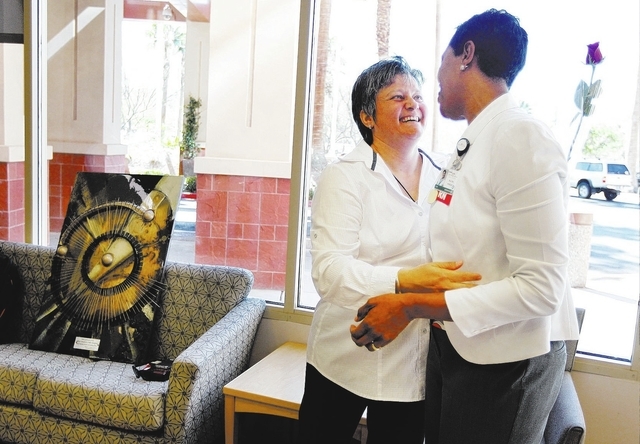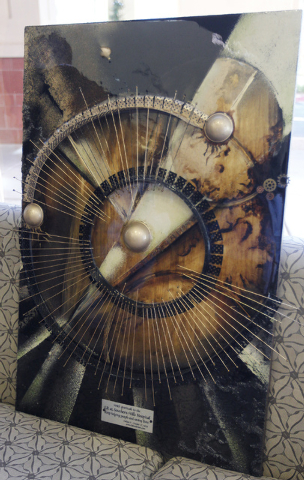 Sometimes a picture is worth a thousand words. But for artist Violeta Veltcheva, a picture is worth her whole life.
Veltcheva donated a piece of artwork on Oct. 17 to Southern Hills Hospital & Medical Center, 9300 W. Sunset Road, after she and her family visited the emergency room three years ago.
In October 2010, Veltcheva was involved in a serious car accident.
"I realized she was going to hit me, and I tried to avoid it but was hit," she said. "I have forgiven (the woman). For sure no one expected it."
Veltcheva, a southwest resident, was taken to Southern Hills Hospital for what paramedics thought was internal bleeding.
"My whole life was like a movie going by," she said, "but I felt secure in their hands."
After numerous X-rays and scans, doctors released Veltcheva after they did not find any indications of bleeding.
Within the same month, her mother, Vera Vessilenova, and nephew also visited the same emergency room.
"By the last time, the (nurses) in the registration office were like, 'Oh, we know you!' " she said.
Veltcheva wanted to thank the hospital and decided to create and donate a piece of artwork. It is made of wood, fiberglass, aluminum, plastic and paint. It represents people's life paths and light, according to Veltcheva.
"At one point, all the paths cross," she said. "I put a lot of light also because (the hospital staff) brings light to millions of lives every single day and night."
Veltcheva worked on the art for about 20 days. It took even longer to plan the donation ceremony.
"It's about something coming from myself, and I just wanted somebody there to receive it," she said. "It's an appreciation from everybody, even those who have no time or forgot to say, 'Thank you.' "
Last year, Southern Hills Hospital received a custom wood carving from the Metropolitan Police Department Search and Rescue Unit.
"It's rare (to receive art) because not everybody expresses gratitude in this way," said Joyce Goedeke, Southern Hills Hospital's vice president of marketing. "We're fortunate to receive two (donations) in less than a year."
Chief nursing officer Maura Wright accepted Veltcheva's donation at the ceremony inside the hospital.
"It was an absolute honor," Wright said. "Words cannot express how it felt to hear (Veltcheva) express her words of gratitude. It's an absolutely beautiful piece."
Wright said she is proud the hospital was able to provide high-quality care to Veltcheva and her family.
"Because of the care we provided, (Veltcheva's) mother celebrated her 69th birthday this month and is standing here today," Wright said. "We want to be known as the community's hospital and (Veltcheva) brought that message back to us with her piece."
The donation is set to be displayed by Jennifer Renner, the hospital's director of emergency services.
Born in Bulgaria, Veltcheva has been an artist since she was a child and participated in many exhibitions and events.
"I passed three exams just so I could study in a special school for arts and design," Veltcheva said, "but I (didn't have any) connections. I wasn't the chosen one."
About 17 years ago, Veltcheva fled to the United States from Bulgaria. She landed in San Francisco with $500 in her pocket.
"I did not know English," she said. "The security officer that was looking at my green card papers helped me so I could find the (connecting) flight. Bulgaria is a small country, and the airport was so big."
Veltcheva made her home in Phoenix and picked up art again while working as a preschool teacher for a nonprofit organization.
"Our principal came to us one day and asked us to come up with ideas to cover this blank wall," Veltcheva said. "So I drew a sun with a human face holding a big pile of flowers with a swing and children."
The principal loved the drawing and asked Veltcheva to paint it on the wall. Parents noticed the painting and approached her for small art jobs.
"They started inviting me in their houses to paint the kids' rooms with their favorite Blue's Clues or children's books," Veltcheva said. "That was my very first (art) here."
Despite taking on requests, Veltcheva said she's never treated her art as a business.
"It's just something I do for fun to express myself," she said. "I like to show people how I see the world and its colors and shapes and light."
Veltcheva moved to Las Vegas about 10 years ago and spends most of her time with her adoptive family.
"They're not my blood, but we support each other every day, and I accept them as my real family," she said. "When you come from a different country, I don't know how to explain it, but it's good to have somebody you can always count on."
Although Veltcheva works for a luxury transportation company, she continues to make art on the side.
She plans on starting a nonprofit organization that involves artists and children making artwork together. She wants to sell the pieces and donate the money to children's organizations.
"(Some artists and I) will put together half of the project, and we'll let kids finish it the way they envision it," Veltcheva said. "It's a collaboration between generations."
Veltcheva also sells art through her website. She conducts in-home consultations with clients and tailors the art to fit each home.
She has a client in Henderson who ordered 17 of her pieces, Veltcheva said.
"He put three of them on his wall and told me his house looked completely changed," she said. "I was singing all day long. It meant more than the money gave me. Trust me."
As a final touch, Veltcheva makes sure all her pieces have a glossy finish.
"It is like a mirror," Veltcheva said, "so when you stand in front of the piece, you are always able to see yourself in my pieces."
For more information, visit 3dmodernart.com.
Contact Southwest/Spring Valley View reporter Caitlyn Belcher at cbelcher@viewnews.com or 702-383-0403.