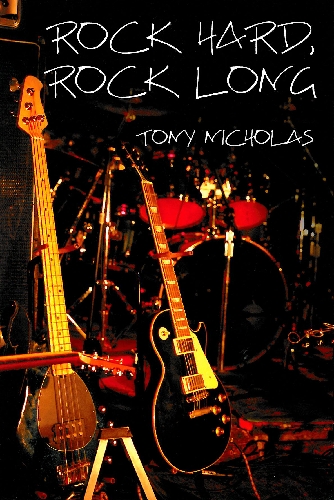 Las Vegas writer Tony Nicholas began studying music as an 8-year-old. As he moved from garage bands to playing live, he realized it took more than talent to be a star. Without regret he gave up the dream and went on to earn degrees in computer science, business and finance. The MBA graduate served in the U.S. Navy during the Vietnam era and worked in fields as diverse as air traffic control and college instruction.
It was working with students that inspired him to revisit his musical past and what might have been in the novel "Rock Hard, Rock Long," the story of a young musician determined to make it to the top of the rock world.
For more information about the book, visit http://rockhardrocklong.blogspot.com/.
Excerpt from
"Rock Hard, Rock Long"
The music business was such a strange animal – much of it had nothing to do with the music they played. The personalities, the lifestyle, the drugs and groupies, the separation anxiety, there were countless ways they could soar so high, or, as sudden, explode like a Fourth of July firework display, with few answers.
Who could say whether they would burn out in the moment of the blast, or glitter to the ground in a slow dying decent fading in the night? How many untold bands never found their way out of the gate, super groups overwhelmed in the malaise of their own talent and ambition, or the one-hit wonders that disappeared after their day in the limelight eking out careers in perfect obscurity on the back circuit clubs and Vegas lounges?