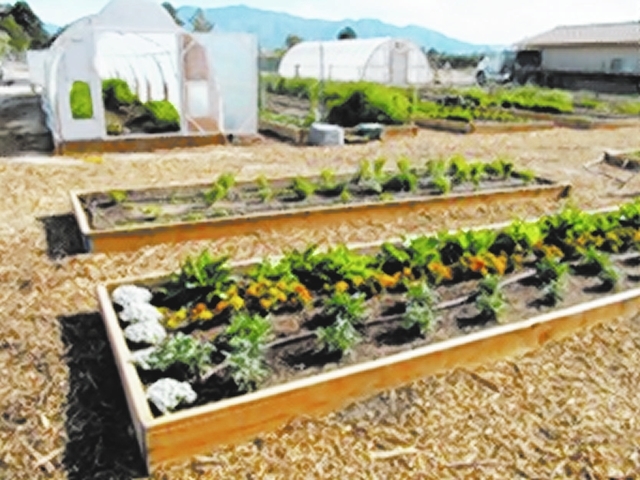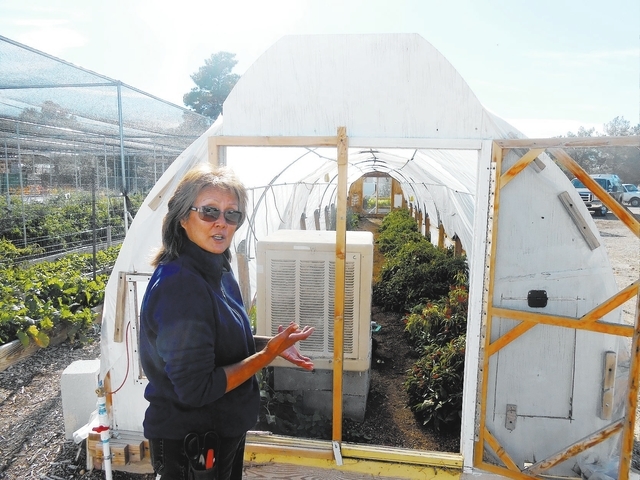 Cowboy Trails Farm might be the biggest little produce grower in the city.
In a little more than two years, the Centennial Hills-based nonprofit has grown from a hobby-sized community garden into a multi-greenhouse compost and farming operation big enough to secure two recent organic food supply contracts at the Aliante's Farm 24-7 diner and Garfield's Restaurant in Desert Shores.
Behind that growth is farm owner and co-founder Marilyn Yamamoto, who started Cowboy Trails in 2011 with her husband and a1 1/2-acre patch of dirt between Decatur and Jones boulevards.
Today, Cowboy Trails produces almost six dozen types of fruits and vegetables, including enough papaya, banana, avocado and mango to supply food baskets to each of the farm's more than 50 community food partners and individual members.
Work on Yamamoto's 50-tree fruit orchard has gone dark for the winter, though she expects to pluck plenty of peppers, cilantro and green onions through mid-December out of the farm's three hoop houses, a type of plastic greenhouse.
Work will also continue year-round on mint and other herbs grown above the farm's aquaponic plot, which is fertilized by ammonia and other waste from the bass living in a freshwater pond below.
Between vendor orders, aquaponic produce and the farm's recently debuted KidzGro2 nutrition education program, Yamamoto seems to have a lot on her plate.
By this time next year, she hopes to have a lot more. While other area farms settle in for a sleepy hibernation, Yamamoto's features the sound of hammers banging a new greenhouse into shape.
"We've done a lot in the two years that we've been here," Yamamoto said. "But we're still growing. The Aliante (contract) is basically supporting us right now, but we do have 50 (produce-buying) members and over 730 members on Meetup.
"So we're expanding. We have to."
Yamamoto, a California native, started the farm with seed money from the 2004 sale of her Las Vegas-based trade show design company, though she doesn't expect to break even on that investment for at least another year.
But business remains brisk — so brisk, in fact, that she's started to bump against a familiar foe from the business world: red tape.
"What's happening now, believe it or not, is the state and federal government putting a lot of restrictions on what we can grow and how," Yamamoto said. "We even had a run-in with the city over our farm dinners recently. I guess you need a special permit to have dinners on the farm, and (the city) apparently just realized we're here, and we didn't have one."
The city is not alone. Farm 24-7 executive chef George Jacquez heard about the farm through a little bit of luck and a lot of asking around.
The Texas native said he had all but given up on the possibility of developing a farm-to-table menu in Las Vegas by the time he met Yamamoto in July.
He has since committed to collecting about 90 percent of his produce through the farm, good for around $500 per week.
"I was just shocked at the quality of stuff she was producing," Jacquez said. "Still, when I bring it to someone's table, they can't believe it was grown a mile and a half from here.
"Everyone has heard of Gilcrease (Orchard), but I think Marilyn flies under the radar. She's doing some great work out there."
For more information on Cowboy Trails Farm, 6550 Cowboy Trail Road, visit the farm's Facebook page or contact Yamamoto at 702-604-3165.
Contact Centennial and North Las Vegas View reporter James DeHaven at jdehaven@viewnews.com or 702-477-3839.