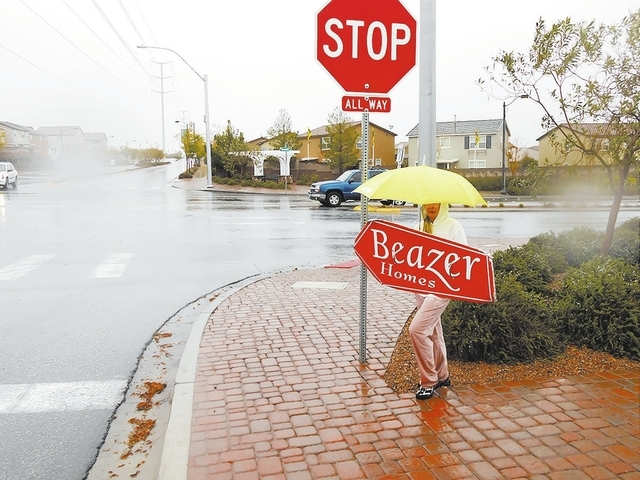 The housing market rebound in Centennial Hills has been a near complete sensory experience: The sound of hammers, the sight of earth movers and, for Maaret Easley, the smell of car exhaust.
Easley, one of a few dozen sign spinners recently reassigned to advertise new home construction on area street corners, has manned the corner of Shaumber Road and West Dorrell Lane on three recent three weekends, including a soggy Saturday late last month.
Nov. 23 was the kind of day that kept panhandlers off the streets, but Easley — shivering alongside a red, arrow-shaped Beazer Homes sign under a yellow umbrella — seemed in high spirits.
The 46-year-old North Las Vegas resident, who became a casualty of recession-era downsizing almost a year ago, said she'd seen worse days on the job.
"I'd rather be hot than cold, but it's really not bad," Easley said. "I used to work in data entry, and I'm still seeking a full-time job, so I guess you could say my favorite part of this job is just having the extra cash."
She was joined by 19-year-old College of Southern Nevada student Tyler Robinson, who huddled across Shaumber Road with a giant KB Homes sign he occasionally hefted as an umbrella.
Most Saturdays, Robinson would expect to spot another pair of spinners hired by rival area home builders camped out across the street.
This was not one of those days.
"I guess they got the day off," said Robinson, a three-year-veteran spinner who normally brings a little showmanship to the job. "I'm not the best with tricks and spins, but I'd be a lot more active with the sign if it weren't raining.
"The only real trick is to spin a lot while cars get to the intersection, then slow down when they get here so they can read it."
Desiree Van Leer, a marketing coordinator with Ryland Homes, couldn't agree more.
Van Leer represents one of the largest of nearly a dozen builders banging away at blocks of un-stuccoed homes in the northwest.
She's also a big believer in the three or four spinners her company dispatches in and around Providence on Saturdays.
Van Leer said the spinners, known in the industry as "living billboards" or "human directionals," still count as developers' first and possibly best chance to grab a home buyer's attention.
The trick, from a sales perspective, is finding spinners with just the right amount of spin.
Too much, she said, and home buyers can't see what the company is selling. Too little, and they might not care.
"(Sign spinning) attracts a lot of attention," she said. "It sounds cheesy, but it works. … People notice them, and they're just a great reminder that we, as a company, are here."
If the true test of a good spinner is sticking power — whether or not they're remembered once they leave the rearview mirror — then Providence-area resident Andrea Buckman has spotted a few who deserve a raise in recent weeks.
Buckman said she's never seen seen spinners on her way to work in North Las Vegas but can't miss them once she crosses Decatur Boulevard into Centennial Hills.
"I see them over on the corner of Oso Blanca (Road) and Durango (Drive) every weekend," Buckman said. "I don't even know what their signs say, to be honest with you, but my 5-year-old daughter asks about them all the time, about how much they get paid and how much they train.
"I just kind of wonder, who would do that job?"
All kinds of people, according to Pathfinder Signs and Marketing Inc. manager Kes Andersen.
Andersen, who does some sign spinning of his own whenever the company is shorthanded, said he's been sending around two dozen spinners to Providence and other areas in recent months.
Most of those are between the ages of 18 and 20, earning between $12 and $20 an hour, depending on experience. Some have several years of experience, but most have been at it for less than a year. A few can expect to find themselves at the same street corner for weeks, even months, at a time if a developer happens to like their dance moves.
Andersen has long counted all of them as a pretty sturdy bellwether of the local housing recovery.
He is happy to report that they haven't been this in-demand in a long time.
"There's absolutely been an uptick in the market," Andersen said. "Mostly up in the northwest and Mountain's Edge, but honestly, business has been steady for the past 12 months.
"It's not like it used to be but better than it's been in four or five years."
Contact Centennial and North Las Vegas View reporter James DeHaven at jdehaven@viewnews.com or 702-477-3839.