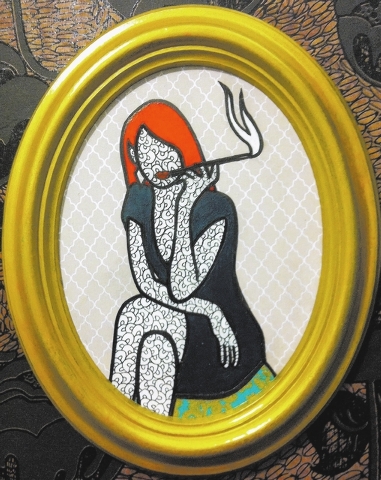 It hasn't been uncommon for Tiffany Ward, a Spring Valley resident, to receive support from strangers after her daughter Brazyl, 6, was struck in a hit-and-run accident Oct. 31.
Members of the community have used social media to give their condolences and prayers to the family, but Summerlin artist Gia Ray said she needed to do more. She decided to raise money for Brazyl by selling her artwork.
"We have never met in person," Ward said. "For (Ray) to be so touched when it came to my daughter, it was amazing."
Ray set out to raise $1,000 by selling her leftover pieces from art shows and galleries.
"I don't have any money myself to give them, but I do have art I can sell to raise the money," Ray said. "I would love to do more, but this is all I have at the moment."
The idea came to Ray after hearing Brazyl's story on the news. She reached out to Ward through Facebook to get her blessing for the fundraiser.
"I was blown away," Ward said. "I could definitely tell (Ray) was really concerned and wanted the best for Brazyl. It was a happy moment."
Ray hosted an online auction for seven paintings and 20 prints. Within three days, she sold five paintings and one print.
The artwork was created using mixed media on wood and printed ink on paper. According to Ray, the pieces are valued between $40 and $675 but have sold for much less.
"The donation prices are listed between $20 and $200," Ray said. "I wanted to make it affordable but still be able to raise enough money to make it worth it."
The fundraiser will continue until all the artwork is sold, Ray said. Any money over the $1,000 goal will be given to Brazyl's siblings, Brandon Jr., 8, and Berlyn, 1.
"Once I sell my paintings, I should have a little extra money to turn into gift cards for her brother and sister," Ray said. "I can't help one kid and not the other two."
Ward said she keeps in contact with Ray and plans to meet her after the fundraiser is completed. Ray hopes to meet Brazyl once she's released from the hospital.
"I talk to her about every other day," Ward said. "She asks me about the progress of Brazyl and how we're all doing. It's awesome."
The Ward family has received additional donations from other fundraisers, including pool and softball tournaments, school drives and a Zumbathon.
"I haven't had a chance to look at the donation account," Ward said, "but I wouldn't be surprised if it was over $10,000.
"My daughter is going to be so excited when she wakes up and sees how many people care about her."
For more information or to purchase art, contact Ray at artbygia@yahoo.com.
Contact Southwest/Spring Valley View reporter Caitlyn Belcher at cbelcher@viewnews.com or 702-383-0403.