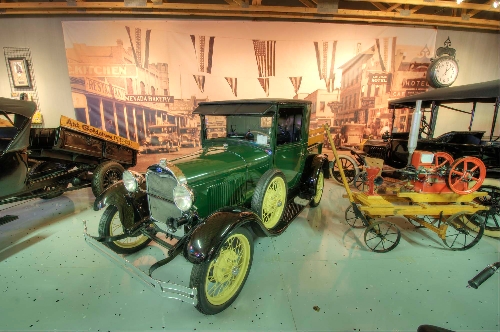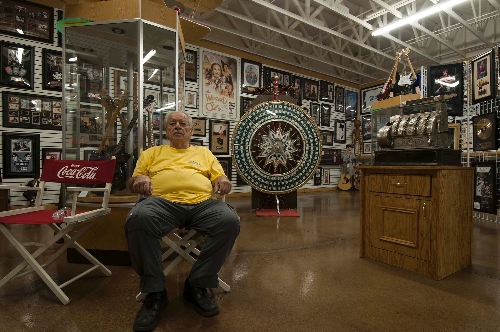 Old jail locks with giant keys, a check for $925 signed by Thomas Edison, a 1955 Chevrolet with a 1,600-horsepower engine, the second gas-powered Maytag washing machine sold in Nevada, a piece of the Hindenburg – the Goldstrom family has it all.
The family runs Goldstrom Enterprises, 5375 Cameron St., Suite M, and has what it calls the "best-kept secret in Las Vegas," a private museum containing more than 160 vintage cars dating to Ford Model T's. Every car runs, patriarch Art Goldstrom said proudly.
"We just kept going to auctions and kept collecting," he said. " It's my hobby, and I love it. There's no rhyme or reason, I just collect everything."
The Goldstroms offer free, private tours by appointment from 10 a.m. to 2 p.m. Monday through Friday. For more information, visit nostalgiastreetrods.com or call 876-3652.
While there is no charge to view the museum, the family accepts donations. That money is donated to research for Parkinson's disease, from which Art Goldstrom's mother died.
Goldstrom Enterprises used to be in the business of clearing debris from demolished hotels. The family cleared the remains of the Dunes, Stardust and Hacienda after their implosions.
Art Goldstrom, 78, grew up in the valley and began fixing up cars in auto classes at Las Vegas High School. He and his friends would street-race in the 1950s and developed a system for avoiding the city's three police vehicles.
The Goldstroms' museum is really two collections. Art collects mostly cars. His wife, Shirley, collects just about everything else.
The walls of Shirley's museum are covered with signed sports, movie and music memorabilia. There are antique telephones, sewing machines, slot machines, unopened Cabbage Patch Kids, lunch boxes complete with thermoses. They are not worth much without the Thermos, Art Goldstrom pointed out.
"My parents have this awesome collection, and nobody knows about it," Art's daughter, Sheri Goldstrom, said. "It's a blessing for us to share what my parents have collected."
Contact View education reporter Jeff Mosier at jmosier@viewnews.com or 224-5524.