Lombard Drive pays tribute to actress who met tragic fate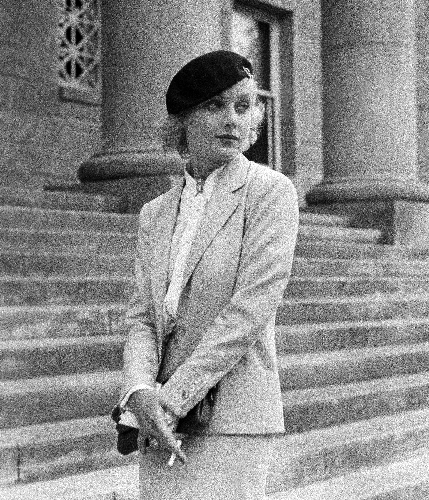 Carole Lombard's connection to Las Vegas is festooned by tragedy and tribute.
The Hollywood starlet's career was cut short by a war-bond-trip airplane crash on Mount Potosi, which is about 30 miles southwest of the valley, Jan. 16, 1942. All 22 aboard, including 33-year-old Lombard and her mother, died.
The accident became Las Vegas lore, as Lombard's husband, actor Clark Gable, hurried to town but was discouraged from joining the search party. He hunkered down at the Pioneer Saloon in Goodsprings , waiting for word, said Mark Hall-Patton, administrator for the Clark County Museum System.
His hopes were dashed following a telegram that read, "No survivors — all killed instantly."
"This was quite a shock . She was quite famous, on the top of her game as an actress," Hall-Patton said.
Lombard was honored in the last town she set foot in with the naming of Lombard Drive in the Centennial Hills area. It is unknown who named it for the star or when.
On the night of her death, Lombard was destined for home in Los Angeles. The group she was traveling with had wrapped up a war bond stop in Indiana. Their DC-3 airplane touched down at Western Air Express fields, which is now Nellis Air Force Base, to refuel.
The plane was flying for TWA, which had a shaky relationship with Western Air Express and usually would lift off from the airport in Boulder City, Hall-Patton said.
The change in airport could have affected its fated trajectory, he said.
"Their directional headings were based on flying out from Boulder City," he said. "Bad weather and directional headings made them run into the mountain rather than around it."
Around the time of the crash, some theorized a conspiracy while others blamed the pilot, Capt . Wayne Williams.
In any case, the group, which included 15 military servicemen, were on a goodwill mission.
Like many celebrities, Lombard worked with the military to travel around the country during World War II boosting morale and hawking war bonds to fund the war.
"That's how she ended up coming to the area and becoming part of our history," Hall-Patton said.
Lombard's widower had a storied and slightly besmirched history relating to Nevada, said Michael Green, history professor for the College of Southern Nevada.
Gable's first wife, Ria Langham, famously headed to Las Vegas in the late 1930s to procure a speedy divorce from the star.
"Most people who sought a divorce went to Reno, which was on the Central Pacific Line and easier to get to," Green said. "Las Vegas was very much the runner-up for the divorce change."
Local leaders promoted the budding town as a destination to "see people from Hollywood" on the divorce circuit, Green said.
Las Vegas got more news story datelines when Lombard died, and the saloon where Gable waited for word will always have a connection to him.
Gable also shot his last film, "The Misfits," near Reno.
"For good or bad, Gable didn't have a good relationship with Nevada," Green said.
Contact Centennial and Paradise View reporter Maggie Lillis at mlillis@viewnews.com or 477-3839.