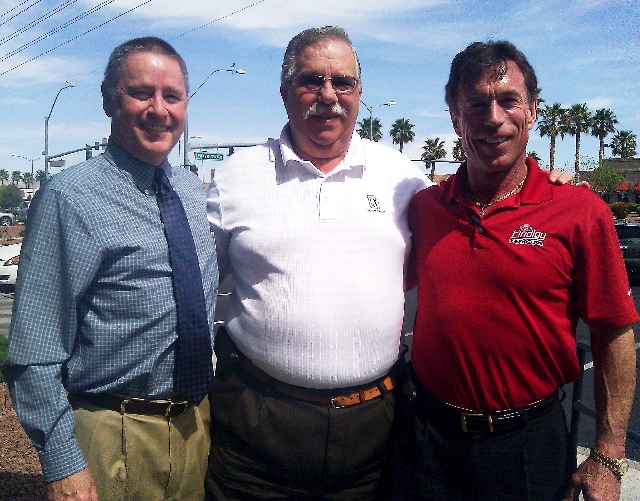 John Taylor, one of Findlay Automotive Group's most dedicated employees, has retired after nearly 25 years of service.
Taylor, known for his dedication and his sense of humor, joined the company in February 1989 working as a sales consultant for Pete Findlay Oldsmobile Subaru Daihatsu on Boulder Highway.
Taylor, a retired U.S. Air Force veteran, was a weather forecaster while in the service. He said he couldn't have forecast a better transition than the one he engineered when he moved into the car business.
Knowing his career days were about done in the Air Force, Taylor started dropping off résumés at local television and radio stations. During his travels, he stopped by Findlay RV on Boulder Highway to say hello and instantly received an invitation to enter the car business.
"The next thing I knew, I was being interviewed by Findlay Oldsmobile General Manager Rich Abajian (now of Findlay Toyota) and the rest is history. My intent was not to go into the car business. When I learned about the possibility of (a) a good income and (b) the health benefits, I decided to give it a try."
Most automobile sales consultants recalls their first car deals, and Taylor is no different. A couple needing a van suitable for the disabled walked onto the lot and Taylor welcomed them.
"She and her husband drove onto the lot and I greeted them and listened to their wants and needs," Taylor explained. "I found right then what a thrill it is to help someone find something they need."
Taylor said he probably could have worked for other automobile operations, but chose to stay with Findlay Automotive Group.
"With Pete Findlay and his wife, Mary Jo, it was a good family environment. Pete was an awesome person and so very easy to work for. The atmosphere is very positive and has been since Day One. Proof of that is how many longtime employees have more than 20 years with the company," he said. "There's simply something really nice about the fact that the owners know you by your first name."
Taylor added that Findlay Automotive Group is rated 26th in the top 125 dealer groups in the country.
"That speaks for itself," he said.
Taylor also praised his former employers.
"You can't find a better person than Rich Abajian," Taylor said. "He is always trying and he's always has a great attitude. He's positive and that rubs off on you and he gets the most out of every employee."
Taylor said there is no telling where Findlay Automotive Group is headed, although he's sure the company's growth will continue.
"With Rich, Cliff Findlay and (Chief Financial Officer Tyler Corder leading the way, the group is in excellent shape," Taylor said. "As an example, it took expert leadership to get the group through the tough times beginning in 2008 and the stores are all doing fine now."
Taylor said he isn't sure what he will do next.
"One thing is for sure and that is that I'm not going to be hanging out on fishing banks anytime soon," he said. "I'm too active for that kind of retirement.
Further information can be found by visiting www.findlayauto.com.