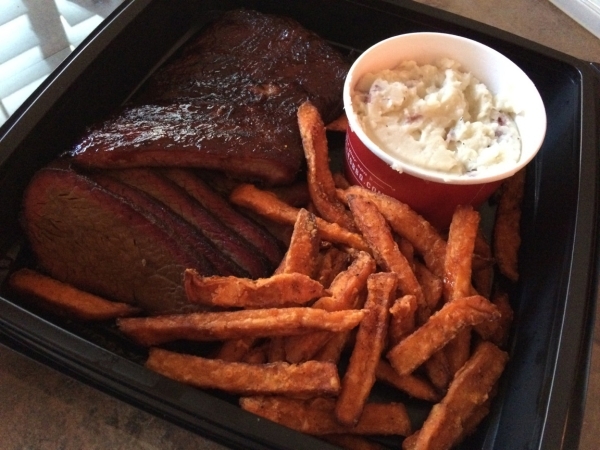 Got a hankering for Southern favorites that have been smoked slow and steady?
If you're in Summerlin, head over to Red Rock Resort, 11011 W. Charleston Blvd., where Lucille's Smokehouse Bar-B-Que offers its signature brand of down-home grilling.
There's also a location in Henderson at The District at Green Valley Ranch, 2245 Village Walk Drive.
The eatery at Red Rock Resort is accessed through both the casino and off the parking lot, while the one at The District is a stand-alone restaurant.
At Red Rock Resort's location, you will enter to find Main Street USA, complete with an awning over the kitchen prep area, plank siding on the walls, brickwork, lighted trees and a faux porch. The tables and chairs are an eclectic mix of middle America. The menu, however, is strictly Southern with plenty of choices.
If you can't decide, then start things off with Lucille's Appetizer Platter with pork rib tips, fried dill pickles, sweet potato fries, fried green tomatoes, Dixie egg rolls, fried okra, chicken strips and spicy hot links ($21.99 or $15.99 for a half portion).
The BBQ Sausage Trio ($9.99) offers a trio of Lucille's signature sausages: spicy hot link; smoked BBQ; and bacon cheddar — flame-grilled, sliced and basted with the eatery's signature barbecue sauce.
Southern chicken strips are soaked in old-fashioned buttermilk, coated in flour and Bayou spices, then deep-fried to a golden brown. For sides, there are Lucille's onion straws, which are deep-fried; fried green tomatoes; and spinach and cheese dip with artichokes, a potluck supper standby in the South.
A majority of the menu is about the meat — the selection of barbecued grub that is slow-smoked with hickory wood — and whether you choose beef or pork, it's served with sides: roasted garlic mashed potatoes; french fries; baked potato; potato salad; sweet potato fries; macaroni and cheese; creamy cheese grits; Southern braised greens; creamy coleslaw; honey-roasted peanut slaw; fresh vegetables; barbecue beans; fresh corn on the cob; potato chips; and watermelon.
Ribs come in three styles. Baby back ribs, meaty pork ribs that are slow-cooked with sweet hickory smoke and then grilled and basted in barbecue sauce ($28.99 for a full rack and $24.99 for a half rack); St. Louis spare ribs (pork), seasoned with Lucille's special rub, slowly smoked and then grilled ($27.99 for a full rack and $23.99 for a half rack); and BBQ beef ribs (seven bones for $31.99, five bones for $28.99 or three bones for $24.99).
Other meats include smoked BBQ half chicken, Texas-style beef brisket, BBQ tri tip and sausage, all of which can be mixed and matched in combo platters.
Lucille's is open from 11 a.m. to 10 p.m. Sunday through Thursday and 11 a.m. to 11 p.m. Friday and Saturday at both locations. For the Red Rock Resort location, call 702-220-7427. For The District location, call 702-257-7427.
Visit lucillesbbq.com.
Lucille's Smokehouse Bar-B-Que
Red Rock Resort, 11011 W. Charleston Blvd.; 702-220-7427
The District at Green Valley Ranch, 2245 Village Walk Drive; 702-257-7427
Open (both locations): 11 a.m. to 10 p.m. Sunday through Thursday; 11 a.m. to 11 p.m. Friday and Saturday
lucillesbbq.com