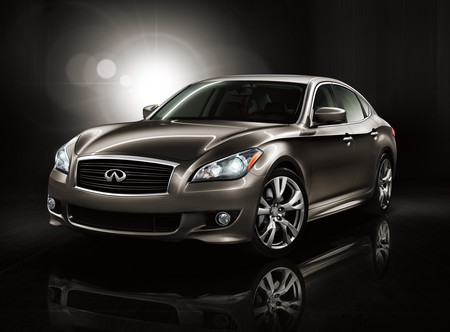 If top-line automobiles are all about providing the stuff that dreams are made of, the new Infiniti M will have you talking in your sleep.
For 2011, the M gains the beauty, technology and the power to put it on just about any wish list. That hasn't always been the case, though. Although past attempts were competent, the M rarely struck an "I-gots-ta-have-it" chord with buyers.
The M line has been around ever since Nissan launched its upscale Infiniti brand in 1990. It was upgraded to flagship-sedan status with the demise of the Q45 in 2006 and has received constant improvements in design and performance since then. The 2011 M arriving this spring makes the biggest forward leap, without gaining size.
The exterior dimensions closely mirror those of the 2010 car, which correctly implies that the basic structure carries over. The distance between the front and rear wheels is unchanged and overall length, width and height vary only slightly.
The all-new sheetmetal infuses the car with the sort of character that's worthy of its luxury-sedan calling. Sensuously rounded fenders with delicate creases extending along the sides of the body as well as the extended sweep of the roof provide an almost voluptuous appearance.
The attention to design detail also extends inside, which is always a make-it-or-break-it area for upscale sedans. Here, the M's curvaceous dashboard and matching control panel are in complete harmony with the rest of the interior. And helping to keep the cabin quiet is a system that sends noise-canceling sound waves through door-mounted stereo speakers. The system is monitored using microphones located in the ceiling.
The optional Deluxe Touring Package adds soft-touch real and faux leather surfaces, genuine wood trim and a suede-like headliner for even greater sound-deadening comfort.
There are actually two quite different M varieties, both with plenty of power. The M37 comes with a 330-horse 3.7-liter V-6 that replaces the outgoing M35's 303-horsepower 3.5-liter V-6. The M56 delivers its punch with a 420-horsepower 5.7-liter V-8 that shoos away the previous 325-horsepower V-8.
Both powerplants are connected to all-new seven-speed automatic transmissions with downshift-rev-matching for added smoothness.
Through the standard Infiniti Drive, those aboard can select Standard, Eco (economy), Sport or Snow transmission and throttle settings, according to road conditions or preferred driving style.
Both the M37 and M56 can be ordered with all-wheel-drive that directs up to half the engine's torque to the front wheels when the going gets slick.
As expected, a healthy dose of premium content is part of every M, such as a power moonroof, bright Xenon headlights, power folding and heated outside mirrors, self-leveling headlamps and rain-sensing wipers.
Interior highlights include 10-way power-heated front seats, dual-zone climate control, keyless push-button start and a rearview monitor.
Among the high-tech content is the Sport Package's active steering system. Here, the rear wheels are steered in phase with the front wheels at nearly all speeds.
The optional Blind Spot Intervention system reacts in tandem with the Blind Spot Warning program by applying the brakes on either the left or right side, thus directing the M away from what otherwise might be an imminent wipeout. This is in addition to Infiniti's lane-departure warning for inattentive drivers, active cruise control that maintains a safe distance from the vehicle in front, plus a forward collision-warning system that cinches up the seatbelts and preloads the brakes when a crash appears likely.
The Infiniti's ad infinitum luxury and safety list goes on, but this is not a serial review. Rather, it outlines the extent to which the automaker has imbued the M with a measure of class and refinement that's entirely compatible with its lofty halo-car ranking.
Pleasant dreams, but please keep the talking to a minimum.
2011 INFINITI M SERIES
Type: Four-door full-size rear- /all-wheel-drive luxury sedan
Engines (hp): 3.7-liter DOHC V-6 (330); 5.6-liter DOHC V-8 (420)
Transmission: Seven-speed automatic
Market position: Competition abounds in the midluxury bracket with a number of well-equipped full-size four-door models available that offer plenty of style plus sporty ride and handling characteristics. This time around, the Infiniti M has the attributes to make more of splash.
Points: High-style sedan make this the best-looking M yet. Significantly enhanced powerplant choices. Plenty of standard and optional techno-treats. No high-output performance edition offered, but gas-electric hybrid version on the way. Will this finally be the flagship sedan that secures Nissan's Infiniti brand a solid footing on the luxury pedestal?
Safety: Front air bags; side-impact air bags; side-curtain air bags; anti-lock brakes; traction control; stability control.
MPG (city/hwy) 18/26 (3.7, est.); Base price (incl. destination) $48,000 (est.)
BY COMPARISON
Jaguar XF
Base price: $52,000
Impressive style and performance. Optional 510-hp V-8 added for 2010.
Lexus GS
Base price: $45,000
Limolike ride with plenty of power. Hybrid model is an impressive performer.
Mercedes-Benz E-class
Base price: $49,500
Popular "Merc" model is all new for 2010. Coupe version joins the lineup.