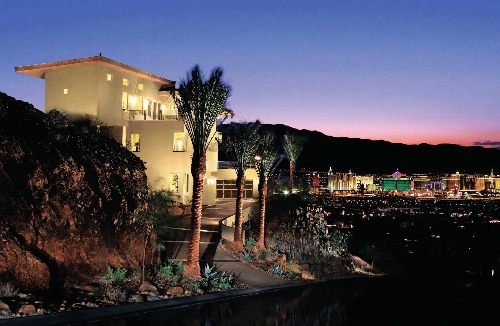 Long-time developer Rich MacDonald is using a different approach to selling houses and custom home sites within the community.
On March 6 at noon, 20 custom lots will be auctioned off with prices starting at $300,000. In addition, three estate homes, two specifically designed for showcasing development of hillside homes within MacDonald Highlands, will also be auctioned.
"One of the reasons why MacDonald Highlands has been so successful has been our creative approach to marketing, we've never been a part of a large corporate structure with unlimited resources so we've had to be inventive. We are fortunate that our lenders have been cooperative and that says a great deal about the quality of our project," MacDonald said.
"We have two new home site areas where we are going to auction a limited number of lots off at ridiculously low prices. With construction costs down 50 percent or more now is the time for a buyer to get a great deal on a lot and build the home of their dreams."
MacDonald sees more auctions at MacDonald Highlands in the future with lot prices slightly increasing with each one.
According to MacDonald, "It's a great way to seed a neighborhood to get construction started; a great way for us to eliminate company debt and a great program for buyers. As I've said in my ads, "I'd much rather give a discount to a future resident than continue paying interest to our bank".
MacDonald Highlands is located in the southeastern Las Vegas Valley. Concealed behind MacDonald Highlands' guarded gates and landscaped entrance is the private golf course DragonRidge Country Club, named after a rocky ridge known as the Sleeping Dragon, an 18-hole championship golf course. The clubhouse features a formal dining room and lounge, a separate mixed grill and lounge, a swimming pool, a golf pro shop and a 10,000-square-foot ballroom seating more than 300 guests.
MacDonald Highlands added two new amenities to the 1,200-acre community.
The new tennis and athletic center highlighting a 14,000-square-foot facility offers child care and Internet café. A staff of personal trainers and fitness instructors available to guide members through cardio and weight machines and to teach classes in Pilates, aerobics, cycling and kick boxing.
The center has locker rooms for members with sauna, steam, Jacuzzi and massage. Five new tennis courts, one with stadium seating, features a wide variety of programs for DragonRidge members and guests. Daily adult drop-in clinics are offered at levels ranging from beginner to advanced. For the player who desires organized play, the opportunity to play on one of DragonRidge's U. S. Tennis Association league teams is now open.
Also available is a junior program offering clinics ranging from the pee wee group to the high-performance player looking to improve at a competitive level.
The second new addition is Nevada's only Jack Nicklaus Academy of Golf. The Nicklaus Academy is one of the leading providers of golf instruction. The instruction is centered around improving a student's result on the golf course and his or her ability to enjoy the game. The academy features a number of new innovative technologies that provide detailed information never before available to the average player.
The Motion Golf 3-D Motion Imaging System provides the instructor with unprecedented images of the student and his or her club from set-up to finish. The student's image can then be compared to a library of touring professionals based on the student's physical makeup and swing style.
Upon completion, MacDonald Highlands will feature luxury residences amid 17 neighborhoods more than 1,200 acres of mountain range.
Three neighborhood parks encompass 10 acres and feature tennis, basketball and volleyball courts, play areas and picnic facilities.
MacDonald Highlands is also planning five miles of fitness trails that will meander throughout the community and provide access to nature trails that lead deep into the surrounding McCullough Mountains.
To visit the community's information center at 1730 Horizon Ridge Parkway take Interstate 215, the Las Vegas Beltway, to Valle Verde Drive and travel south to the corner of Valle Verde and Horizon Ridge. The sales office is open 10 a.m. to 5 p.m. daily.
For more information, or to schedule a private preview, call 614-9100.