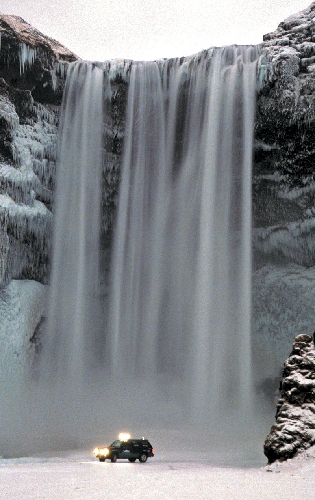 It was Nov. 20, 1990, and my 1991 GMC Jimmy was out on the high seas strapped to the deck of a commercial fishing boat.
Why? Because that's the only way to get to the isolated island nation that straddles the Arctic Circle in the North Atlantic halfway between Moscow and New York. In the meantime my duty was to figure out how to drive the perimeter of the Land of Fire and Ice during the darkest, most miserable time of winter.
The idea had surfaced a few weeks earlier when Montana-based writer Tim Cahill telephoned in a state of acute aggravation. He had just completed a book recounting the antics of our record-breaking drive from the bottom to the top of the Americas in the very first production 1988 GMC Sierra 3500 Diesel extended cab pickup. Although Cahill's manuscript had taken a few years to complete, the publisher, Random House, was finally preparing to launch the book.
"I can't believe what they've done!" Tim was livid. "They're forcing me to call it 'Road Fever.'"
"That's not so bad," I offered, thinking at least the book was finished.
"No, that won't do, the whole time I was writing it, it was 'El Road,' you know … 'The Road.'" Tim was ranting and I suspected he might have had an alcoholic beverage or two to drown his sorrows.
'Here's what we'll do, Tim." My mind was racing as I scanned the map of the world on the wall beside my desk. "Let's drive my Jimmy around the perimeter of Iceland next month. It will be dark and cold with the possibility of wretched weather, proper ingredients to chill out the Road Fever."
The next morning I made a few targeted calls and surprisingly the finances fell into place. Then I called Los Angeles photojournalist Rik Paul, who immediately signed on. Two weeks later I was in the Icelandic capital making arrangements and friends while steering clear of Reykjavik's saucy "ladies night out."
The 6-month-old four-door, 1991 GMC Jimmy had already taken on a seven-day drive through seven former Eastern Bloc countries in an event coined "Around The Bloc in a Week." But before shipping it to Iceland, a set of heavily studded all-terrain tires and a roof bar with a couple of giant driving lights that could light up a Yankee Stadium were installed.
The only other accessory was a nifty winch in case a little more traction was required as we drove, winched and dug our way through 1,500 miles of desolation along Iceland's lonely perimeter road.
We eventually came through the ordeal pretty well unscathed thanks to blessings of the weather gods, no fatal mistakes or miscalculations and the seemingly invincible, go-anywhere abilities of the little Jimmy.
The three-day, nine-hour and 33-minute circumnavigation was packed with excitement as we breakfasted on boiled lumps of various mutton appendages, mingled with herds of roaming Icelandic horses and watched horsehead seals frolic in emerald glacial lagoons.
Iceland was like a surreal Disney project with the most spectacular scenery I had ever seen, rampant with steaming geysers, stunning waterfalls and looming glaciers. Even though it was dark much of the time, Tim, Rik and I found ourselves cruising through lingering twilights silhouetted by craggy mountain ranges, towering volcanic cones and eerie lava beds.
We learned it was easier to give towns and villages rudimentary nicknames. Seydisfjordur became the "S-town;" Saudarkrokur become "the other S-town;" and, of course, Kirkjubaejarklaustur, the "K-town."
Endless hours of darkness, howling winds whipping snow into whiteout conditions and icy mountain roads kept us on our toes. Although we never got stuck, the winch came in handy rescuing a bogged-down Land Rover and a couple of hung-up, full-sized Chevrolet Blazers.
In Akureyri (the "A-town"), we teed up with black balls at the Arctic Open Golf Course and when the trek was over, we made merry back in Reykjavik over a bottle of Icelandic schnapps labeled "Black Death" along with a concoction of five liqueurs called a "brain."
Even though its global wanderings are now limited to a few summer errands and the odd trip to the beach, the GMC Jimmy is still in my possession. Sometimes when I look at it with the barely used winch and those spotlights, I can't help recall how the unassuming little off-roader helped Tim Cahill cool out his frustration over being forced by the marketing gurus at Random House Publishing to change the name of "El Road" to "Road Fever."
And when I think of the trip itself, all those years ago, I realize the hardest part about driving around Iceland in the dead of winter might have been trying to say Kirkjubaejarklaustur.
Garry Sowerby, author of "Sowerby's Road: Adventures of a Driven Mind," is a four-time Guinness World Record holder for long-distance driving. His exploits, good, bad and just plain harrowing, are the subject of World Odyssey, produced in conjunction with Wheelbase Media. You can send Garry a note online at www.wheelbase.ws/media.