Martin Kreloff brings 50-plus years of masterpieces to Vegas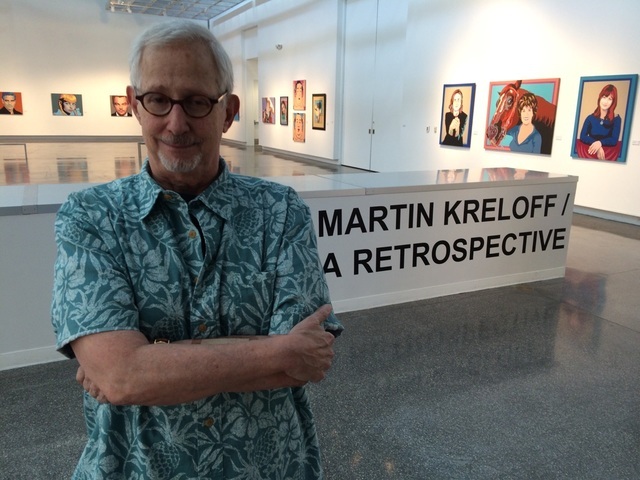 The work of known painter Martin Kreloff has taken a step in a different direction with photographic-like quality. Kreloff's exhibit, "Martin Kreloff, A Retrospective," is at The Studio in the Sahara West Library, 9600 W. Sahara Ave., through Aug 6. It is a free exhibit that includes his art from 1965 up to 2016.
"Every color that comes in, because they're shapes, it has to work with the other colors," Kreloff said. "Hard edges are shape after shape, and I've always seen that. It dates back to 1965, when I did a self-portrait using shapes and realized I was painting the area under my eye to my mouth in orange. I went, 'Yes. I don't have to follow the rules. I can make the rules.' The reality is the painting."
One of the paintings that appears as a photo from afar is a Leonardo DiCaprio portrait. Kreloff told of being in the midst of creating it when he was called out of town for an event.
"When I came back, my paints had dried up, and I went, 'Do I really want to remix every color to get it to match what I already did? And I went, 'Yeah, I do.' And I finished it."
His associates have reached out to the movie star to let him know the painting is available, but Kreloff was evasive about the star's interest.
"We're working on it," he said of the possible sale.
Kreloff's life has always been about art. He grew up in Brooklyn, N.Y., and later moved to Miami. As an adult, he lived in San Francisco, then Los Angeles for 14 years, and Las Vegas for the past 12. Each location had its own light, he said.
"For instance, when I lived in San Francisco, I discovered yellows were not a good color to play off the sky," he said. "There was a lavender-blue tint to the sky that did not work with yellows. And I found out that what did work was red. Wow, red. "
The dozens of art deco paintings on display are the result of a career path that began when Kreloff was 5. A neighbor in his Brooklyn suburb was an illustrator, and he went to her house for lessons.
His mother contacted the Crayola company to give him a special gift: an entire box of 48 black crayons, his favorite media at the time. By 12, he was at the Brooklyn Museum where he studied the human form in life drawing classes. He recalled the first class where he was to draw a nude woman, in which he was extremely embarrassed.
"I was getting redder and redder, and I was sitting there making deals with God. 'If she doesn't take that housecoat off, I will be forever grateful.' Oh, no. No, no, not the first button. But it came off, and I put my head down and said to myself, 'Martin, just draw,' " he said.
He drew. He learned.
A self-portrait from that time shows his mastery of the human form, especially the subtle rendering of the hands, a giveaway as to the caliber of the artist. He studied at the Parson School of Design in Manhattan, where he said he "found my people; people I could talk art with." Kreloff went on to earn his B.A. and Master of Fine Arts degrees from the University of Miami.
His early work was in oils. Each painting has five to 10 coats of paint on it, requiring a lot of drying time.
"I used to have giant fans running in my studio overnight," he recalled.
Then a new kind of paint, acrylics, came out. He was hooked. He also works in pencil. His paintings are in major art museums and prominent buildings. He was also commissioned to create the banners for the cultural corridor in downtown Las Vegas.
Darren Johnson, the library district's gallery services coordinator, called Kreloff's work "slick and clever."
"I'm really proud that we're able to exhibit it at the library," Johnson said. "We're very fortunate to have him. He's very talented and done so many things for so many communities around the U.S. Yet, here he is in Vegas, and I don't think he's as well-known here as he should be. He's sort of this hidden treasure."
Johnson said having Kreloff at The Studio was a good fit as the exhibition space also is a hidden jewel. He said his favorite picture in the collection is "East Meets Mae West," done in 1981, which superimposes a geisha over a portrait of the movie star.
"It's so complex," he said. "I liked way he used the print and has a pattern there that he uses different ways. He flips the colors and uses it multiple ways so it looks different each time."
Kreloff is in the studio every day at his easel. Don't ask him to choose his favorite painting.
"Each one talks to me in a different way," he said of those at the exhibit. "When I look at them, I remember making the decision, adding a line here, dropping a line there and adding the color. Then standing back and looking (at the result). … When people say, 'That's as interesting as watching paint dry,' well, that's a part of my life."
Visit martinkreloff.com.
To reach Summerlin Area View reporter Jan Hogan, email jhogan@viewnews.com or call 702-387-2949.
"Martin Kreloff, A Retrospective"
The free exhibit is open during regular library hours at The Studio at the Sahara West Library, 9600 W. Sahara Ave., through Aug. 6.
Visit lvccld.org or call 702-507-3630.