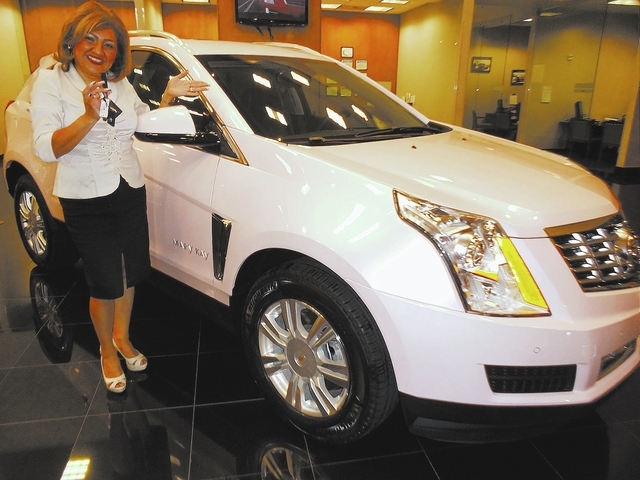 Janeth Montoya is no stranger to hard work. She recently earned a 2014 Cadillac SRX awarded by Mary Kay Cosmetics and presented by Findlay Cadillac in the Valley Automall in Henderson.
Montoya is no stranger to the award; she has received the honor once before. To earn the honor, recipients must reach a particular sales level of production.
No one knows the value of Cadillac and the award more than dealership sale consultant Deb Topham, who spent 12 years as a consultant for Mary Kay before entering the car business more than 12 years ago.
"It's an incredible honor to be awarded the pink Cadillac," said Topham, a native of Wichita, Kan. "Mary Kay only presents the pink Cadillac to deserving and very productive sales consultants. The people who receive the vehicle must maintain a serious level of production and that includes both the winner and the winner's team.
"For more than 40 years, the Mary Kay Cadillac has been an iconic symbol of success. As such, it's the most sought-after prize among Mary Kay's 2 million independent sales force members."
The winner came through the door smiling, an example of her positive attitude and dedication to her work. Topham called Montoya "very dynamic."
"I'm so happy," Montoya said. "This is a big dream that every woman can have. I have loved the Mary Kay product since the day I first tried it. Mary Kay has made me more confident.
"Cadillac is amazing. It's wonderful. Everyone looks at you when you're driving down the road. It's the perfect gift, especially for a woman."
Montoya's daughter, Rosa Montez, said her mother is passionate and driven about her business.
"She lives and breathes Mary Kay," Montez said. "She has always been that way. She has a selling passion. It's just in her blood. No one is more deserving than my mom. She works so hard."
The presentation of the SRX to Montoya marked the first of three pink Cadillacs that will be awarded by Findlay Cadillac, which is headed by General Manager John Saksa.
"It's a huge tribute for Findlay Cadillac to be selected to participate with Mary Kay," Saksa said. "Our team here at Findlay Cadillac is honored to play a role in carrying on the tradition of rewarding success, which is what Cadillac is all about."
For more information about the dealership at 993 Auto Show Drive, call 702-558-2600 or visit www.findlaycadillac.com.