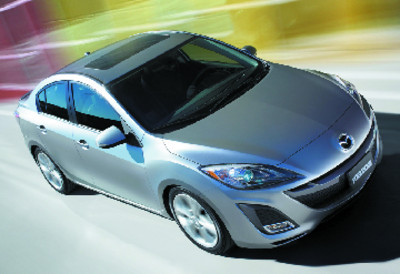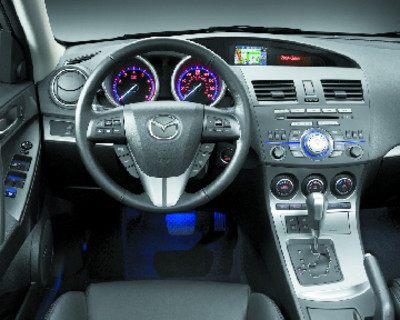 It's always pleasant to be greeted by a smiling face and even better when that face belongs to the new 2010 Mazda3.
Mazda describes the 3's nose as "sporty" and "expressive," and the entry-level model certainly appears to be downright happy. Of course, it should be, given all that the 3 has done for the company.
Yes, the creators of the 3's gleeful smirk were no doubt influenced by the car's overwhelming popularity during the past six model years. In fact, with more than 1.8 million in worldwide sales, the Mazda3 has succeeded in becoming a serious challenger to Japan's small-car category kings: the Toyota Corolla and Honda Civic. In addition, the high-performance Mazdaspeed3 is considered one of best sportwagon bargains around.
The latest Mazda3 actually received much more than a new happy-face snout, as both the sedan and wagon are also the recipients of bolder front and rear fenders, more prominent character lines along the doors and a rear-end tweak and tuck.
Given their numerous physical adjustments, both body styles have retained much of their basic (and quite attractive) characteristics and will be instantly recognizable. It helps, of course, that most of the key dimensions have remained unaltered. As well, the carried-over platform has been made more rigid in certain critical areas, such as where the revised front and rear suspension components are attached, plus the areas around the door openings have been similarly strengthened. Compared to the previous Mazda3, the new car feels significantly more capable, especially while traversing some of rural Georgia's twistier roads.
The overall driving experience is heightened by a redesigned cabin that somehow seems quieter and more spacious, despite maintaining similar dimensions. Credit goes to the new "soft-touch" dashboard, control-panel layout and floor console that helps project a richness that the previous cars lacked. You'd swear that you were aboard a midsizer and not an entry-level compact.
The Mazda3 lineup has been only moderately altered for 2010. The sedan is offered in i SV, i Sport and i Touring and runs with the same 148-horsepower 2.0-liter four-cylinder engine installed in the outgoing model. However, when connected to the newly optional five-speed automatic transmission (a five-speed manual is standard), Mazda claims the powertrain achieves an 11-percent improvement in fuel economy.
The Mazda3 "s" models, which include s Sport and s Grand Touring sedan and wagon, have the exclusive use of a 167-horsepower 2.5-liter four-cylinder that's derived from the larger Mazda6 sedan. Here, your transmission picks consist of a slick-shifting six-speed manual gearbox or an optional five-speed automatic.
All four engine/transmission combos remain impressive and you can expect a lively base engine, especially when coupled to the silky smooth stick shift. On the other hand, the new 2.5 engine clearly packs a bigger wallop than the outgoing 156-horse 2.3, accentuated by a character-changing sound that is particularly seductive.
The price-leader i SV sedan is somewhat content starved, but does include power windows, six air bags, tilt/telescopic steering column and a four-speaker stereo with steering-wheel-mounted audio controls. The i Sport includes a few more goodies, but you have to move up to the i Touring for a reasonably full complement of standard equipment.
On the other hand, s Sport sedans and wagons feature a wealth of features and the s Grand Touring's list of gear is highlighted by adaptive xenon headlights (they swivel left or right as the vehicle turns), rain-sensing wipers and eight-way power heated and leather-covered sport seats.
Popular options, such as a power moonroof, 10-speaker Bose-brand sound package, navigation system and special "crystal" white paint can be had on most trim levels.
Despite the incredible success of the previous 3, the new model demonstrates that Mazda has found numerous ways to improve on style, content and power, which will leave you smiling.
2010 Mazda3
Type: Four-door, front-wheel-drive compact sedan and wagon
Engines: 2.0-liter DOHC four-cylinder (148 hp); 2.5-liter DOHC four-cylinder (167 hp)
Transmissions: Five-speed manual (2.0); six-speed manual (std. on 2.5); five-speed AT (opt.).
Market position: With plenty of compact models to choose from, Mazda has focused on making its popular 3 cars more desirable with added poise and power.
Points: New-look nose job takes some getting used to, but is far from dull. Interior styling downright luxurious. Revised 2010 Mazdaspeed3 joins the fleet later this year. Stiffer platform contributes to ride, handling improvements. More powerful optional engine achieves nearly identical fuel economy as base engine. If downsizing is a must, a 3 is as close to pain-free as you can get.
Safety: Front airbags; side-impact air bags; side-curtain air bags (opt.); anti-lock brakes; traction control (opt.); stability control (opt.).
The numbers: MPG (city/hwy): 25/33 (2.0, MT); Base price: $15,500 (est., incl. destination)