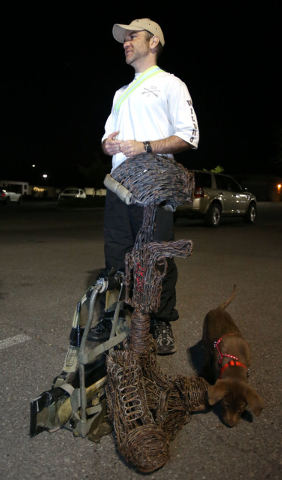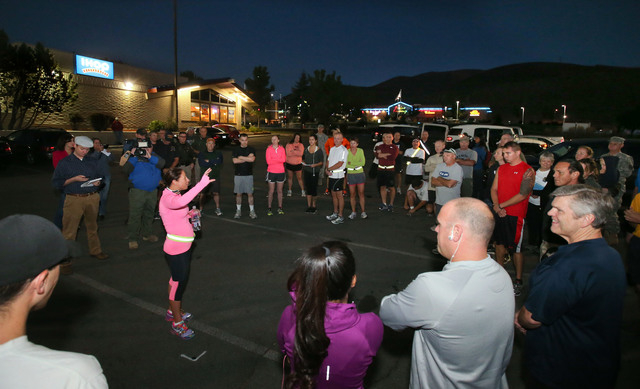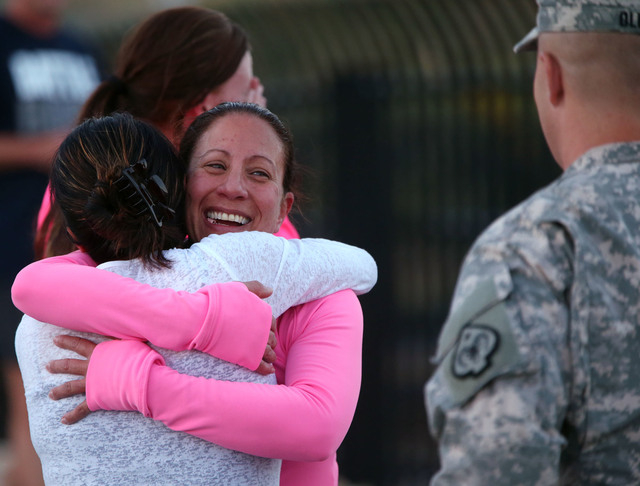 CARSON CITY — It was intended to create a positive memory of a horrific event.
About 50 members of the Nevada National Guard and others from the community participated in a 5K memorial run Friday to honor the victims of a mass shooting at the Carson City IHOP restaurant two years after the incident took the lives of three guardsmen and another woman.
John Knott, who served in the guard from 2000 to 2006, participated in the run to honor all the victims, but particularly Master Sgt. Christian Riege. Alongside Knott on Friday was was his puppy, a service dog in training named Riege in honor of his friend.
He also brought along a sculpture he and friend Sean Kelly created of barbed wire representing the boots, rifle and helmet in the form of a battle cross frequently seen in military memorial events.
Sgt. 1st Class Jeremy Mock, a survivor of the shooting, said he organized the run to remember the victims.
Riege, Lt. Col. Heath Kelly, Sgt. 1st Class Miranda McElhiney and Florence Donovan-Gunderson were killed when Eduardo Sencion opened fire in the restaurant before killing himself in the parking lot.
It wasn't the first time Mock returned to the scene of the shooting.
"I came back the day that it opened," he said of the IHOP restaurant reopening. "Just for closure. I got four white roses, brought them in, said my piece and went about my day."
Carson Sheriff Ken Furlong, a first responder to the shooting, shed a tear as he talked about the terrible event.
"I don't know if it gets any easier, I honest to God don't," he said. "You want to put it behind you, and you want to go on, but it was horrible."
Furlong said the run represents everybody standing together to remember the victims.
"There are a lot of people we can't put our arms around anymore," he said.
Carson City firefighter Chris Mason, another first responder who helped treat the victims at the scene, said, "I'm just here to support these guys and put those bad memories behind us."
Guard Chaplain Todd Brown said the run to the Nevada National Guard compound on Fairview Drive symbolized a return home for the victims. He urged the participants to reflect on their lives during the run.
Contact Capital Bureau reporter Sean Whaley at swhaley@reviewjournal.com or 775-687-3900. Follow him on Twitter @seanw801