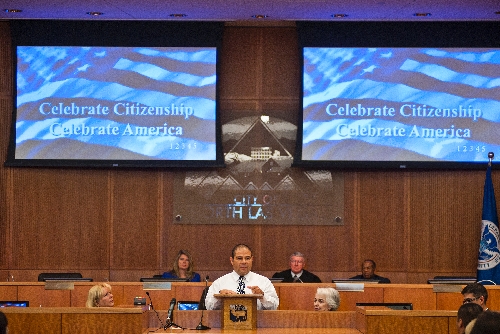 Juan Torres was an American when his feet first touched U.S. soil in 1979, he said.
"I knew I would die here," he said. "I'm here forever."
The 44-year-old Centennial Hills resident and retired martial artist considered himself "a child with a head full of dreams" his native country couldn't contain, he said.
"My dreams were too big for Mexico, aspirations too many to count," he said. "This country has shown me that with a little motivation, anything can come true."
Torres spoke those words to 101 other people who became citizens June 14 – Flag Day – at North Las Vegas City Hall, 2250 Las Vegas Blvd. North . The event was hosted by United States Citizenship and Immigration Services , a component of the Department of Homeland Security .
"I'm a little emotional right now, so I hope you understand," he said to his audience.
Torres' words were met with applause and hollers of support. After his speech, Torres walked back to his front-row seat with an American flag and his certificate of citizenship clenched in his hand.
"It was an overwhelming experience," Torres said later.
Born in a small town near Guadalajara, Mexico , Torres was the fourth of five children to a doctor mother and military father , who died when Torres was 2 years old. Now a widow and already far from the support of her family, Torres' mother struggled to provide, Torres said.
"My mom was always a good Samaritan ," Torres said. "We became good farmers and animal lovers because people would come for help and stay in our extra bedroom and they'd pay my mother in whatever fruit was in season or in farm animals. We learned responsibility."
Torres' mother left her medical profession to test out life in America on a suggestion from her sister.
"She made it sound like (South Lake Tahoe, Calif. ) was the greatest city in the world," he said.
She worked as a maid and dishwasher and would periodically send for her children around 1979 , Torres said. The three sons and two daughters would stay for six or seven months and learn English little by little before having to return to Mexico, he said.
Although the time was tumultuous, he said, martial arts was an anchor for the siblings.
They trained to black belt level, and two decided to pursue a professional career with an instructor who straddled residency in Mexico and California.
Torres moved to the United States full time in 1991 and quickly built up his name and reputation in the ring. He fought in 75 bouts and has six world championships as a lightweight and junior welterweight and carried the nickname, The Ghost Warrior.
"I fought everywhere and traveled everywhere but Mexico," he said.
His highest high and lowest low came in 2000 .
Torres was a top-ranked contender and about to step in the ring for an elimination fight for another world championship. He was minutes from battle when stroke symptoms appeared. His manager and friend insisted he see a medic, who called an ambulance.
X-rays revealed several hair-thin blood vessels had ruptured in his brain.
"If it weren't for my manager, I would have gone in the ring," Torres said. "Doctors said that one punch and I would have died."
Torres defied doctors' orders and resumed training. He had a second stroke six weeks after his first episode.
He was left with nerve damage on his left side. Doctors also told him he wouldn't walk, talk or fight again .
"No matter how strong you are, you say, 'I won't ever get depressed,' " he said. "But to be at the top of the world and have the rug pulled from under you was crushing."
On a day when his ex-wife and son were away, Torres sought his favorite firearm and cocked it under his weak arm. He was face-to-face with suicide.
"My entire life flashed before my eyes," he said. "My career has been made irrelevant, but I realized I had much more to give than my career."
The epiphany awakened new energy in Torres, he said. His son helped him rehabilitate at home and his physical therapists were astounded by his improvements.
He regained speech and mobility and dubbed the time the biggest fight of his life, he said.
"I have this thing about proving people wrong," he said. "I said to myself, 'I am the Ghost Warrior . I am going to get better or die trying.' "
Torres retired from martial arts and channeled his passions in cooking. He moved to Las Vegas and worked as a cook and trainer. He remarried and has an adult, a pre-teen and twin toddler-age sons .
Torres continues to train and is a security officer at Bellagio .
U.S. residency was barely a worry for Torres, who had a green card and regularly renewed its status , he said. He was due to revisit the issue in February and decided to become a citizen .
"I wanted to be legit," he said.
He faced a flurry of paper work, fingerprinting, fees, tests and interviews . The Department of Homeland Security cleared Torres in late spring and invited him to be a guest speaker at his naturalization ceremony .
Torres' newfound citizenship earns him a U.S. passport and the ability to vote , serve on a jury and run for most elections , said Marie Sebrechts, spokeswoman for United States Citizenship and Immigration Services .
About 700,000 people were naturalized last year, and 9,720 of them did so in Nevada, Sebrechts said.
United States Citizenship and Immigration Services' Las Vegas field office assisted 7,327 of the Nevadan group, and it hosts regular naturalization ceremonies, she added.
The public is invited to the events.
"I wish everyone would go to at least one naturalization ceremony," she said. "It gives the other picture of immigration we often forget about : the legal part. We don't realize how many immigrants are welcomed into this country each year."
Torres' wife and son attended his naturalization ceremony . The family didn't celebrate the milestone, though, he said.
"To me, every day should be special," he said.
Contact Centennial and North Las Vegas View reporter Maggie Lillis at mlillis@viewnews.com or 477-3839.