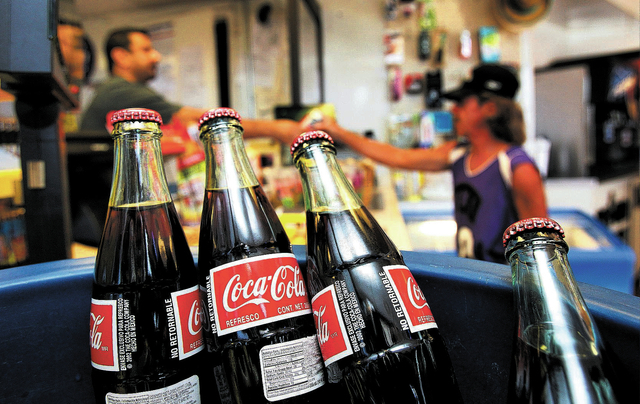 Coca-Cola: It's about as American as you get.
It ranks up there with baseball and apple pie; Apple and Nike; beer and "Monday Night Football."
So how is it then that a pair of Mexican Coca-Cola bottlers have gotten into the business of exporting Cokes to the United States in those old-fashioned 12-ounce bottles? The same kind of bottles that long ago faded from the American landscape, replaced by plastic and aluminum containers?
Mexican Coca-Cola in a bottle can be found just about everywhere in the Las Vegas Valley — in coolers near the cash registers at every Home Depot; by the case at Costco, Sam's Club and Smart &Final; at the Walgreens in North Las Vegas; at the Targets, the Wal-Marts and the various Smith's Food and Drugs all over Las Vegas.
They can even be found in some convenience stores at Aria and the Cosmopolitan, if you're willing to drop $3 for a 12-ounce bottle.
"People love the stuff. They can't get enough, so I just keep on buying it," Izzat Shakir says.
He buys Mexican Coke by the case from Costco for just under $17, then sells the 12-ounce singles at $1.79 a piece out of a bucket in front of his cash register at his One Stop Shop at Bonanza Road and Martin Luther King Boulevard.
Shakir suspects the glass bottle is what is hard to resist. As a kid growing up in Pakistan, he fondly remembers drinking Coke from the bottle, shaking it up first to see the fizz explode before downing it.
"America no longer sells anything from the bottle. If you think about it, it's just too big a country to keep up, so it comes up with cheaper alternatives," says Shakir, 39. "But in other countries, like Pakistan and Mexico, glass containers are still popular. In Mexico, you can still buy milk in a bottle."
MAYBE IT'S THE SUGAR
Once regarded as an oddity of a commodity relegated mostly to standup taquerias, Mexican Coca-Cola has taken on a life of its own. With "Hecho en Mexico" clearly printed on its side and "refresco" on its front, the bottles were first introduced in the United States by the Coca-Cola Co. in 2005 to cater to Mexican immigrants: Bottled in Mexico by an all-Mexican workforce for Mexican taste buds.
Yet Coca-Cola Co. officials are quick to say that a "Coke is Coke is Coke," all made according to a secret formula, regardless of where it is bottled.
"All over the world, Coca-Cola has the same formula, and people everywhere can enjoy the same taste," company spokeswoman Kerry Tressler said. "Taste is a complex, subjective sense and is affected by many things, including the food you consume with the product, the size of the glass, the amount of ice in the glass, the temperature of the beverage."
But there's something different about Mexican Coke. Leave an open bottle sitting out, and it won't lose its fizz nearly as fast as American-made Coca-Cola. Those obsessed with the stuff have conducted tests.
Then there's the sugar issue.
Mexican Coke is made with cane sugar, not high-fructose corn syrup commonly used in American-made Coca-Cola.
For Mexican Coke fanatics it boils down to this: Mexican Coke is sweeter; it's crispier, it's got more fizz and a hint of dark root beer; or maybe that's a trace of sarsaparilla. Made with the dried root of the sassafras plant, sarsaparilla started out as a patent medicine in the late 1800s to deal with hangovers and headaches but morphed into a kind of root beer.
Coca-Cola has a somewhat sketchy past all its own. Created in 1886 by Atlanta pharmacist John Pemberton, it originally contained traces of cocaine from the coca leaf — hence the name. Cocaine was eliminated in the early 1900s. The Cola in its name comes from the use of the Kola nut, which contains caffeine.
Fanatics will tell you the sweet stuff from south of the border is just plain better.
Several Facebook pages have cropped up in recent years, including "Mexican Coke: It's not a drug but just as addictive!" At last count, the Mexican Coke Facebook page had more than 7,000 "interests and likes."
"Mexican Coke was made by God," writes Andrew Juarez, a fan who holds little back by way of blasphemy.
"It's gone mainstream!" writes David Jensen, who was ecstatic to see the Mexican Coke inside one of the "impulse coolers" at a QFC, a major grocery chain in the Pacific Northwest.
Writes Trish Perez, sounding a little bit like that guy on the Dos XX beer commercial: "I don't drink sodas anymore, but when a mexican coke comes my way I devour it!!!"
MAYBE IT'S THE BOTTLE
There's a never-ending argument about what makes Mexican Coke taste different than American-made, not to mention the debate over which tastes better. But this much is certain: The American kind comes in cans, plastic bottles, and even in "aluminum glass," an oxymoron that mimics the appearance of a bottle.
Mexican Cokes come in 12-ounce glass bottles requiring bottle openers. Period.
Rebecca Hecksel, a Coca-Cola Co. spokeswoman based in Arizona, said glass bottles have gone by the wayside in the United States because of Coke's commitment to the environment.
"We've very focused on our environmental footprint, and plastic is 100 percent recyclable," she said. "When you think of the amount of energy it takes to move glass on a truck … our focus is to make the product and its packaging as light as possible."
Now, adding lime to Bud Light in a can, or chile and lime to potato chips — that's one thing. Such accomodations are now common for American companies looking to sell food and drink to people who come from a country where chile-flavored Popsicles are sold by the bag.
But making Coca-Cola in plants in Mexico City and Monterrey and sending it north, to the nation so closely associated with the drink that it might as well be part of the flag? That would be like a U.S. distiller making something like tequila and trying to sell it in the land of Jose Cuervo, would it not?
The Coca-Cola Co. doesn't see it that way. The company maintains there is an All-American market for Mexican Coke, based only on the curves of that widely recognized bottle.
"Part of the appeal is that it is packaged in the iconic Coca-Cola contour bottle that the product came in more than 127 years ago here in the United States," Tressler said "It offers a special, ice-cold drinking experience. It reminds people of their heritage and of the experience they might have experienced when they first tried the beverage."
Certainly, just about everybody over the age of 40 remembers pulling a frosty Coke from the classic red-steel vending machine and snapping off the cap in the side-mounted bottle opener. That sensation can still be had, but only if you buy the Mexican-made import.
So how big is the demand for Mexican Coke in the retro glass bottle?
Consider this: The American formula for Coke is followed by more than 250 bottlers in more than 200 countries on a planet where 1.8 billion 8-ounce servings are consumed every day. That sales volume has made Coca-Cola a $162 billion company with one of the most recognizable brand names ever.
Mexican Coke sold in the United States?
Barely a blip, says Tressler, the spokeswoman for Coca Cola Co. Instead, she said, the Mexican Coke in bottles is a niche market, intended to please loyal Mexican immigrants who have been Coca-Cola consumers since birth.
"It's a very minor percentage of our total sales," she says while not going into the numbers, referring to "proprietary information."
But at the One Stop Shop, Shakir knows this much: "Every time I get a case or two from the Costco, I run out of them in a matter of days. Then I have to run back to Costco for more. It gets tiring, but it's worth it. Mostly, I do it for my Mexican customers."
Contact reporter Tom Ragan at tragan@reviewjournal.com or 702-224-5512.