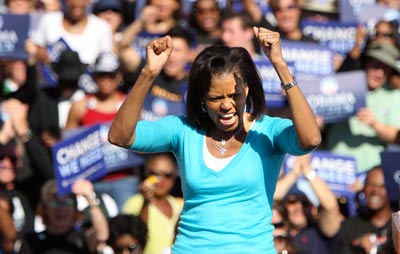 As 55-year-old G.T. Tsotetsi stood in the long line of excited people waiting to see Michelle Obama at the College of Southern Nevada's Cheyenne campus Monday, he was reminded of another time in another country.
"It was like this when Nelson Mandela was running for president (in the '90s)," he said as walked slowly toward the outdoor stage where the Harvard educated lawyer and mother of two would urge people to vote for her husband for president.
When voters get excited by the possibility of positive change, he said, you see huge crowds of happy people.
"Good things happen when people vote," said the native South African who is now an American citizen. "It is how we got rid of apartheid."
As Tsotetsi made his way through the crowd, music that ranged from George Strait's country ballads to the soulful rhythms of Earth, Wind and Fire played. Nearly 2000 people gathered at the North Las Vegas site to hear the woman who may be First Lady say that "Barack Obama will be an underdog until he's sitting in the Oval Office."
Don't be overconfident, she warned.
Obama, dressed casually in a turquoise sweater, gray slacks and silver slippers, repeatedly implored the audience to get out and vote.
A show of hands told her that most of the crowd already had.
Yes, she said, she understood she was "preaching to the choir" but she urged those on hand to find others to vote for her husband.
Rock Newman, who managed Riddick Bowe to the undisputed heavyweight championship of the world, brought his 5-year-old granddaughter Mia to hear Obama speak.
"Normally, I never would let her miss school," he said. "But I think this is historical, to see so many different people working for something positive."
When Obama spoke of how her husband will end the war in Iraq responsibly, the crowd applauded.
And they roared when she said that "when we bring the troops home, we need to ensure that they have jobs to come home to."
Again and again when she talked about how an Obama administration will mend the economy and be fair to the poor and middle class, the crowd worked itself into a frenzy.
"We love you, Michelle," was said again and again.
Thirty-year-old Karen Gresham arrived for the Obama appearance with her 10-month-old son Troy on her back.
"It's so great that we can people excited about change," she said. "The last eight years have been terrible with the war and the economy falling apart."
David Waterhouse, the student body president, wished that all events on the Cheyenne campus would be so enthusiastically supported.
"It really is incredible," he said.
So incredible to Jamaican-born Sandra David, who is getting to vote for the first time since recently becoming a citizen, that "it all seems like a dream."
"My dad dreamed one day that I would get to play a part in a real democratic process and become all I could be," she said. "And I'm doing it."
Fifty-seven-year-old Mary Chalmers came from California for the event.
"I was originally a Hillary supporter, but I am so impressed about how Obama brings people together," she said. "I think he has a chance of being the best president since Thomas Jefferson."
At the end of what many would say was already a lovefest, Obama walked around the crowd that ringed the stage and embraced one individual after another. Dozens of hugs that had Secret Service men and women nervously scanning the crowd behind their sunglasses while cops on rooftops did the same with binoculars.
Rock Newman, no stranger to big events, was moved by the emotion he saw in the crowd. Many cried as they hugged Obama.
"It's all so peaceful and so beautiful," he said. "I don't think I'll ever forget it."
Contact reporter Paul Harasim at pharasim@reviewjournal.com or 702-387-2908.
Slideshow