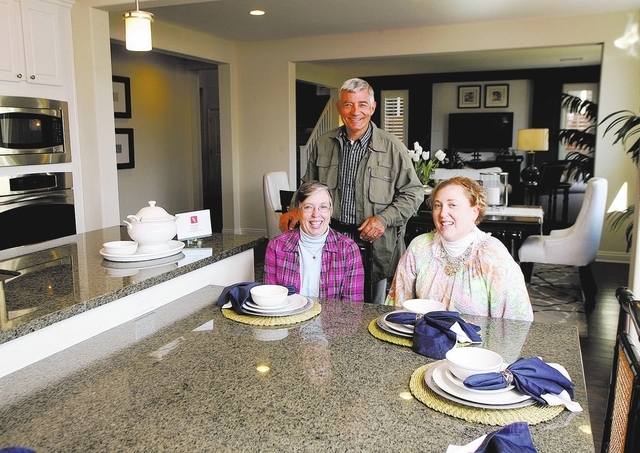 After 35 years of service, Navy Cmdr. Keith Davis went online from the family home in North Carolina to search for a retirement home for his family and his in-laws. He found a GenSmart Suite home at Eldorado Heights in a gated neighborhood in the Pardee Homes master-planned Eldorado community in North Las Vegas.
"It had the largest private suite we had seen and it was perfect for what mom and I wanted for our combined family," his wife, Beth Davis, said. With active and retired military members, the families have lived in the same house for three years for mutual support.
Her daughter Lindsey, 6, "thinks everyone lives with their grandparents."
Beth's mother, Carol Luker, said she fell in love with the oversized granite kitchen island with attached table that seats all six members of the family. "That's where I'll be baking sugar cookies," she said. The women will share a hobby room just off the kitchen for making jewelry and scrapbooking.
"They're in the kitchen and I'm in the garage," said Tom Luker, Carol's father and a Navy retiree. He's a woodworker who found enough room in the three-car garage for his hobby and plenty of room in the backyard for a swimming pool.
Keith will spend much of his time in the upstairs game room, according to Beth, who describes him as a "computer guy who is also a big fan of college sports." Their daughter Hailey, 16, has an upstairs bedroom tucked away with its own bathroom, "every teenager's dream," Beth said.
"They have their family time upstairs, and we have our family time downstairs," Carol said. "This is a 'wow!' arrangement."
In addition to their home, the families also appreciate the neighborhood that offers so many activities, including parks, shopping and movie theaters, Beth said. There is also easy access to nearby medical facilities at Nellis Air Force Base and the Veterans Administration Hospital.
While searching for floor plans, her husband also "had to find out everything he could about Pardee Homes," Beth said. "It speaks well for Pardee that all reports were positive."
The family met Pardee sales agent Frank Zalewski online and over the phone and praised him for "letting us watch our home being built by sending pictures and keeping in touch. He was so helpful," Beth said. Now that most of the family is in town, Tom said he can see for himself "the quality that is being built into" their Pardee home.
"Research indicates what buyers like the Davis and Luker families have already told us; they want flexible floor plans for various living situations, including multigenerational households," Pardee Homes Regional Sales Director Rob Tuvell said.
According to the Census Bureau, Nevada has one of the highest percentages of multiple generations living together, estimated to be 21.4 percent of households.
Pardee Homes has responded to the trend of young adults living at home, as well as the trend for older family members to also live with their adult children, through its innovative GenSmart Suite concept.
Pardee Homes' GenSmart Suite option is offered at three of its Southern Nevada communities, including Eldorado Heights. The floor plan design provides a private entrance and living area to accommodate multiple generations that may be living together under one roof.
Pardee's gated Eldorado Heights neighborhood features seven floor plans that range from 2,385 to 4,241 square feet in one- and two-story designs with as many as seven bedrooms and as many as five baths. Floor plans include extra-large kitchen islands, game rooms and a four-car garage. Prices start from $296,450.
At Eldorado Heights, the builder's GenSmart Suite is offered on three floor plan elevations: the single-story Plan One X which measures 2,373 square feet; the two-story Plan Three X measuring 3,681 square feet and the two-story Plan Four X that measures 4,241 square feet.
To reach Eldorado Heights, take the Las Vegas Beltway north to the Aliante Parkway exit. Travel south on Aliante Parkway to Deer Springs Road, turn left onto Deer Springs and travel east to Gentle Brook Street and turn right. The model homes and sales office are at 1788 Gentle Brook St.
Eldorado Heights is a part of Pardee's exclusive LivingSmart brand with standard and optional measures that boost energy efficiency, save water, improve indoor air quality and encourage material conservation and the use of recycled or sustainable resources in new homes, according to company officials. LivingSmart provides more than 30 Earth-friendly standard and optional systems and features for new-home buyers, and it applies to every newly designed home the company offers, they said.
For more information, visit www.pardeehomes.com or call 702-604-3332. All Pardee Homes' sales offices and model homes are open from 10 a.m. to 5 p.m. Tuesday through Sunday and from 11 a.m. to 5 p.m. Monday.
Pardee has built homes for more than 40,000 families in Southern Nevada since 1952. Follow the builder on Facebook at www.fb.com/PardeeHomesLasVegas.