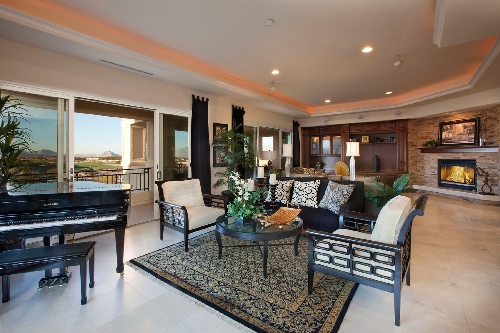 Mira Villa's penthouse buyers simply do not fit the Las Vegas stereotype — that of the high-roller, high-profile, celebrity-seeking night owl. Instead Mira Villa's owners – 11 new penthouse occupants and growing – are all understated, active, entrepreneurial and certainly thorough in their evaluation of their purchases at the Summerlin condominium community.
"Though not what some may imagine 'penthouse' owners to be like, I think the type of buyers we're attracting makes perfect sense," said Tera Anderson, director of sales at the community. "Our penthouse owners are highly successful, yet unassuming and pragmatic. They apply a range of metrics when assessing value, rather than defaulting to either the least expensive or the flashiest condominium out there. In many ways, they approach their purchases here as they might a business deal, thoroughly vetting and scrutinizing all aspects and variables before they buy."
Mira Villa's penthouse owners include business people representing a wide variety of industries – a custom-home builder, a stock broker, a commodities consultant, an artist and founders of a large company in the health care industry, among others. It was their analysis of the overall value the community offers, coupled with its stability and home-owners association, that gave each of these buyers the confidence to purchase a penthouse home in the $1 million price range in today's market, Anderson said.
Not surprisingly, the owners are somewhat like Mira Villa itself in their sensibilities.
"When people drive by our gates they may not know what lies inside. The property is discreet in its offerings of luxury accommodations; partnerships with TPC Las Vegas and JW Marriott; amenities; quality construction; floor plans; and views – very much like when you meet the owners, who are extremely interesting and accomplished, but also humble and unpretentious, quality people living in a quality community," Anderson said.
Eight of the original 13 penthouses are available with two distinct floor plans.
Mira Villa is a new and gated, luxury condominium community located 15 minutes from the Strip in the heart of Summerlin, a 22,500-acre master-planned development renowned for its cultural offerings, championship golf courses, parks and trail system, schools and easy access to Summerlin Parkway and Interstate 15.
The condominium community overlooks TPC Las Vegas and Angel Park golf courses . It is located near shopping, Summerlin Hospital Medical Center, the Academy of Nevada Ballet Theatre, Red Rock Canyon National Conservation Area and area casinos.
The community comprises 21 midrise buildings constructed of concrete and steel with emphasis on sound abatement and state-of-the-art fire protection.
Amenities include panoramic golf-front, city, mountain and Strip views; well-designed floor plans; private terraces; private two-car garages; private elevators; pool, spa, fitness center and outdoor barbecue areas.
A relationship with JW Marriott Las Vegas Resort & Spa allows owners to take advantage of discounted spa and salon treatments, nightly room rates, discounted food and beverages, complimentary shuttle service to the resort, complimentary golf concierge, in-home catering service, in-home housekeeping services, and pool memberships and day rates.
Additionally, owners benefit from a relationship with TPC Las Vegas, which includes discounted rounds of golf and other amenities.
For more information about Mira Villa, visit www.LiveMiraVilla.com or call 254-4647.
For more information about lending through Wells Fargo Home Mortgage, contact Joe Lobosco, sales supervisor, at 791-6221 or via email at joe.lobosco@wellsfargo.com.