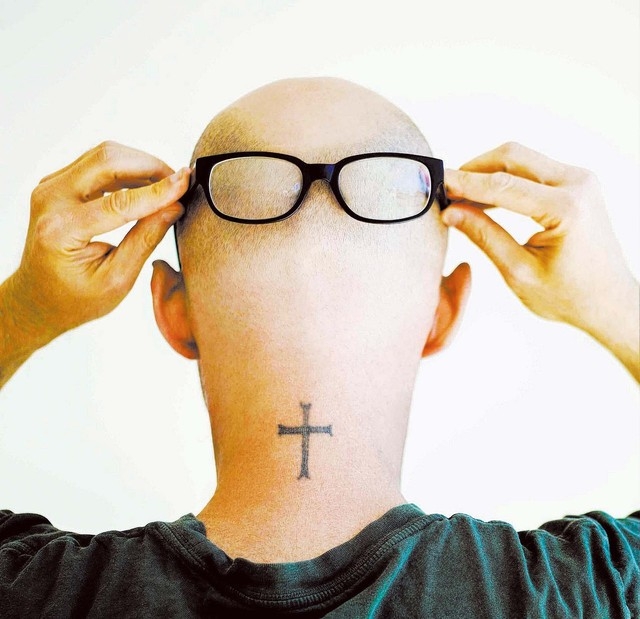 I was so giddy to talk to Moby, I got silly and greeted him by saying, "Hey, it's Moby-Wan Kenobi." Moby rolled with it.
"When it comes to nicknames based on my nickname, I think I've heard all of them," he said.
"One of my favorites recently is slightly inappropriate. Some friends of mine who are Chinese immigrants call me Chairman Mo. They think it's very, very funny.
"The nickname Moby was given to me when I was born, and I don't think my parents expected it to last as long as it lasted. I have essentially had this nickname for 48 years."
Moby DJs Saturday at MGM's Hakkasan nightclub. He also has a new album, "Innocents," which I think is my favorite of the year.
Moby is giving away that album for free on bittorrent.com, for amateur and pro DJs to remix for their own art and profit.
I told Moby when he does things like that, he perpetuates the idea he's a Buddhist. (I say this as a Buddhist.)
"I'm like a Daoist-Christian-Buddhist-quantum-physicist-lover of chaos theory," Moby said.
"In high school, a friend of mine invented a religion that I became a big fan of. It's called prognosticism. The idea was, in the religion, you have to agree with whatever anyone says.
"So if someone says they're a Christian, you have to say 'Me too.' If they say they're a Muslim, you have to say, 'Me too.'
"He thought that was the most surefire way to avoid conflict. He was 14 years old or 15 years old and invented a religion that would solve all of the world's problems."
During our interview, Moby and I talked about our musical tastes, and I realized we swam up similar musical hierarchies.
We both got into classical music as kids, then punk and industrial music in the 1980s, techno in the early '90s, and house and dance music.
"The techno scene in the early '90s — the music was really aggressive. So I feel like it satisfied that part of us who grew up listening to Ministry," Moby said. "Usually, the beats per minute were really similar."
These days, everyone lumps techno, house and other electronic subgenres under the umbrella title of electronic dance music, which has taken over the world.
Moby does a better job than I ever have of summing up our surprise at the glorious rise of EDM.
"For the longest time, electronic music was the bastard stepchild of the music business.
"Mainstream press didn't really cover it. Radio didn't represent it. It's been fascinating to see how ascendant it has become and how ubiquitous it has become.
"In a funny way, this marginal, ghettoized musical genre has become the dominant music genre of the planet."
Yep. Moby believes the rise of EDM in America largely evolved out of events such as the Electric Daisy Carnival.
"The people who are coming (to festivals) — some of them can probably name some of the tracks. But for the most part, they're there for the event.
"Maybe this is a dangerous thing to say, but to an extent, the DJs are a little bit interchangeable. I think that's the success of the EDM movement. The focus is very much on the audience in a nontyrannical way.
"What I mean by that is, if you go to see a band at a festival, you sort of have to stand there and pay attention to the band. If you go to an EDM festival, you can wander around, you can look at the audience, you can look at the production. In a way, it's a lot more democratic."
In addition to that, I told Moby, I prefer the kinder, gentler Millennial generation that goes to EDM events, compared to the fistfighting kids I dealt with a decade ago at Papa Roach concerts.
Moby can relate.
"I did Lollapalooza in 1995, and the lineup was Beck and Sonic Youth and Hole. It was very gentle. It was the post-Nirvana era. Indie rock was still introspective and thoughtful.
"Then something happened in the late '90s, and it became Limp Bizkit and Disturbed, and you'd go to Lollapalooza or some festival, and you felt like you were taking your life in your hands. There was so much aggression and anger.
"My friends — we started referring to modern rock as rape rock, because it felt so misogynistic and angry.
"It got to the point at some of those festivals where it would be like 80 percent angry dudes and 20 percent terrified women.
"Now it's nice. When you go to Coachella or Lollapalooza or EDC, it's 50 percent men, it's 50 percent women, it's generally a lot friendlier, more celebratory, more respectful. Culturally for me it's been a really welcome shift."
Me, too.
Doug Elfman's column appears on Page 3A in the main section on Mondays, Tuesdays, Thursdays and Saturdays. He also writes for Neon on Fridays. Email him at delfman@reviewjournal.com. He blogs at reviewjournal.com/elfman.