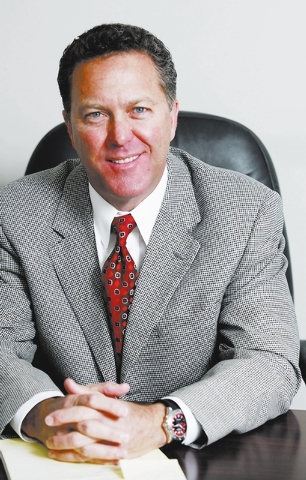 As a second-generation mortgage professional, Sean Corrigan understands the role that financing can play in the Southern Nevada real estate market. The longtime Southern Nevadan brings this knowledge along with 25-plus years of mortgage experience to Premier Mortgage Lending, where he strives to increase community awareness of today's myriad mortgage options as the company's new production manager.
"I think that being a lifelong Las Vegan whose father (Mike Corrigan) owned a mortgage company for over 30 years has guided me to a unique perspective of homebuying and homeownership. I believe that the lending profession is more than just a job; it is a part of building a community. Throughout the years, my father and I have assisted in providing hundreds of millions in financing while putting thousands and thousands of Nevadans in homes," said Corrigan, who joined the full-service lender last month.
"In my opinion, the lending business, specifically the 'private lending business,' was such a huge component to the overall growth of Las Vegas, and I think that it can have a significant impact in helping rebuild the residential side of the market today. I believe that, like in the past, the real estate market can help shape our community. And I believe that Premier Mortgage Lending is positioned to do just that with its forward-thinking Another Chance Nevada program that is designed for those who have recently had a short sale or foreclosure, in addition to a complete menu of traditional mortgage programs."
Corrigan said he decided to team up with longtime Las Vegan Rick Piette, the owner of Premier Mortgage Lending, because he shares Piette's philosophy of strengthening the Southern Nevada community through homeownership.
"Rick and I have a similar mindset, a similar understanding and love of the Las Vegas community, and a belief that homeownership is important to our economy. There are up to 150,000 households in the valley who lost their homes through a short sale or foreclosure, and many don't realize that they have options on where to live. We hope to help these people, if they feel ready to become homeowners again, by helping them understand their options," Corrigan said.
The full-service lender at 8689 W. Sahara Ave., Suite 100, provides a range of financing programs.
Its Another Chance Nevada program has garnered national attention. Through this program, where private and institutional portfolio lenders offer 15- and 30-year, fixed-rate loans at interest rates typically higher than traditional mortgage rates. At least a 20 percent down payment is required, which can come from personal funds or be obtained as a gift from family members. Borrowers may close within 30 days from the time of loan approval. The loan may be refinanced anytime without penalty. Hundreds of Southern Nevadans have used an Another Chance Nevada loan on the purchase of a resale or a new home.
The lender is working with Beazer Homes, D.R. Horton, Dunhill Homes, Harmony Homes, KB Home, Pardee Homes, Pulte Homes and Del Webb, Richmond American Homes, Ryland Homes, and William Lyon Homes.
The lender also connects borrowers to conventional conforming and jumbo mortgage programs; FHA, including the Federal Housing Administration-insured Back to Work — Extenuating Circumstances program; Veterans Affairs; and refinancing options.
According to Corrigan, the first step to learning about one's options is to meet with a full-service lender like Premier Mortgage Lending and go through complimentary mortgage prequalification.
"Buying a home, whether it is your first, second, third or fourth, is a very personal decision and it is very important that you get all of the information to help you make the right decision. We're happy to do that. Each potential customer might not matter to a larger company or a bank, but each person matters to Premier Mortgage Lending," Corrigan said.
For more information or to schedule an appointment, call Premier Mortgage Lending at 485-6600 or visit www.anotherchancenevada.com.
Premier Mortgage Lending, NMLS No. 393282, is at 8689 W. Sahara Ave., Suite 100, Las Vegas, 89117.
The full-service lender is a member of the Las Vegas and Boulder City chambers of commerce, Better Business Bureau and Southern Nevada Home Builders Association, as well as an affiliate member of the Greater Las Vegas Association of Realtors.