Mount Charleston blue butterfly declared endangered species
September 18, 2013 - 3:06 pm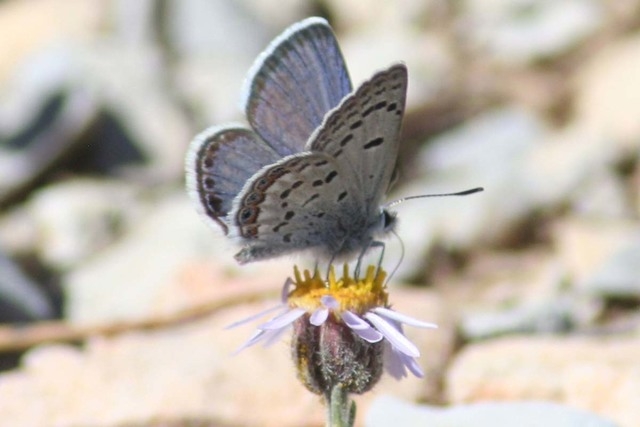 Nevada has a new endangered species, and it takes expert eyes and perfect timing to spot it fluttering through the high mountain meadows west of Las Vegas.
The Mountain Charleston blue butterfly is less than an inch long with dusky blue wings barely distinguishable from 19 similar species found in the range. It only flies for a few weeks each summer, then spends the rest of the year hidden away on the forest floor.
The U.S. Fish & Wildlife Service announced Wednesday it will add the isolated butterfly to the endangered species list. It is the first new listing in Nevada since the 2002 designation of the Carson wandering skipper, a small, brownish orange butterfly found in parts of Washoe and Douglas counties.
"This is great news for one of Nevada's rarest species. The beautiful Mount Charleston blue butterfly is in desperate need of help and we've got to move quickly," said Rob Mrowka, Nevada ecologist for the Center for Biological Diversity. "Even before prime areas of habitat were severely damaged by this summer's Carpenter 1 wildfire, there were very few of these butterflies left in the world."
The final decision comes after two years of review by the Fish & Wildlife Service, which decided against federal protections for five other blue butterfly species found in the Spring Mountains.
The agency's order will be published Thursday in the Federal Register and take effect in 30 days.
The protections are long overdue as far as Bruce Boyd is concerned.
"It's been a long time coming," said Boyd, who has been studying butterflies in the Spring Mountains since the mid-1990s. "But it could save the species from extinction if the agency gets off its duff instead of sitting around thinking about what to do."
He said one important first step is to put up fences to keep wild horses from trampling prime butterfly habitat in Lee Canyon.
"If they just continue to do nothing, things won't improve."
Boyd has been sounding the alarm about the decline of Mount Charleston blue and other endemic butterflies for the past eight years.
He blames decades of mismanagement by the U.S. Forest Service for squeezing the butterflies into a smaller and smaller space, leaving them vulnerable to be wiped out by a single event such as a wildfire.
Boyd said the Forest Service's biggest mistake came in 2010, when it thinned trees and brush to reduce wildfire danger but fed the wood into a chipper and scattered it on the forest floor in Lee Canyon and elsewhere, literally burying butterfly pupae and the plants they depend on.
Forest Service officials with Spring Mountains National Recreation Area acknowledged the 2010 incident but said less than one acre was impacted and the problem has since been corrected.
Boyd said fewer than a half-dozen Mount Charleston blue butterflies have been spotted in Lee Canyon since 2005. He saw one there earlier this year, his first sighting in Lee in eight years.
"It was a lonely male. He looked at me like 'Where's the girls?'" Boyd joked.
He said it takes years of experience to even be able to identify the Mount Charleston blue, which not only resembles other species but also can vary significantly in individual appearance depending on its sex and condition.
"It's like how postage stamps look different, but can you tell a stamp that's worth $8,000 from some other plain old stamp? You have to be a stamp collector to know the difference," Boyd said.
Steps are already being taken to protect the butterfly, said Mike Senn, assistant field supervisor for the Fish & Wildlife Service in Southern Nevada.
A closure order was issued on Aug. 20 that bans the collection of any butterflies in places used by the blue. By this fall, Senn expects the agency to propose for designation areas of critical habitat that contain the open space and the specific plants on which the species depends.
In the meantime, the Fish & Wildlife Service and Forest Service are nearing completion of a sweeping update of a conservation agreement adopted in 1998 to guide management activities in the Spring Mountains. The two agencies also are wrapping up work on a comprehensive, three-year study of the Mount Charleston blue and three other rare butterflies.
Officials insist the new designation won't significantly impact development on the mountain, including the proposed expansion of Las Vegas Ski & Snowboard Resort.
Nearly all of the butterfly's habitat is on public land already managed by the Forest Service, and at least some of it is in federally designated wilderness areas off-limits to development and all but the least disruptive human activity.
If done properly, Senn said, opening new spaces in the forest for things like ski runs can actually benefit the blue, which lives in meadows away from the shade and leaf litter of trees.
As for the Carpenter 1 Fire, Senn said preliminary reports suggest that prime butterfly habitat along the South Loop Trail was only lightly burned or missed altogether. Some habitat may have been damaged, he said, but the fire could have long-term benefits for the blue by opening up more of the forest.
Back in July, as the fire continued to rage out of control, Boyd worried that it might deliver a fatal blow to the butterfly.
Now what concerns him is the post-fire recovery work, some of which involves dropping mulch and seeds on wide swaths of the burned area to spur new growth and curb flooding and erosion. If dropped in the wrong place, he said, that material could bury the Mount Charleston blue butterfly and what's left of its habitat, just like the wood chips did.
Contact reporter Henry Brean at hbrean@reviewjournal.com or 702-383-0350. Follow him, @RefriedBrean, on Twitter.