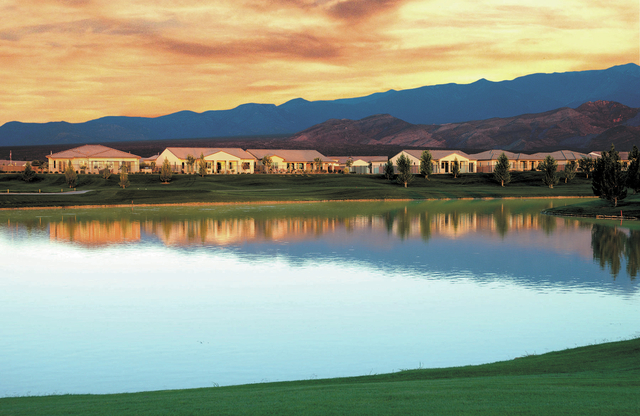 Mountain Falls is 45 miles from Las Vegas — where sweeping vistas rise dramatically from the valley floor to the peaks of the Spring Mountain range.
With a nod toward its settler roots, the Pahrump Valley is full of rewarding surprises. Two are the homes of Series I at Entrata, and Series II at Tivoli in Mountain Falls.
"William Lyon Homes has created the perfect blend of landscape and lifestyle here," said Deborah Davis, sales agent at Mountain Falls. "It's a bit of an oasis when you arrive because you're greeted with green, tree-lined avenues and the Mountain Falls championship golf course. There's blue skies, fresh air, peace and quiet — the location for these homes is just ideal."
Davis often hears visitors say those four little words that a homebuilder considers the highest praise: "I could live here."
Note that emphasis, because this isn't a place where one merely "resides." These are homes of comfortable luxury that are built for living the life you've always wanted, she said.
Series I at Entrata offers four single-story designs that range from 1,514 to 2,102 square feet, with three bedrooms, two baths and two-car garages.
The standard features of these open, airy floor plans include 9-foot ceilings with dramatic windows, kitchens with generous pantries and island work stations.
Priced from $145,000, there are a number of personalizing opportunities available such as bay window extensions, floor plan variations, laundry sinks, recirculating pumps and radiant-barrier roof sheathing.
Just down the road is Series II at Tivoli — a step up in luxury priced from $216,000.
The four one-story floor plans range from 2,055 to 2,741 square feet and offer as many as four bedrooms and three baths, all including three-car garages as a standard feature.
These are homes where residents can relax with flair, in elegant surroundings that are as comfortable as they are stunning. And homes that have captured that elusive combination of being equally suitable for both entertaining and casual family living.
With master suites befitting their title, and kitchens that will inspire your inner chef, the designs at Series II are at once awash with natural light and man-made luxury.
Just a few of the included items are slab-granite kitchen countertops, recessed lighting, garden tubs and multiple water- and energy-saving features.
Buyers can also opt for a number of additional touches including room variations, multisliding glass doors in select locations, and cabinet, countertop and appliance upgrades.
William Lyon Homes wants to thank all who tour these models with a voucher for one round of golf at Mountain Falls Golf Club, and one lunch with beverage at The Grill Room.
To visit the Series I and Series II homes in Mountain Falls, take Blue Diamond Road west 45 minutes. Before reaching Pahrump, turn left on Manse Road. Then right on Hafen Ranch, and left on Lakeview.
The on-site information center and model homes are open daily from 10 a.m.-6 p.m., except Monday, when they open at 1.p.m.
For more information, contact Deborah or Reba at 775-751-3278 or 775-727-0429 or visit www.MountainFalls.com online.