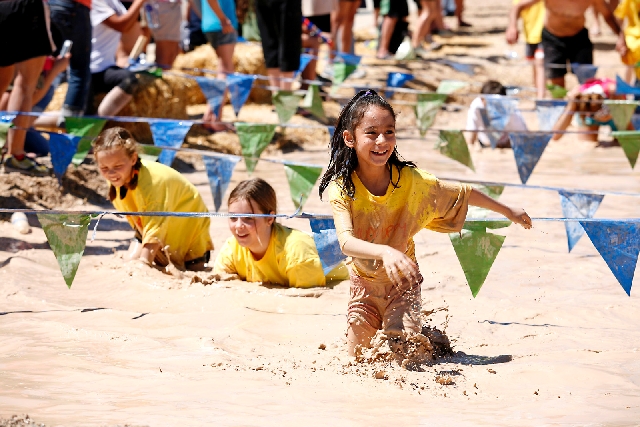 Here's an activity that children can get dirty doing and won't get in trouble with their parents. It's the Mudpuppy Splash to be held April 27 at Providence's Knickerbocker Park in northwest Las Vegas.
The Mudpuppy Splash is a 100-meter race around hay bales that ends with children going through a 40-foot-long mud pit. It's the companion to the 4.6-mile Mad Mud Run obstacle course for adults. The day's activities will be held from 8 a.m. to 12:30 p.m.
"The Mudpuppy Splash provides something fun that kids normally don't get to do," said Rick Eastman, organizer of both events.
Eastman said costumes are welcome, and there will be provisions for rinsing off after the races.
Children and adults are invited to bring Super Soakers and squirt guns to douse Mad Mud Run participants with water in the Splash Zone just after the races begin at 9 a.m.
In addition to the races, there will be refreshments, booths, and park activities including volleyball, soccer, children's playgrounds, splash pad, dog park and picnic areas.
Knickerbocker Park is at 10695 W. Dorrell Lane.
Attendees are invited to bring new and gently used books for Spread the Word Nevada, a nonprofit group that promotes literacy.
The Mudpuppy Splash is open to the first 200 4- to 12-year-olds who register. The $15 per child cost includes a T-shirt and dog tag. Children, ages 4 to 6, must be accompanied by a parent through the mud pit. Registration will be available until 11 a.m. on event day with the race starting around 11:30 a.m.
Online registration for both races is at www.madmudrun.com and closes at 11:59 p.m. Wednesday. The cost for Mad Mud Run is $60 per person, T-shirt and dog tag included, until 10:15 a.m. on race day. The minimum age is 12. For those younger than 18, special waivers are required. Early registration is 5 to 7 p.m., Friday at REI Boca Park, 710 S. Rampart Blvd.
For information or registration, visit www.madmudrun.com or email help@sierraadventuresports.com.
For more information, visit www.providencelv.com, call 702-433-5084 or visit the information center, 7181 N. Hualapai Way, Suite 150.