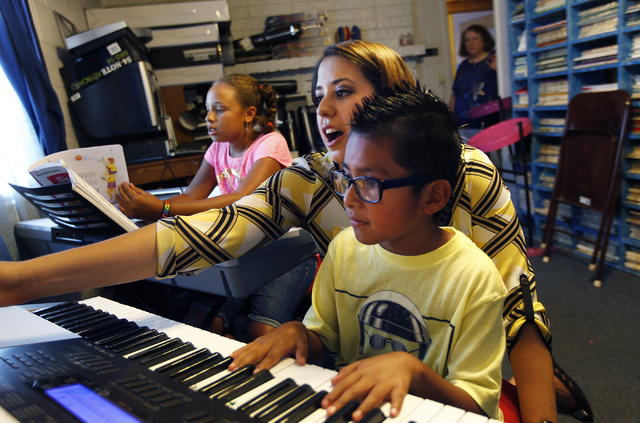 A cacophony of giggles and singing radiates from the room where two girls and their music teacher disconnect from the rest of the world for 30 minutes.
Moments such as these are an everyday occurrence at the Rockin' Music Zoo, a nonprofit that provides affordable music lessons to at-risk, disadvantaged children and teens.
"It's fun — I like it a lot," said Faith Miller-Hooks, 9, who came in smiling for her voice and keyboard lessons July 31, wearing her favorite pink sparkly shoes. "We learn new songs and play games at the end."
The organization was founded in 2013 by Bonnie Fitch, who has been a music educator for more than 30 years and is the owner of Bonnie's Music Shoppe, 4790 S. Fort Apache Road.
The program offers guitar, keyboard, drums, voice and steel drum lessons at $8 per class. Classes meet for 35 minutes once a week and usually include a group of five children.
"When the economy in Las Vegas really started taking a downturn, a lot of our students had to quit taking lessons because they could not afford it anymore," Fitch said. "Some friends of mine suggested that we start a nonprofit where we could receive donations to be able to offer these children music lessons."
Initially, Fitch and her son James, who is the president of the organization, spoke to middle schools in the area to get the word out about the program.
"Our strategy was putting out fliers in the school and in the general area," Fitch said. "We had a good reaction from the people that we were able to reach, but we had a difficult time actually reaching enough people. The middle school music directors were given permission to hand out the fliers. However, we could not get them into the elementary schools because elementary schools in the city are not allowed to hand out fliers."
From there, Fitch decided to reach out to the foster care system.
"We got in touch with the foster care system, and we have been working with them since last summer," she said. "It is a group of children that not every teacher is qualified to or feels comfortable working with."
Max Miller-Hooks is the father of Faith; George, 8; and Nataly, 6.
George and Nataly take keyboard lessons and were adopted through the foster care system by Miller-Hooks and his wife.
"The kids are home-schooled, so this allows them to explore their creativity and be more sociable," he said.
Fitch said that although most of the children who come to the Rockin' Music Zoo are initially shy, they usually open up a few lessons into the program.
"Music gives children so many advantages that children who don't get music will never have," she said. "It helps with cognitive learning; it helps the brain with math and science and also helps build teamwork skills."
The group also has a scholarship program, open to any student in grades kindergarten through 12 who has financial need and can attend lessons regularly. It covers either partial or full tuition and instrument rental for six weeks of group or private lessons. Anyone interested can apply online at rockinmusiczoo.org.
"We have had 10 students who have received scholarships in the past year and a half," Fitch said. "Unfortunately, most of them only took lessons for a short period of time. Parents often have difficultly with providing transportation."
The Rockin' Music Zoo has 35 students and six teachers. Fitch's goal is to increase the number of students to 60 by the end of the year.
Megan Schnizlein, 25, a music education student at UNLV, has been an instructor there for about a year. Schnizlein gives voice and keyboard lessons. She was referred by a classmate who asked her to take over her duties in the organization because she was moving to another state.
"It is so rewarding seeing the kids improve and fall in love with the music,"she said. "Music and the arts in general help kids become their own person and be confident in themselves."
The organization has had a few fundraising events that included a dinner in April sponsored by local businesses. A concert in the park is planned for the fall.
For Fitch, her work is all about making sure children have access to the wonder of music.
"We just want all kids to be able to afford some type of music lessons," she said.
For more information, visit rockinmusiczoo.org or call 702-202-0777.