The drunk priest played bass with his teeth, his fists and a Jagermeister bottle – but only after he had poured its contents down his throat, of course.
Dude was making up for lost time.
Dressed in a clergyman's white collar and black suit, a towering Peter Steele manned a pulpit fashioned from a coffin, delivering doomsday sermons that bore the distinct whiff of autumn.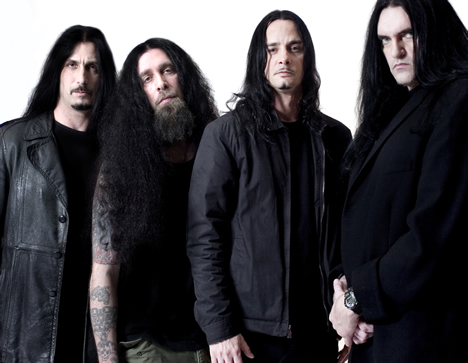 "Happy Halloween Las Vegas," the Type O Negative frontman announced at one point Saturday night at the House of Blues, where the band erased any bad memories still lingering from a sloppy, disinterested set last time through with a much more streamlined, invigorated performance.
The band bared its teeth early with family friendly ripper "Kill All The White People," a testament to their hardcore origins, before delving into long, lugubrious dirges like "World Coming Down," which should only be taken with a fistful of anti-depressants.
Through it all, Steele was in fine form, sardonic, self-effacing and sauced.
"If you're going to jump, make sure you jump on somebody I hate," he told a guy on the balcony who was leaning a bit to close to the railing.
By the time Type O steamrolled through their two biggest hits — goth staples "Christian Woman" and "Black No. 1" – even this doleful bunch couldn't help but smile as the sweat and sorrow poured out of them in equal measure.
Just as perspiration drenched was Canadian battering ram 3 Inches of Blood, who preceded Type O with high-pitched mountain man metal delivered by a bunch of hairy dudes who look like a pack of disgruntled Yetis.
Their frontman, the aptly named Cam Pipes, belongs to the David Wayne, Rob Halford, King Diamond school of upper register metal wailers, sounding like he took a cannonball to the crotch before hitting the stage.
"it's gonna be murder," Pipes said by way of introducing the band's final song of the evening, and with that, subtlety was sent to the guillotine.
And then there was Hatebreed, who headlined the show.
The security staff, which had aggressively broken up any pits earlier in the evening, didn't even both to try to do the same when these guys were on stage, and the floor consequently erupted in a geyser of flying elbows and damp hair.
It was kind of like aerobics class, only with more neck tattoos.
At the House of Blues, Hatebreed's you-can-do-it metal came on like a series of riff-fattened pep talks, with singer Jamey Jasta the Stuart Smalley of hardcore.
Hey, there's nothing quite like an ego boost delivered with a punch to the face.