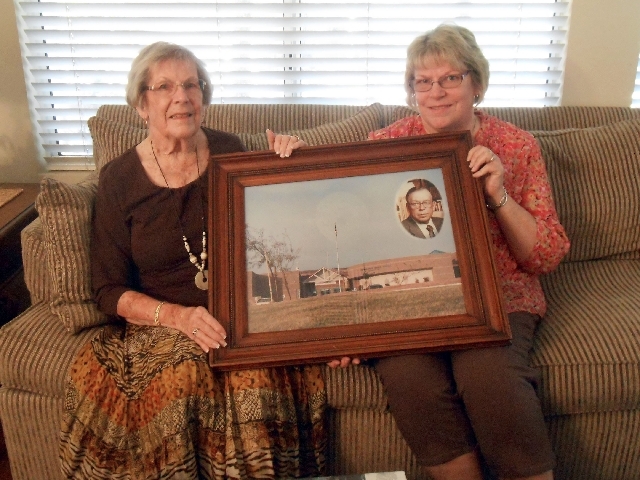 Betty White said it was amusing when she was out in public and people would learn the name of her husband, Dr. Thurman White.
"One time we were at a store, and a woman looked at his card," White said. "She said, 'Do you own a school or something?' "
People were always curious if the Henderson middle school, 1661 Galleria Drive, was named for White — or in one case, if he was named after the school.
White, who died in 2009, served as an educator, coach, planner and former deputy superintendent, all culminating in the Clark County School District dedicating a school for him.
White grew up in Texas, where he became a teacher.
In 1956, he was promoted to the superintendent of schools for the Balmorhea Independent School District in Texas.
Nancy Terrell, White's daughter, said if a bus driver called in sick, she remembered her father would fill in, going beyond the scope of his duties.
He continued his education as well, receiving a doctorate in 1966 from Utah State University, before setting his sights on Southern Nevada.
"We had met a couple people from Las Vegas," Betty White said.
Another person trying to persuade him to move to Las Vegas was former Gov. Kenny Guinn. People kept encouraging White to work for the district.
When he was offered a position as a planning coordinator with the Clark County School District, he moved to Henderson with his wife — also a teacher — and children.
"We loved it from day one," Betty White said. "We saw the opportunity for growth in the district. (Thurman) could see what was coming."
Despite skepticism, Thurman White saw a boom coming in Clark County.
Through his career he advanced to director of educational planning, served as the associate superintendent for facilities and transportation services and was later appointed to deputy superintendent.
Kathleen Harney, another longtime educator and namesake of Harney Middle School, met Thurman White through his wife.
She went on to work with him on a committee to help with school planning.
Harney remembered telling Thurman White she didn't know anything about building schools.
"But the one thing about him, he would always give you the training you needed," she said.
She added that White wanted educators in on the process along with people who knew about facilities and architecture — teachers would have an insight about the school's functions that outside workers might understand.
"He was a great supervisor," Harney said. "He could work with people from the top all the way to the bottom."
Harney also said White was courageous for hiring her, one of the few women on the team.
As the population began to boom and more people meant more schools, White oversaw the building of more than 40 facilities for the school district.
Building and planning had become part of his life.
Terrell said the family would be traveling and he would always look at infrastructures.
"We would be at a rodeo and he would be checking out the architecture of a building," she said. "He'd be wondering about the energy efficiency and how to transfer (what he saw) to the district."
As dedicated to his work as he was, he always made time for his family.
"Often, he would get home late, and we were already in bed," Terrell said. "So he would make us breakfast in the morning before we'd go to school."
Whether it was at the office or at home, there was one thing his friends and family couldn't escape: his old Southern expressions.
"He would always say stuff like, 'Well, I'm just a poor country boy,' " Harney said.
White retired in 1989.
Betty White said since her husband was always on the go, they were curious how he'd handle the transition to retirement.
"I told him, 'This is the time you learn where the post office is and where the dry cleaners is,' " she said jokingly.
He took up golf as a hobby, she said.
The school was named for White in 1993.
"People in the district mentioned they might name one for him," his wife said. "He didn't think it would really happen. It was really humbling."
White said her husband would often visit the school.
Terrell worked at the school for several years.
"People didn't know he was my dad at first until one day he showed up and spoke," she said.
Along with serving as a school's namesake, White was inducted into the Clark County School District Hall of Fame in 1988.
White is survived by his wife, three children and two grandchildren.
Contact Henderson/Anthem View reporter Michael Lyle at mlyle@viewnews.com or 702-387-5201.
Naming Las Vegas
The history behind the naming of various streets, parks, schools, public facilities and other landmarks in the Las Vegas Valley will continue to be explored in a series of feature stories appearing in View editions published on the first Tuesday of every month.
If you're curious about how or why something got its name, post a comment on our Facebook page, www.facebook.com/viewnewspapers, or email sblust@viewnews.com.
Thanks for reading View.