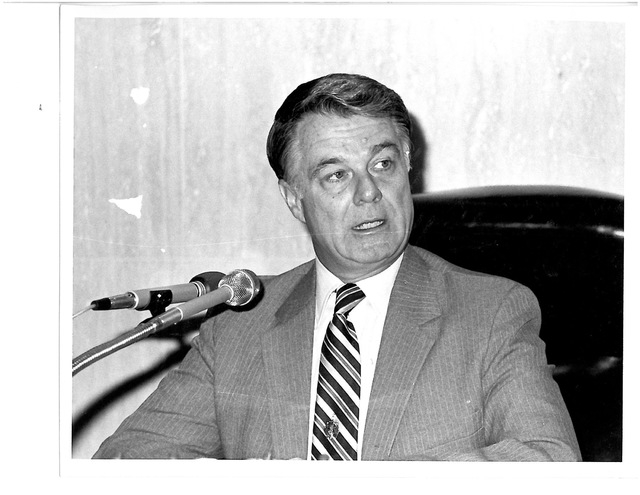 Bill Briare Family Park, 650 N. Tenaya Way, owes its name to one-time Las Vegas Mayor William H. "Bill" Briare. He was known for his enthusiasm about Las Vegas' potential and was always in the public eye.
Briare was a successful businessman. He and his first wife, Jo, had six children. Jo died in 1998, and he later married his second wife, Susan.
Briare was a native of Long Beach, Calif., but as an adult, he made Nevada his home. He served as a member of the Nevada Legislature from 1960-62, then as a member of the Clark County Commission from 1962-68.
In 1971, he lost his first campaign for Las Vegas mayor to Oran K. Gragson (who has an elementary school named for him at 555 N. Honolulu St.), but Briare was elected in his next attempt in 1975, defeating now-Sen. Harry Reid. Briare was mayor until 1987.
Those who knew him said he was so positive about Las Vegas and its future that some would ask him if he was president of the Chamber of Commerce. His obituary in the Las Vegas Review-Journal noted that his "public tenure came during a key time when control of casinos shifted from organized crime figures to corporations."
Thalia Dondero was elected as a county commissioner in 1974, the first woman on the commission. She recalled Briare as being outgoing, gracious and a good listener. He tried to attend every event to which he was invited, she said.
"He was a very active mayor; he got around to almost everything," she said. "I thought he was a good mayor, someone who made a good impression when he was greeting people. And he did a lot of that. The mayor's work is never done. … He was out there all the time, representing us."
She said he was so busy, his job was more like an around-the-clock one but that any county commissioner was always welcome should they need to speak with Briare.
"People don't realize there's just so much to do," Dondero said. "It was a growth period. A lot of things were going on at the time."
Some of those things going on that impacted the valley included: gambling being legalized in Atlantic City in 1976, providing intense East Coast competition; the MGM Grand hotel fire of 1980, which killed more than 80 and injured 700; the former International, later known as the Las Vegas Hilton and now the LVH, erupting in flames less than a year later, killing eight and further damaging Las Vegas' reputation; the mob creating a public relations nightmare when, in 1982, it bombed Frank "Lefty" Rosenthal's car at a popular restaurant; and — finally some good news — the Las Vegas Convention Center securing the National Finals Rodeo in 1985.
Ron Lurie, executive vice president and general manager of Arizona Charlie's, was Las Vegas mayor pro tem while Briare was in office.
"He was a good parliamentarian," Lurie said of his predecessor. "He knew how to control the board. It was very important that we all worked together. … He let people express themselves. He heard them out, sometimes for too long. I think that's why we implemented a three-minute time limit" for speakers.
He said even though the MGM Grand fire was a tragedy that happened in the county, there was a lot of support from the city. He said Briare's outgoing personality had him selling Las Vegas wherever he traveled.
"He liked being an ambassador for Las Vegas," Lurie said.
Lurie said Briare proved to be an adept mentor when he took office, making himself available should a vexing issue crop up.
What did he see as Briare's biggest accomplishment?
"I'd have to say serving on the (Las Vegas Convention and Visitors Authority) board and working toward developing a master plan on the convention center, making sure we had tourism and creating (elements) that would drive our economy," Lurie said.
In 1994, Briare, a Democrat, ran for lieutenant governor of Nevada but lost to Lonnie Hammargren.
The park is run by the city of Las Vegas' Parks, Recreation and Neighborhood Services Department and is on the north side of Tenaya Way's bridge over Summerlin Parkway. Amenities include two playgrounds, a jogging/walking path and open space.
Briare died on Dec. 8, 2006, in Las Vegas from complications from Alzheimer's disease. He was 76. He is buried at Woodlawn Cemetery.
Contact Summerlin/Summerlin South View reporter Jan Hogan at jhogan@viewnews.com or 702-387-2949.