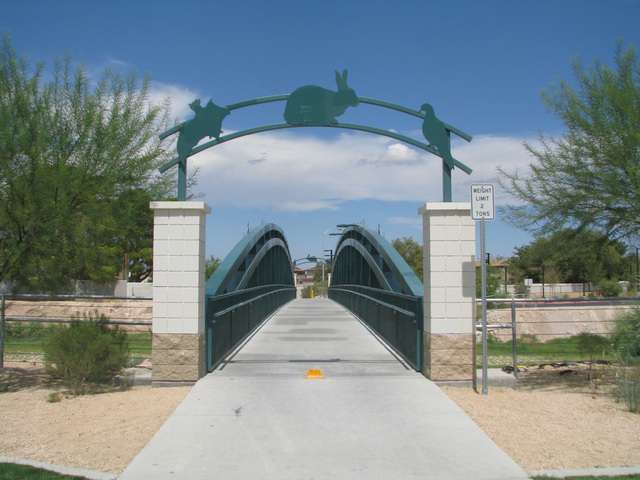 The Douglas A. Selby Park and Trailhead first opened in June 2011. The park at 1293 N. Sandhill Road was named for a successful Las Vegas resident who climbed the ranks to become city manager.
Douglas A. Selby was best known for pushing green initiatives and his efforts to drive diversity in the city. Former Mayor Oscar Goodman said Selby was one of the city's top leading managers.
"Selby really made people around him feel worthwhile," Goodman said. "He was able to rally the troops, so to speak. His greatest accomplishment was seeing the city achieve things during an era when we were economically sound. He left the city a better place."
Selby was born on Aug. 16, 1953, in Oneida, N.Y. When he was 6 weeks old, his parents moved to Las Vegas, where Selby was raised.
He attended UNLV, where he received his bachelor's and master's degrees in biology. He continued his education at Utah State University, where he received his doctorate in engineering.
Selby's extensive career began almost 30 years ago, when he started working for the Clark County Water Sanitation District as a technical services manager. After working there for four years, Selby ventured to California, where he worked as the director of engineering for EA Engineering, Science and Technology Inc.
Still, Selby always managed to come back to the city that he grew up in. After spending two years in California, Selby returned to Las Vegas, where he had the chance to build his legacy.
In 1989, Selby became the director of engineering for the Las Vegas Valley Water District and then transferred to the then newly formed Southern Nevada Water Authority, where he worked for a combined 10 years.
Selby said one of his biggest accomplishments as director of engineering for the water authority was initiating a $2.2 billion water program that focused on the development of a new water intake system, tunnels, pipelines and pumping stations.
In 1999, Goodman and the Las Vegas City Council appointed Selby as the city manager. He managed day-to-day operations of 600,000 people and 3,000 employees with a $1.4 billion annual budget.
"Virginia Valentine, the city manager at the time, was launching a parks program … and wanted me to take over since I had the experience," Selby said. "It was a nice change to go into municipal government. I was involved in at least 25 different projects with parks and recreation."
Among some of the projects that Selby recalls working on was the Centennial Hills Community Center, the Bettye Wilson Soccer Complex, Floyd Lamb Park at Tule Springs and the Stupak Community Center.
Selby said among his most memorable accomplishments were master planning Symphony Park and revitalizing the downtown area with Goodman.
"He was the first one in city to push diversity," Goodman said. "He was a decent person who was very much in love with the city and tried to make the city a better place."
The park and trailhead opened two years after Selby retired in 2009 and was dedicated to the former city manager.
"You could see the look in his face filled with pride and delight of having the park named in his honor," Goodman said.
Selby said he was shocked when he found out that the park was to be named for him.
"I was very flattered," he said. "I didn't know that I really deserved having a park named after me. It's such an honor."
The park features a soccer field, a basketball court, a picnic shelter and an area for large and small dogs. The trailhead features a splashpad play area, a picnic shelter and an information kiosk.
"I hope that the park is something that people can continue to enjoy with their families," Selby said. "It's a nice and pleasant retreat away from the noise of the city."
The $3.3 million for the project was provided by the Bureau of Land Management through the sale of public lands, which were authorized by the Southern Nevada Public Lands Management Act. The act allows money from Nevada federal land sales to be used in the state for park and trail projects.
After retiring for a couple of years, Selby returned to work in August 2011 as the city manager of Auburn, N.Y. Selby said he misses Las Vegas.
He returned to Central New York with his wife, Susan, and two younger children after retiring from the city.
"I very much enjoyed working with all of the employees in Las Vegas," he said. "One thing I miss is working with people of high quality and dedicated workers. It's not that I did all these things myself. I just happened to be here when a lot of significant events happened."
Selby is most credited for managing the city through a time of record growth. Former City Councilman Gary Reese said he chose to name the park for Selby because of his influential leadership.
"During the time that Doug was the city manager, the city went through a growth spurt, and Doug proved to be a great leader," Reese said. "He had a lot of knowledge, experience, and proved to be a very good and honest person."
"He was a wonderful city manager," Goodman added. "We were blessed to have him."
Contact Sunrise/Whitney View reporter Sandy Lopez at slopez@viewnews.com or 702-383-4686.