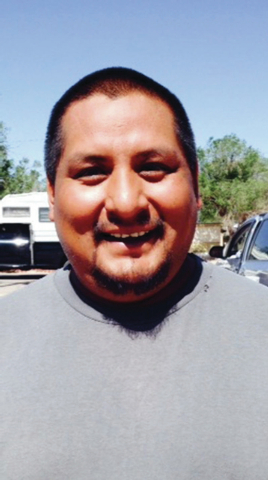 Michael Mahooty said he was 12 or 13 when he first tried carving stone with a power tool. It was summer, and he didn't have anything else he wanted to do, so he picked up his father's old tools and gave it a shot.
He's still carving 15 years later and is known around the world as one of the eminent carvers of Zuni fetishes. As part of the Native American Visiting Artist Series, he is scheduled to show his work from 10 a.m. to 2 p.m. July 12 at the Old Las Vegas Mormon Fort State Historic Park, 500 E. Washington Ave.
"My late father was a silversmith, but turquoise and silver started getting expensive, so he started carving," Mahooty said. "Mostly, he carved bears."
Mahooty's first carving was also a bear, which he crafted from sandstone with a file while his father was alive. His first carvings using the tool he calls "a motor" were frogs.
"I didn't know anything," he said. "I just picked up a rock and turned on the motor and just started carving rocks. I started with the softer rocks: fish stone, black jet and pipestone."
He moved on to harder, more difficult rocks and enjoys finding new types of stones with which to carve and experiment.
"Once I find an interesting rock, I carve into it and see what I can do," Mahooty said. "I'm always looking for a new kind of rock to try."
Mahooty said that through his carving, he has met people from many states and countries.
"They like my work, and that's nice," he said. "I've sold pieces to people from Germany, England and Japan."
Ruth Rauma, a board member with the Friends of the Fort, said the board is trying to expand programs, reach out to the community and lure new visitors to the site.
The nonprofit organization assists at the Old Las Vegas Mormon Fort State Historic Park and seeks to raise awareness of the historical importance of the structure. After it was acquired by the state, it reopened the Fort and provided educational tours of the site.
Mahooty's visit is the second in the Native American artist series, an Official Nevada 150th Anniversary event.
"Our first artist was Shirley Nelson from Tuba City (Ariz.), and she came out here with her bead work and pottery," Rauma said. "It brought a lot of new people to the fort who had never been here before."
Rauma said the event offers the artists an opportunity to show their work in Las Vegas and sell their pieces. The series has several other events that are being planned, including a Paiute basket weaver and a Navajo potter.
For more information, friendsofthefort.org.
Contact East Valley View reporter F. Andrew Taylor at ataylor@viewnews.com or 702-380-4532.