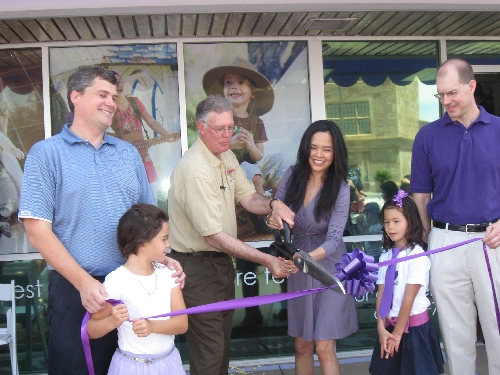 A free seminar is scheduled for 7 p.m. Thursday at Ticor Title at The District at Green Valley Ranch, 2240 Village Walk Drive, to help people get advice about foreclosures and buying and selling homes. The seminar is slated to feature a panel of experts from the real estate industry to attorneys to talk about the issue. To RSVP, call Charlie Carr at 283-6125.
CITY ATTORNEY ARRESTED FOR DUI
Henderson city attorney Elizabeth Quillin was arrested May 23 on charges of driving under the influence, police said.
Quillin also was arrested by Henderson police on charges of leaving the scene of an accident in which property was damaged and having an open container, which was a nearly empty wine bottle.
Quillin has been placed on paid administrative leave.
HOURS FOR POOLS ANNOUNCED
Henderson has announced that its seasonal pools are scheduled to open Friday .
From 11 a.m. to 6 p.m. Mondays through Saturdays and 1 to 5 p.m. Sundays, the Black Mountain Aquatic Complex, 599 Greenway Road; the Henderson Multigenerational Activity Pool, 250 S. Green Valley Parkway; and the Whitney Ranch Activity Pool, 1575 Galleria Drive, will be open.
From noon to 5 p.m. seven days a week, the Silver Springs Outdoor Pool, 1951 Silver Springs Parkway; the BMI Outdoor Pool, 105 W. Basic Road; and the Wells Outdoor Pool, 1650 Price St., will be open.
Hours are subject to change depending on holidays.
For more information and admission fees, visit cityofhenderson.com.
SEMINAR ON CHILDBIRTH scheduled
at Green Valley Library
The Foundation for Wellness Professionals is scheduled to offer a seminar on childbirth at 7 p.m. June 14 at the Green Valley Library, 2797 N. Green Valley Parkway.
The class is to talk about dealing with common problems in pregnancy and labor and how to have an easier and shorter birth time.
For more information or to register, call 643-9904.
HENDERSON SUBJECTED TO ROAD CLOSURES
The city of Henderson has announced weeklong road closures at Union Pacific Railroad crossings.
The construction is to replace the roadbed under the railroad tracks.
Starting June 6, the city was scheduled to begin construction on Arroyo Grande Boulevard between American Pacific Drive and Windmill Lane.
Upcoming closures include Stephanie Street between American Pacific Drive and Wigwam Parkway starting Monday, and Gibson Road between American Pacific Drive and Wigwam Parkway starting June 20.
Desert Newcomers club to host monthly luncheon June 15
Desert Newcomers Club Inc., a social and recreational club for women in the Henderson, Boulder City and Las Vegas area, has scheduled its monthly luncheon from 11:30 a.m. to 2:30 p.m. June 15 at the Outback Steakhouse, 4423 E. Sunset Road, Henderson. The cost is $24 for guests. Maria Bailey, host of the "Success City Radio Show," is scheduled to be the guest speaker.
Anyone interested in meeting new friends in the are should visit desertnewcomersclub.or or call 586-4667 or 739-9322. Reservations must be made by Wednesday .
SUMMER READING PROGRAM
PROMOTES WRITING CONTEST
As part of Henderson Libraries' summer reading programs, a writing contest is under way for children 12 or older.
Contestants must use the words "magnesium" and "it's the place of a thousand thrills" in their entry. All entries, which could be a ditty, poem or prose, must be fewer than 350 words.
Entries will be judged by writer and urbanologist Max Grinnell.
Each winner receives a copy of Grinnell's book "The Rough Guide to the USA" with a personal inscription.
Deadline for entries are Aug. 7, and winners are scheduled to be announced Aug. 23.
For more information or to submit entries, visit mypubliclibrary.com.
ANNUAL PHOTO CONTEST
SEEKS PICTURES OF TRAILS
The city of Henderson Parks and Recreation Department is accepting entries for its annual trails photo contest through Aug. 20.
The contest asks people 17 or younger to capture the beauty and accessibility of the city's trails. All entries must have a parent or guardian's signature on the entry form.
Categories for color photography include views from the trail with people, views from the trail without people, positive trail use, wildlife, general trail photos, River Mountains Loop Trail and Southern Nevada trails. The category for black-and-white photography is River Mountains Loop Trail.
Winning photographs are slated to be displayed during the National Trails Day celebration.
For more information, visit cityofhenderson.com/parks or call
267-4050.
Foundation for WELLNESS SEMINAR
TALKS ABOUT PHYSICAL PERFORMANCE
The Foundation for Wellness Professionals plans to teach how to improve physical performances and repair injuries at 7 p.m. June 15 at Club Sport Green Valley, 2100 Olympic Ave.
Discussion topics include preventing injuries, the role of stress and active stretching.
For more information or to register, call 643-9904.